The ($ubtitled) $ub-Rh¥m€ ("Mark" It !)
The ($ubtitled) $ub-Rh¥m€ ("Mark" It !)
(Spoken Commentary Page

.02

of 15)
~ QUICK ! [CLICK] for COMMENTARY 02 ~
~ Get Chopped Up with the Ore Boar ~ 02
[00] [01] [02] [03] [04] [05] [06] [07]
[08] [09] [10] [11] [12] [13] [14] [15]
"Links" to 15 Pages of Streaming Audio
~ Download Adobe Flash Player [HERE] ~
~ Learn to Read ENGLISH with AudioFlash ~

Please
SCROLL DOWN
to READ the written
commentary about this
.ORIGINAL COMIC POEM..
~ Listen to HEXED TEXT Audiographs ~
If
[YOU !]
have Flash installed,
[YOU !]
may also PURPosefuLly
.PRESS.
thE :

PURPLE .PLAY. BUTTON
to
[LISTEN !]
to
[MY !]
.HEXED TEXT, Audiographs.
The ($ubtitled) $ub-Rh¥m€ ("Mark" It !)
The ($ubtitled) $ub-Rh¥m€ ("Mark" It !)
~ 1 December 2007 (Subtitles 4 April 2010) ~
To SUBSCRIBE to my



~ EWECHEWB YouTube Channel ~
please click :[HERE]
~ Ore Boar's (Piggy) (Bank) Notes - 02 ~

"What Would Your Money Say to You ?"
asked the British .financial. website who
were .running the competition. that inspired me
to .write. and .create. the .animated. .poem.
"The $ub-Rh¥m€ ("Mark" It !)".
~ (BACON-)(painter) painter - Bacon ~

Sir Francis is [NOT TO BE CONFUSED !]
with his (confused (?) and unknighted
(benighted ?)) twentieth century namesake
- the (BACON-)(painter) .painter. - Bacon.
~ Bacon Ri(j)n(-e)d~

......"Pope Innocent X"... - ...."Figure with Meat" ...-...."Carcass of Beef"
According to the <.artwork.'s article> at
Wikipedia, (the BACON-painter-.painter.-
Bacon-(UN-""Sir"-Francis...))-"Francis Bacon's
:"Figure with Meat" "drew" its .painted.
inspiration from Diego Velázquez'
"Portrait of Pope Innocent X" and from
Rembrandt van Rijn's "Carcass of Beef".
~ A Beast (;) Deceased ~

Presumably, ".death. studies", like "life studies"
have been the <still life> or <stilled life> staples
of .art. students for centuries - so I am not sure
why people are of the opinion that Bacon had
taken his chief influence from one p.art.icular
post-.mortem. .painting., p.art.icularly as that
seventeenth century .image. is so p.art.icular in
its title's .art.iculation of the type of .deceased.
beast it depicts.
~ (A) Bovine in Decline ~

Carcass of Beef (1657) by Rembrandt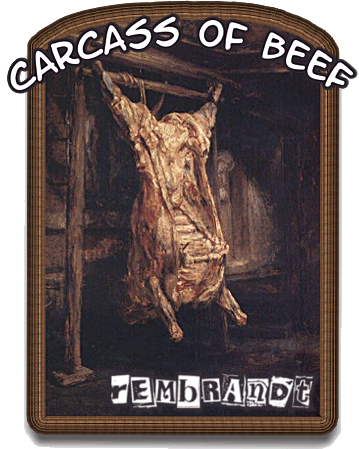 van Rijn's ".deceased. beast",
is, ~ to say the least ~,
a <Bovine in Decline>.....
~ A Bacon Without Beef ~
.....and yet the ~ cuts of meat ~
that I have cut, as .still.s
(if not quite "Still Life"s (or "Still .Death."s))
from the .documentary. "Bacon's Arena", point
to (parted (-once-.departed.)) .PIGS.' parts.
~ Links to "Links" ~

".PIGS' parts", like BEEF bits (as (intimate)
(inanimate) animal innards), can be squashily
sssssquealched into ssssssausages ; while
(unhidden) hides may be <made into suede>.
~ Suede to "Suede" ~

"Suede" (known abroad as "The London Suede")
would be more likely to be seen .striking. (.striking.)
poses in (")ordinary(") <".Rock 'n' Roll.">
BLACK BIKER LEATHER than in the "napped"
or brushed variant of their band's name.
~ "We Are the Pigs" ~

~ .Striking. fear into the hearts ~ (and
other (() ".PIGS' ()) parts" of its watchers,
"We Are the Pigs" - with its visually veiled
but audibly obvious references to
<.police brutality.> - resonates with oppressive
Orwellian .imagery. and the (.burning.-building)
burden of Burgess. Sinisterly, crosses also
are ablaze in this .video. released a mere
two years after the L.A. Riots :
We Are the Pigs - Suede (1994)

That the "Pigs" could be the public and not
the [LAW ENFORCERS !] is suggested by the
deployment and employment of gas-masks.
~ Prediction (Fiction) Friction ~

Similar facial apparel has been associated
with the fighter-pilots claimed to be the
fulfilment of Nostradamus' "half pig man"
prediction in Century 1, Quatrain 64 of
his "Prophecies" :
~ Prophecies & Fallacies ~

Nostradamus - Century 1, Quatrain 64
"At night they will think they have seen the sun,
when they see the half pig man:
Noise, screams, battles seen fought in the skies.
The brute beasts will be heard to speak."
~ Over and (Sn)Out ~

I think "pig-FACEd man" rather than "half pig
man" would give ~ greater credibility ~ to the
~ airborne warfare ~ interpretation of invaders
( ; and <Raiders on the Radio>), it would also
allow the (species-specifically) cited animal to be
~ more than the sum of ~ just ONE of its "PIG(')S(')
parts" and for that harrangued and harrassed hog
to loose (and lose) the scandalous, slanderous
~ defamation of character ~ that brandishes boars
with boorish belligerence and no deliverence
from the equally dodgily-deemed "dog-fight".
~ We are NOT (the) Pigs ~

Man is too swift to disown dishonour, to disregard
and discard the distanced disgrace of the
HUMAN race, blaming ANOTHER breed when
he comes to bleed, nullifying nascent nastiness.
~ Pigs Might Fly ~

Perhaps if Man could get Pigs and Dogs
to pilot planes, take flight and
~ fight his battles for him ~
he would.
~ Like er..... Laika ~

Yep - " ~ and pigs might fly ~ "
as dogs have done (like er..... Laika).
I'm not going to TYPE any HYPE about
Freddie Laker.
~ (still) "Still Life" ~

Is there <still ~ life> in the old dog yet ~ ?
No, but there is (still) "Still Life", not in
a "Pig Man" or a "Dog Man" but on
"Dog Man Star" - the "Suede" .album.
we played a (single) single from earlier.
"Still Life" by Suede (1994)

"Still Life" by Suede from the album "Dog Man Star".

Unquestionably properly placed among the
"Beautiful Ones", this .song. is "Dog Man Star"'s
finale and a triumphant ~ tour de force ~
for both (scoring) soaring .singer.
Brett Anderson. and the superb, supporting,
transporting Sinfonia of London.
~ "Suede" to Swede ~

For Benny Andersson rather than Brett Anderson,
please see the "ABBA Jabber" sweary section of
Breakdown Psycho's Analysis of "Psocker
SychoAnalysis - The Jung Juans' Fraudian "Slip"
on the Skip" by clicking : [HERE]......
~ Gotta Hand It TWO Them ~

......or let me persuade you (without a suede
or ~ silk purse ~ or a (leant and swayed)
~ sow's ear ~ (more of THOSE later (!))
to [STAY HERE !] and peep at a pair who
(with hair-wear by care of Cooper & Leia)
share
<'avin' an 'and in understandin'>.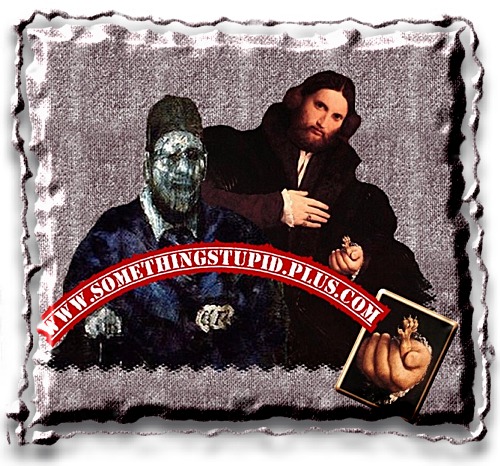 As the commonality is the left hand - the
((un?)benign) .sign. of the Sinister - this,
we may understand to be an under'and
"'and in understandin'"
with the
-----> (<)poor(-)paw(>)ed(-)claw <-----
a
clue to criminality.
~ (One) Lorenzo Lotto (Won) ~

To our left (if not to our ~ surprise ~) is the
sitter oft' compared to Pope Innocent X ;
to his left is a "Man with a Golden Paw",
(not a Golden Arm, a Golden Gun (or(e)
(necessarily) a g(u)ilty conscience)) committed
to canvas by one Lorenzo Lotto who may have
won, by <understood as underhand> methods,
the Loreto "Lotto" if the clapsed cub's captured
.cat.ty cutting .calls. to mind a <cache of .¢a$h.>.
~ The Sous-Prize Surprise ~

Not to be a sous(or pseudo)-prize, this
budgetary boost would have to be
a win less thin than .tuppence.,
as we shall see in ([FREE]
and FULL) : [PART 3] (of 15).
~ Get Chopped Up with the Ore Boar ~
[00] [01] [02] [03] [04] [05] [06] [07]
[08] [09] [10] [11] [12] [13] [14] [15]
~ and the last shall be first ~
Press PLAY to stream RECENT EWECHEWB YouTube Videos
~ EWECHEWB @ YOUTUBE ~
To SUBSCRIBE to my



~ EWECHEWB YouTube Channel ~
please click :[HERE]
'OME (PAGE) IS WHERE THE (')ART IS
'OME PAGE IS WHERE THE (')ART IS [HOME]
'OME PAGE IS WHERE THE (')ART IS [HOME]
~ # ~ # ~ # ~ # ~ # ~ # ~ # ~
[RETURN TO THE TOP OF THIS PAGE]
INDEX
SUBSCRIBE

FOLLOW

CONTACT
CONTENTS
SITE INDEX
SITE SEARCH
SITE NAVIGATION
MIXED DATES :
CONSOLIDATED CLIPS
PADDINGLESS PLAYLISTS
BLOGGIFICATIONS
COMMENTARY
OBSERVATIONS
BOOK & MUSIC CHARTS
TOP TOME TOPICS
TWITTER WITTERINGS
WORDS WORDS WORDS
DOPPELGÄNGERS
FAMOUS FACES
F(R)AME-LESS FACES
LOOKALIKES
MORPHS
PEOPLE
PORTRAITS
POSERS & POSEURS
EXPERIMENTS
LEARNING
SCREENCASTS
SILLY OLD THINGS
SOFTWARE DEMOS
WORKS IN PROGRESS
ORIGINAL READINGS
UNORIGINAL POEMS
UNORIGINAL STORIES
24 SEP 2009 :
PROTEST POST
IMAGE EDITING
SCREENCASTS
14 AUG 2009 :
CHILDREN'S POEM
ANIMAL ANIMATION
CRAZY TALK LIP SYNC
FACIAL ANIMATION
ORIGINAL POEM
SUBTITLED
TITLING (PREMIERE PRO)
VOICE ACTING
05 JUN 2009 :
POETIC POST CARD
ANIMAL ANIMATION
CRAZY TALK LIP SYNC
CUTOUT ANIMATION
FACIAL ANIMATION
SUBTITLED
TITLING (PREMIERE PRO)
VOICE ACTING
VOICE PROCESSING
1 OF MY FAVOURITES
30 NOV 2008 :
POETIC POST CARD
CRAZY TALK LIP SYNC
FACIAL ANIMATION
SUBTITLED
TITLING (PREMIERE PRO)
VOICE ACTING
10 AUG 2008 :
POETIC POST CARD
CRAZY TALK LIP SYNC
FACIAL ANIMATION
SUBTITLED
TITLING (PREMIERE PRO)
VOICE ACTING
04 MAY 2008:
COMPETITION ENTRY
AUDIO-EDITING
BRIEF FOR A BRIEF
ICLONE ANIMATION
ORIGINAL LYRICS
SONG & DANCE
SUBTITLED
TITLING (PREMIERE PRO)
VOICE ACTING
07 FEB 2008 :
PANTING PAINTING
CRAZY TALK LIP SYNC
FACIAL ANIMATION
MULTIPLE CHARACTERS
VOICE PROCESSING
SUBTITLED
TITLING (PREMIERE PRO)
18 JAN 2008 :
MORPHING MORPHINE
FACIAL ANIMATION
FANTAMORPH 1st GO
HISTORICAL HEADS
08 JAN 2008 :
SURPRISING SINGING
AUDIO EDITING
CRAZY TALK LIP SYNC
FACIAL ANIMATION
SUBTITLED
TITLING (PREMIERE PRO)
01 DEC 2007 :
COMPETITION ENTRY
BRIEF FOR A BRIEF
CRAZY TALK LIP SYNC
CUTOUT ANIMATION
FACIAL ANIMATION
ICLONE SPECIAL EFFECTS
ORIGINAL TOPICAL POEM
SUBTITLED
TITLING (BLUFFTITLER)
VOICE ACTING
VOICE PROCESSING
17 SEP 2007 :
STEREO MONOLOGUE
CRAZY TALK LIP SYNC
FACIAL ANIMATION
SUBTITLED
TITLING (PREMIERE PRO)
VOICE ACTING
12 JUN 2007 :
CLOTHES DESIGN
CUSTOM CONTENT
SOFTWARE DEMO
17 MAR 2007 :
iCLONE MUSIC VIDEO
CRAZY TALK LIP SYNC
FACIAL ANIMATION
3D FULL BODY ANIMATION
SONG & DANCE
SUBTITLED
TITLING (PREMIERE PRO)
02 MAR 2007 :
SOFTWARE DEMO
3D FULL BODY ANIMATION
18 OCT 2006 :
COMPETITION ENTRY
CRAZY TALK LIP SYNC
CUTOUT ANIMATION
FACIAL ANIMATION
2D FULL BODY ANIMATION
ICLONE SPECIAL EFFECTS
ORIGINAL LYRICS
SONG & DANCE
SUBTITLED
TITLING (PHOTODRAW)
VOICE ACTING
VOICE PROCESSING
12 AUG 2006 :
JUST FOR FUN
ONLY MY FAVOURITE
CRAZY TALK LIP SYNC
FACIAL ANIMATION
3D FULL BODY ANIMATION
ICLONE MUSIC VIDEO
SONG & DANCE
SUBTITLED
VOICE ACTING
VOICE PROCESSING
07 JUN 2006 :
VICTORIAN VERMINATOR
ANIMAL ANIMATION
CRAZY TALK LIP SYNC
FACIAL ANIMATION
3D FULL BODY ANIMATION
iCLONE MUSIC VIDEO
SONG AND DANCE
VOICE ACTING
23 APR 2006 :
GARDEN GUARDIAN
CRAZY TALK LIP SYNC
FACIAL ANIMATION
ORIGINAL LYRICS
SUBTITLED
VOICE ACTING
VOICE PROCESSING
18 FEB 2006 :
CRAZY TALK LIP SYNC
FACIAL ANIMATION
ORIGINAL POEM
SUBTITLED
VOICE ACTING
21 JAN 2006 :



CRAZY TALK LIP SYNC
FACIAL ANIMATION
3D FULL BODY ANIMATION
ORIGINAL LYRICS
SONG & DANCE
SUBTITLED
VOICE ACTING
VOICE PROCESSING
05 NOV 2005 :
ANIMAL ANIMATION
CRAZY TALK LIP SYNC
FACIAL ANIMATION
ORIGINAL LYRICS
SUBTITLED
VOICE ACTING
VOICE PROCESSING
13 JUN 2005 :
CUTOUT ANIMATION
FLASH MX ANIMATION
ORIGINAL LYRICS
SUBTITLED
TITLING (SWiSHMAX)
VOICE ACTING
VOICE PROCESSING
24 AUG 2004 :
CRAZY TALK LIP SYNC
FACIAL ANIMATION
ORIGINAL LYRICS
SUBTITLED
TITLING (PREMIERE PRO)
VOICE ACTING
12 JUL 2004 :
CUTOUT ANIMATION
FLASH MX ANIMATION
ORIGINAL POEM
VOICE ACTING
12 JAN 2004 :
CRAZY TALK LIP SYNC
FACIAL ANIMATION
ORIGINAL LYRICS
SUBTITLED
TITLING (PREMIERE PRO)
VOICE ACTING
05 JAN 2004 :
CRAZY TALK LIP SYNC
FACIAL ANIMATION
ORIGINAL POEM
SUBTITLED
TITLING (PREMIERE PRO)
VOICE ACTING
VOICE PROCESSING
10 DEC 2003 :
CUTOUT ANIMATION
FLASH MX ANIMATION
MISHEARD LYRICS
SUBTITLED
TITLING (SWiSHMAX)
06 NOV 2003 :
CUTOUT ANIMATION
FLASH MX ANIMATION
ORIGINAL LYRICS
SUBTITLED
TITLING (SWiSHMAX)
VOICE PROCESSING
04 MAY 1999:
GRAPHICS EDITING
ICLONE ANIMATION
ORIGINAL PARODY
VOICE ACTING
VOICE PROCESSING