The ($ubtitled) $ub-Rh¥m€ ("Mark" It !)
The ($ubtitled) $ub-Rh¥m€ ("Mark" It !)
(Spoken Commentary Page

.14

of 15)
~ QUICK ! [CLICK] for COMMENTARY 14 ~
~ Get Chopped Up with the Ore Boar ~ 14
[00] [01] [02] [03] [04] [05] [06] [07]
[08] [09] [10] [11] [12] [13] [14] [15]
"Links" to 15 Pages of Streaming Audio
~ Download Adobe Flash Player [HERE] ~
~ Learn to Read ENGLISH with AudioFlash ~

Please
SCROLL DOWN
to READ the written
commentary about this
.ORIGINAL COMIC POEM..
~ Listen to HEXED TEXT Audiographs ~
If
[YOU !]
have Flash installed,
[YOU !]
may also PURPosefuLly
.PRESS.
thE :

PURPLE .PLAY. BUTTON
to
[LISTEN !]
to
[MY !]
.HEXED TEXT, Audiographs.
The ($ubtitled) $ub-Rh¥m€ ("Mark" It !)
The ($ubtitled) $ub-Rh¥m€ ("Mark" It !)
~ 1 December 2007 (Subtitles 4 April 2010) ~
To SUBSCRIBE to my



~ EWECHEWB YouTube Channel ~
please click :[HERE]
~ Ore Boar's (Piggy) (Bank) Notes - 14 ~

"What Would Your Money Say to You ?"
asked the British .financial. website who
were .running the competition. that inspired me
to .write. and .create. the .animated. .poem.
"The $ub-Rh¥m€ ("Mark" It !)".
~ That's All That Counts ~

Here's Johnny (not "Here's Johnny !")
raspingly responding (to being interviewed
(about self-expression and language usage),
with literal Dutch courage, (by ~ some Johnny
Foreigner ~) (not "Foreigner")) in
<(")GOD SAVE THE QUEEN(")!>
Silver Jubilee Year and a manner meant
to reinforce his <Bad-Boy/Bad Manners>
(not "Bad Manners") ((")Public) Image(...") :
Johnny Rotten Interviewed in 1977

Johnny Rotten.Interviewed in 1977. ~ It's (not) all Dutch to me. ~
"That's all that counts." @ BOTH 0:18 and 0:38

"That's all that counts." he says.....
(TWICE
!
(Another pair !))
~ That's All That's C(o)unts ~
.....and, what he says counts (; when counted).
"Here's Johnny" making "choice language"
his choice of language :
A (Non-American) Swear-Wolf in Lydon -
Johnny Rotten at the "Guitar Hero" Launch
~ Pratty Prattle ~

"choice language" is the language choice
of the "mealy-mouthed" to describe the
propensity of profanity present in the
(pratty) prattle of the "potty-mouthed".
~ Potty Potty ~

It
is a
euphemism
and it is with
enthusiasm that
~ "honest" John ~ Lydon
spouts out shouts for seven
"shit"s as though, (with an ASBO as
~ power to his elbow ~) he's "(.Potty.) Potty".
~ Silly Balls & Syllables ~

The senselessly censorious, .talking.
silly balls about syllables, might insist
this .lyricist. should ~ "wash his mouth
out" ~ and that we, aggrieved, agree to
clean : pristine, our savaged, ravaged
ears (and rears)......
~ Youth & Jism Euphemism ~
.....but(t) ablutions' strict (")solutions(")
sometimes "polish-up" ".pollutions." and help
us hear the things "THEY" fear revered.
Revealed, reviled ~ an errant child ~ ;
the <youth and jism> euphemism :
---------> "Spank the Monkey" <---------
"~ comes" "clean ~ " and ".dirty."
.......................slightly squirty
..................................bruising,
....................................oozing,
......................losing choosing:
"choice language"
to obscure the moany
<"money shot">
"Monkey" shot.....:
~ Dirty Cash (Mon(k)ey Talks) ~
.....from
"BANK the (")Monkey(") ~ !"
(not Banksy's "Monkey"s)'s
gilded gibbon's groin and NOT
a golden gun or a Sex Pistol.
~ Banksy's Monkeys ~

"Hail"ing from Bristol, ~ shot from (and at)
the hip ~ (and "hip"), Banksy's.bullets are
not blanks and neither are his canvases
- and neither are his "canvases" : "canvases" -
~ by and large ~
they are walls
large to buy but
sought and bought
banked NOT blanked
like the <stay-for-a-day> spray
of most .graffitti ..artists .
~ Prohibition Exhibition ~

(Someone might tell Alanis
that) there is irony in the
"Arrange(")d "exchange"
of [PROHIBITION !]
for [EXHIBITION !] of
Banksy's .grungey. .graphics .;
public .painting .on private <property>
raises the .value. of the criminally
damaged ; subliminally managed, this
"defacement", through <displacement>,
becomes decor the exchequer understands.
~ Cool Wall Scrawl ~

An original .daub. .on what was originally
a wall can raise eyebrows, glasses, spirits,
glasses, .funds., the roof, yoof, yobs, (k)nob(')s,
(")arses("), the lower classes and a certain smile.....
Monarchy, Anarchy & A Monkey in the U.K.
.....although we may question what is
"original" and who is influencing who
(~ And how ! ~ ) and how (and howl like
a ( .monied.,) narky Howler Monkey (from
Monarchy to (")Anarchy in the U.K.(")).
~ The Descent of "MON" ~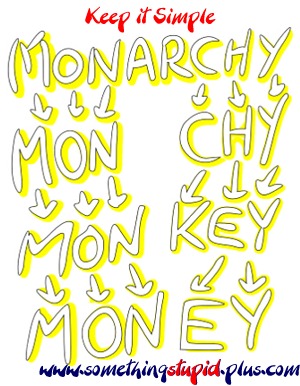 ~ Simple Symbols ~

MONARCHY

MONCHY

MONKEY

MONEY


"CASH FROM CHAOS"


Malcolm McLaren ~ "coined" the phrase ~ :
~ ~ ~ "CASH FROM CHAOS" ~ ~ ~
seen on this T-Shirt & Heraldic Shield.


"ANARCHY IN THE U.K."

~ Simple Cymbals ~

"Anarchy in the U.K."
was the <first burst fast blast> from
"Never Mind the Bollocks,
Here's the Sex Pistols".
Never mind the bollocks,
here's the "Sex Pistols"
in their original (pre-Sid Vicious)
(tear don't ~ tow the) line(~)-up of
Johnny Rotten (vocals), Steve Jones
(guitar), Glen Matlock (bass) and Paul Cook
(driving drums and simple cymbals) :
~ "Anarchy in the U.K." ~
"Anarchy in the U.K." - Sex Pistols (1976)

"Anarchy in the U.K." - Sex Pistols (1976)

Up-front frontman Johnny Rotten opens
this .song . with a splendid laugh, for
~ the last laugh ~ (.punk ily "Po)go(")
to [PART 15] of 15.
~ Get Chopped Up with the Ore Boar ~
[00] [01] [02] [03] [04] [05] [06] [07]
[08] [09] [10] [11] [12] [13] [14] [15]
~ and the last shall be first ~
Press PLAY to stream RECENT EWECHEWB YouTube Videos
~ EWECHEWB @ YOUTUBE ~
To SUBSCRIBE to my



~ EWECHEWB YouTube Channel ~
please click :[HERE]
'OME (PAGE) IS WHERE THE (')ART IS
'OME PAGE IS WHERE THE (')ART IS [HOME]
'OME PAGE IS WHERE THE (')ART IS [HOME]
~ # ~ # ~ # ~ # ~ # ~ # ~ # ~
INDEX
SUBSCRIBE

FOLLOW

CONTACT
CONTENTS
SITE INDEX
SITE SEARCH
SITE NAVIGATION
MIXED DATES :
CONSOLIDATED CLIPS
PADDINGLESS PLAYLISTS
BLOGGIFICATIONS
COMMENTARY
OBSERVATIONS
BOOK & MUSIC CHARTS
TOP TOME TOPICS
TWITTER WITTERINGS
WORDS WORDS WORDS
DOPPELGÄNGERS
FAMOUS FACES
F(R)AME-LESS FACES
LOOKALIKES
MORPHS
PEOPLE
PORTRAITS
POSERS & POSEURS
EXPERIMENTS
LEARNING
SCREENCASTS
SILLY OLD THINGS
SOFTWARE DEMOS
WORKS IN PROGRESS
ORIGINAL READINGS
UNORIGINAL POEMS
UNORIGINAL STORIES
24 SEP 2009 :
PROTEST POST
IMAGE EDITING
SCREENCASTS
14 AUG 2009 :
CHILDREN'S POEM
ANIMAL ANIMATION
CRAZY TALK LIP SYNC
FACIAL ANIMATION
ORIGINAL POEM
SUBTITLED
TITLING (PREMIERE PRO)
VOICE ACTING
05 JUN 2009 :
POETIC POST CARD
ANIMAL ANIMATION
CRAZY TALK LIP SYNC
CUTOUT ANIMATION
FACIAL ANIMATION
SUBTITLED
TITLING (PREMIERE PRO)
VOICE ACTING
VOICE PROCESSING
1 OF MY FAVOURITES
30 NOV 2008 :
POETIC POST CARD
CRAZY TALK LIP SYNC
FACIAL ANIMATION
SUBTITLED
TITLING (PREMIERE PRO)
VOICE ACTING
10 AUG 2008 :
POETIC POST CARD
CRAZY TALK LIP SYNC
FACIAL ANIMATION
SUBTITLED
TITLING (PREMIERE PRO)
VOICE ACTING
04 MAY 2008:
COMPETITION ENTRY
AUDIO-EDITING
BRIEF FOR A BRIEF
ICLONE ANIMATION
ORIGINAL LYRICS
SONG & DANCE
SUBTITLED
TITLING (PREMIERE PRO)
VOICE ACTING
07 FEB 2008 :
PANTING PAINTING
CRAZY TALK LIP SYNC
FACIAL ANIMATION
MULTIPLE CHARACTERS
VOICE PROCESSING
SUBTITLED
TITLING (PREMIERE PRO)
18 JAN 2008 :
MORPHING MORPHINE
FACIAL ANIMATION
FANTAMORPH 1st GO
HISTORICAL HEADS
08 JAN 2008 :
SURPRISING SINGING
AUDIO EDITING
CRAZY TALK LIP SYNC
FACIAL ANIMATION
SUBTITLED
TITLING (PREMIERE PRO)
01 DEC 2007 :
COMPETITION ENTRY
BRIEF FOR A BRIEF
CRAZY TALK LIP SYNC
CUTOUT ANIMATION
FACIAL ANIMATION
ICLONE SPECIAL EFFECTS
ORIGINAL TOPICAL POEM
SUBTITLED
TITLING (BLUFFTITLER)
VOICE ACTING
VOICE PROCESSING
17 SEP 2007 :
STEREO MONOLOGUE
CRAZY TALK LIP SYNC
FACIAL ANIMATION
SUBTITLED
TITLING (PREMIERE PRO)
VOICE ACTING
12 JUN 2007 :
CLOTHES DESIGN
CUSTOM CONTENT
SOFTWARE DEMO
17 MAR 2007 :
iCLONE MUSIC VIDEO
CRAZY TALK LIP SYNC
FACIAL ANIMATION
3D FULL BODY ANIMATION
SONG & DANCE
SUBTITLED
TITLING (PREMIERE PRO)
02 MAR 2007 :
SOFTWARE DEMO
3D FULL BODY ANIMATION
18 OCT 2006 :
COMPETITION ENTRY
CRAZY TALK LIP SYNC
CUTOUT ANIMATION
FACIAL ANIMATION
2D FULL BODY ANIMATION
ICLONE SPECIAL EFFECTS
ORIGINAL LYRICS
SONG & DANCE
SUBTITLED
TITLING (PHOTODRAW)
VOICE ACTING
VOICE PROCESSING
12 AUG 2006 :
JUST FOR FUN
ONLY MY FAVOURITE
CRAZY TALK LIP SYNC
FACIAL ANIMATION
3D FULL BODY ANIMATION
ICLONE MUSIC VIDEO
SONG & DANCE
SUBTITLED
VOICE ACTING
VOICE PROCESSING
07 JUN 2006 :
VICTORIAN VERMINATOR
ANIMAL ANIMATION
CRAZY TALK LIP SYNC
FACIAL ANIMATION
3D FULL BODY ANIMATION
iCLONE MUSIC VIDEO
SONG AND DANCE
VOICE ACTING
23 APR 2006 :
GARDEN GUARDIAN
CRAZY TALK LIP SYNC
FACIAL ANIMATION
ORIGINAL LYRICS
SUBTITLED
VOICE ACTING
VOICE PROCESSING
18 FEB 2006 :
CRAZY TALK LIP SYNC
FACIAL ANIMATION
ORIGINAL POEM
SUBTITLED
VOICE ACTING
21 JAN 2006 :



CRAZY TALK LIP SYNC
FACIAL ANIMATION
3D FULL BODY ANIMATION
ORIGINAL LYRICS
SONG & DANCE
SUBTITLED
VOICE ACTING
VOICE PROCESSING
05 NOV 2005 :
ANIMAL ANIMATION
CRAZY TALK LIP SYNC
FACIAL ANIMATION
ORIGINAL LYRICS
SUBTITLED
VOICE ACTING
VOICE PROCESSING
13 JUN 2005 :
CUTOUT ANIMATION
FLASH MX ANIMATION
ORIGINAL LYRICS
SUBTITLED
TITLING (SWiSHMAX)
VOICE ACTING
VOICE PROCESSING
24 AUG 2004 :
CRAZY TALK LIP SYNC
FACIAL ANIMATION
ORIGINAL LYRICS
SUBTITLED
TITLING (PREMIERE PRO)
VOICE ACTING
12 JUL 2004 :
CUTOUT ANIMATION
FLASH MX ANIMATION
ORIGINAL POEM
VOICE ACTING
12 JAN 2004 :
CRAZY TALK LIP SYNC
FACIAL ANIMATION
ORIGINAL LYRICS
SUBTITLED
TITLING (PREMIERE PRO)
VOICE ACTING
05 JAN 2004 :
CRAZY TALK LIP SYNC
FACIAL ANIMATION
ORIGINAL POEM
SUBTITLED
TITLING (PREMIERE PRO)
VOICE ACTING
VOICE PROCESSING
10 DEC 2003 :
CUTOUT ANIMATION
FLASH MX ANIMATION
MISHEARD LYRICS
SUBTITLED
TITLING (SWiSHMAX)
06 NOV 2003 :
CUTOUT ANIMATION
FLASH MX ANIMATION
ORIGINAL LYRICS
SUBTITLED
TITLING (SWiSHMAX)
VOICE PROCESSING
04 MAY 1999:
GRAPHICS EDITING
ICLONE ANIMATION
ORIGINAL PARODY
VOICE ACTING
VOICE PROCESSING