Lord Above, Sweet Immanuel
~ Wednesday 18 October 2006 ~

.Whingeing. about singeing,
~ with all the best/(beast-blessed) .tunes. ~
(and a, fortunately, un-(~)four-eyed(~)
(~)"fork"ing (~) withered tuna for a tuner)
Beelzebub .bellyaches. as a .talking. tummy
(~) turns (a) .singing. stomach (~).

Beelzebub Bellyaches
~ ORIGINAL LYRICS ~
Lord Above, Sweet Immanuel
(My Lyx & Vox (1999))
Lord above, sweet Immanuel
Safe haven from Strife's sour swell
Carry me, bodily, Heavenly, unto Thee
Grant my soul's liberty eternity
Honesty's sanctity proffers tranquility
Adds to humanity - humility
Lord of love, sweet Immanuel
Returning as the saints foretell
Golden light, glimmering
Burning bright, shimmering
Banishing Treachery, vanquishing Misery
~ PINCHED PARTS ~
--<<

.ORGAN THEFT.

>>--

0:16 - 1:19

of :"Lament to the Earl of Bottesford Beck"

Track 8 on Amazing Blondel's breath-takingly
beautiful long-playing record "England" (1972).
--<<
.DEVIL DELIVERY.
>>--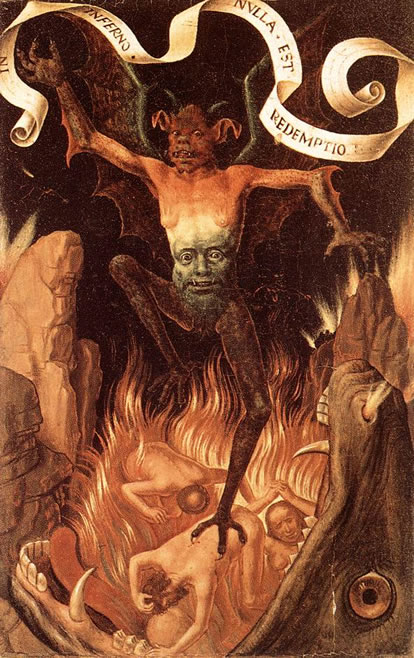 from "Hell" (1485) by (Look no) Han(')s Memling.
--<<
.SOUL BOWL CONTENT.
>>--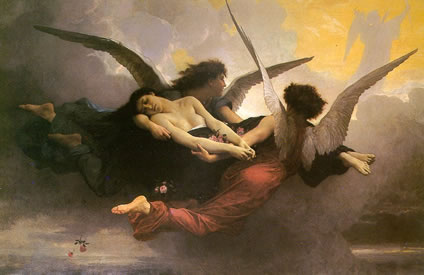 from the (1878) painting sometimes known as
"A Soul Brought to Heaven"
by William-Adolphe Bouguereau.
~ CRIMSON CREATION ~
It was not without thought of my .late. grandmother
that I originally wrote these words, in earnest, as
a supposedly(,) .sweet.(,) spaniel(NOT Satan)
-spawned .hymn. for a .musical./themed-collection
of .songs. I was obsessively a(not Black )Massing.
However, a suitable dog-head was never rigged
and I took a VERY different path creating this
communication between a crucified (but .dancing.)
devil and "his" possessed (but glorifying) :
"Tuned up Turnip Turned Up".
~ COMPETITION ~
The tiresome and over-extended ending about
"weiners", "winners" and "hot dogs" came about
because I entered this .animation. in
YouTuber "NightowlDarksky"'s
<<<.2006. Halloween Video Competition>>>.
I think his grandparents were the judges and
the Grand Prize was a box of Tesco .Chocolates..
Although, following a mysterious and prolonged
hiatus, "NightowlDarksky" has, as of .2009.,
returned to YouTube, he erased hundreds of
vlogs during his absence and so all trace of
the Contest has been eliminated.
~ and the last shall be first ~
Press PLAY to stream RECENT EWECHEWB YouTube Videos
~ EWECHEWB @ YOUTUBE ~
To SUBSCRIBE to my



~ EWECHEWB YouTube Channel ~
please click :[HERE]
'OME (PAGE) IS WHERE THE (')ART IS
'OME PAGE IS WHERE THE (')ART IS [HOME]
'OME PAGE IS WHERE THE (')ART IS [HOME]
~ # ~ # ~ # ~ # ~ # ~ # ~ # ~
[RETURN TO THE TOP OF THIS PAGE]
INDEX
SUBSCRIBE

FOLLOW

CONTACT
CONTENTS
SITE INDEX
SITE SEARCH
SITE NAVIGATION
MIXED DATES :
CONSOLIDATED CLIPS
PADDINGLESS PLAYLISTS
BLOGGIFICATIONS
COMMENTARY
OBSERVATIONS
BOOK & MUSIC CHARTS
TOP TOME TOPICS
TWITTER WITTERINGS
WORDS WORDS WORDS
DOPPELGÄNGERS
FAMOUS FACES
F(R)AME-LESS FACES
LOOKALIKES
MORPHS
PEOPLE
PORTRAITS
POSERS & POSEURS
EXPERIMENTS
LEARNING
SCREENCASTS
SILLY OLD THINGS
SOFTWARE DEMOS
WORKS IN PROGRESS
ORIGINAL READINGS
UNORIGINAL POEMS
UNORIGINAL STORIES
24 SEP 2009 :
PROTEST POST
IMAGE EDITING
SCREENCASTS
14 AUG 2009 :
CHILDREN'S POEM
ANIMAL ANIMATION
CRAZY TALK LIP SYNC
FACIAL ANIMATION
ORIGINAL POEM
SUBTITLED
TITLING (PREMIERE PRO)
VOICE ACTING
05 JUN 2009 :
POETIC POST CARD
ANIMAL ANIMATION
CRAZY TALK LIP SYNC
CUTOUT ANIMATION
FACIAL ANIMATION
SUBTITLED
TITLING (PREMIERE PRO)
VOICE ACTING
VOICE PROCESSING
1 OF MY FAVOURITES
30 NOV 2008 :
POETIC POST CARD
CRAZY TALK LIP SYNC
FACIAL ANIMATION
SUBTITLED
TITLING (PREMIERE PRO)
VOICE ACTING
10 AUG 2008 :
POETIC POST CARD
CRAZY TALK LIP SYNC
FACIAL ANIMATION
SUBTITLED
TITLING (PREMIERE PRO)
VOICE ACTING
04 MAY 2008:
COMPETITION ENTRY
AUDIO-EDITING
BRIEF FOR A BRIEF
ICLONE ANIMATION
ORIGINAL LYRICS
SONG & DANCE
SUBTITLED
TITLING (PREMIERE PRO)
VOICE ACTING
07 FEB 2008 :
PANTING PAINTING
CRAZY TALK LIP SYNC
FACIAL ANIMATION
MULTIPLE CHARACTERS
VOICE PROCESSING
SUBTITLED
TITLING (PREMIERE PRO)
18 JAN 2008 :
MORPHING MORPHINE
FACIAL ANIMATION
FANTAMORPH 1st GO
HISTORICAL HEADS
08 JAN 2008 :
SURPRISING SINGING
AUDIO EDITING
CRAZY TALK LIP SYNC
FACIAL ANIMATION
SUBTITLED
TITLING (PREMIERE PRO)
01 DEC 2007 :
COMPETITION ENTRY
BRIEF FOR A BRIEF
CRAZY TALK LIP SYNC
CUTOUT ANIMATION
FACIAL ANIMATION
ICLONE SPECIAL EFFECTS
ORIGINAL TOPICAL POEM
SUBTITLED
TITLING (BLUFFTITLER)
VOICE ACTING
VOICE PROCESSING
17 SEP 2007 :
STEREO MONOLOGUE
CRAZY TALK LIP SYNC
FACIAL ANIMATION
SUBTITLED
TITLING (PREMIERE PRO)
VOICE ACTING
12 JUN 2007 :
CLOTHES DESIGN
CUSTOM CONTENT
SOFTWARE DEMO
17 MAR 2007 :
iCLONE MUSIC VIDEO
CRAZY TALK LIP SYNC
FACIAL ANIMATION
3D FULL BODY ANIMATION
SONG & DANCE
SUBTITLED
TITLING (PREMIERE PRO)
02 MAR 2007 :
SOFTWARE DEMO
3D FULL BODY ANIMATION
18 OCT 2006 :
COMPETITION ENTRY
CRAZY TALK LIP SYNC
CUTOUT ANIMATION
FACIAL ANIMATION
2D FULL BODY ANIMATION
ICLONE SPECIAL EFFECTS
ORIGINAL LYRICS
SONG & DANCE
SUBTITLED
TITLING (PHOTODRAW)
VOICE ACTING
VOICE PROCESSING
12 AUG 2006 :
JUST FOR FUN
ONLY MY FAVOURITE
CRAZY TALK LIP SYNC
FACIAL ANIMATION
3D FULL BODY ANIMATION
ICLONE MUSIC VIDEO
SONG & DANCE
SUBTITLED
VOICE ACTING
VOICE PROCESSING
07 JUN 2006 :
VICTORIAN VERMINATOR
ANIMAL ANIMATION
CRAZY TALK LIP SYNC
FACIAL ANIMATION
3D FULL BODY ANIMATION
iCLONE MUSIC VIDEO
SONG AND DANCE
VOICE ACTING
23 APR 2006 :
GARDEN GUARDIAN
CRAZY TALK LIP SYNC
FACIAL ANIMATION
ORIGINAL LYRICS
SUBTITLED
VOICE ACTING
VOICE PROCESSING
18 FEB 2006 :
CRAZY TALK LIP SYNC
FACIAL ANIMATION
ORIGINAL POEM
SUBTITLED
VOICE ACTING
21 JAN 2006 :



CRAZY TALK LIP SYNC
FACIAL ANIMATION
3D FULL BODY ANIMATION
ORIGINAL LYRICS
SONG & DANCE
SUBTITLED
VOICE ACTING
VOICE PROCESSING
05 NOV 2005 :
ANIMAL ANIMATION
CRAZY TALK LIP SYNC
FACIAL ANIMATION
ORIGINAL LYRICS
SUBTITLED
VOICE ACTING
VOICE PROCESSING
13 JUN 2005 :
CUTOUT ANIMATION
FLASH MX ANIMATION
ORIGINAL LYRICS
SUBTITLED
TITLING (SWiSHMAX)
VOICE ACTING
VOICE PROCESSING
24 AUG 2004 :
CRAZY TALK LIP SYNC
FACIAL ANIMATION
ORIGINAL LYRICS
SUBTITLED
TITLING (PREMIERE PRO)
VOICE ACTING
12 JUL 2004 :
CUTOUT ANIMATION
FLASH MX ANIMATION
ORIGINAL POEM
VOICE ACTING
12 JAN 2004 :
CRAZY TALK LIP SYNC
FACIAL ANIMATION
ORIGINAL LYRICS
SUBTITLED
TITLING (PREMIERE PRO)
VOICE ACTING
05 JAN 2004 :
CRAZY TALK LIP SYNC
FACIAL ANIMATION
ORIGINAL POEM
SUBTITLED
TITLING (PREMIERE PRO)
VOICE ACTING
VOICE PROCESSING
10 DEC 2003 :
CUTOUT ANIMATION
FLASH MX ANIMATION
MISHEARD LYRICS
SUBTITLED
TITLING (SWiSHMAX)
06 NOV 2003 :
CUTOUT ANIMATION
FLASH MX ANIMATION
ORIGINAL LYRICS
SUBTITLED
TITLING (SWiSHMAX)
VOICE PROCESSING
04 MAY 1999:
GRAPHICS EDITING
ICLONE ANIMATION
ORIGINAL PARODY
VOICE ACTING
VOICE PROCESSING