The ($ubtitled) $ub-Rh¥m€ ("Mark" It !)
The ($ubtitled) $ub-Rh¥m€ ("Mark" It !)
(Spoken Commentary Page

.09

of 15)
~ QUICK ! [CLICK] for COMMENTARY 09 ~
~ Get Chopped Up with the Ore Boar ~
[00] [01] [02] [03] [04] [05] [06] [07]
[08] [09] [10] [11] [12] [13] [14] [15]
"Links" to 15 Pages of Streaming Audio
~ Download Adobe Flash Player [HERE] ~
~ Learn to Read ENGLISH with AudioFlash ~

Please
SCROLL DOWN
to READ the written
commentary about this
.ORIGINAL COMIC POEM..
~ Listen to HEXED TEXT Audiographs ~
If
[YOU !]
have Flash installed,
[YOU !]
may also PURPosefuLly
.PRESS.
thE :

PURPLE .PLAY. BUTTON
to
[LISTEN !]
to
[MY !]
.HEXED TEXT, Audiographs.
The ($ubtitled) $ub-Rh¥m€ ("Mark" It !)
The ($ubtitled) $ub-Rh¥m€ ("Mark" It !)
~ 1 December 2007 (Subtitles 4 April 2010) ~
To SUBSCRIBE to my



~ EWECHEWB YouTube Channel ~
please click :[HERE]
~ Ore Boar's (Piggy) (Bank) Notes - 09 ~

"What Would Your Money Say to You ?"
asked the British .financial. website who
were .running the competition. that inspired me
to .write. and .create. the .animated. .poem.
"The $ub-Rh¥m€ ("Mark" It !)".
~ Saturated is Over-Rated ~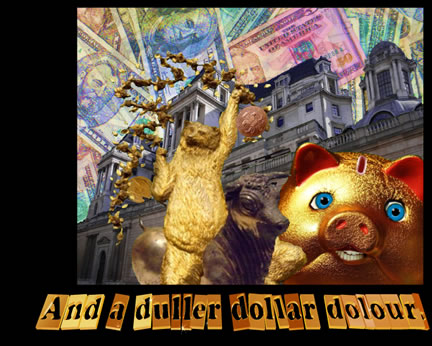 Familiar faces frown, "brown-strapped" but
not brown, (~ browned (or Brown-ed) off ~)
oft' lofty, their uncrowned heads' heads held
high in the sky, the clouds they cover keeping
Saturn (Satan) and the sat-on)) osbscured by
heavily-saturated spinning stacks, stacked behind
(yet against) the .share.d .stocks. of <Bulls & Bears>.
~ Stocks & Shocks ~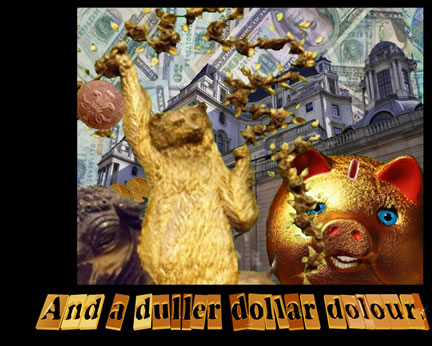 Grant and Franklin fade as the Bull and
Bear evade Parody's Parades of Tragedy's
Tirades. Who was taking who ~ for a ride ? ~
~ Increase the Grease ~

And who can ride on and not slide off
a greasy pig whilst (social) ~ climbing
the greasy pole ~ ?
~ Editors & Preditors ~
To ~ go up in the world ~, they'd need
to take "Control" of their public image,
like former editor (and "Familiar face")
Boris Johnson, whilst preditor "Freddy
Kreuger"'s claws might ~ spur them on ~
to ~ get a grip ~ ~ against the odds ~.
~ Or(e) Bo(a)r(is) Johnson ~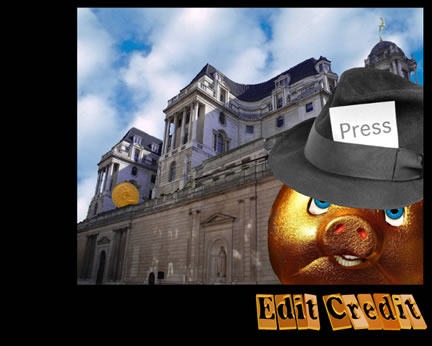 ~ Against the odds ~ the Ore .Boar. has
~ got a grip ~ and a new job in this
journalistic .joke. that makes much
(much too much) of the "Edit" part
of "Edit Credit".
You can't see him ~ treading on any toes ~
(or ~ walking on eggshells ~) to, re-named:
"Ore .Boar. is Johnson", ~ step into someone
else's shoes ~, nor fathom how he worded
the "Press Release" that somehow pressed
<Shreddy "Freddy"> to release that hat.
(The "that hat" of
"Where did you get that hat?".)
~ From Toes to (Teased) Teas ~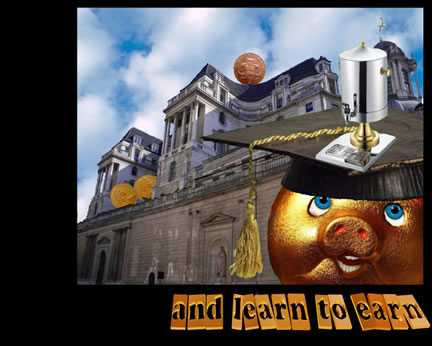 From "toes" to (teased) .teas., the "learn"
in "learn to earn" is represented by
an academic's mortarboard. This capital
cap previously appeared [HERE] in my
earlier .FLASH MX.-.animated. .poem. :
"Mundane Mo(u)rning with the Dhoop Dope".
The "earn" requires that you "learn"
to bend and "lend" your eyes and
ears to spy (and not spurn) the urn.
It is Watt's urn. He is not in it.
~ "Buried" in his .books. ~ , whilst alive, he
was probably buried in his boots (and a box)
when he died ; and NOT .burned. ; NOT urn-ed.
.Tea. is in it. Like the ".tea." in <s" .tea. "m>
and the <s" .tea. "m engine> of his invention.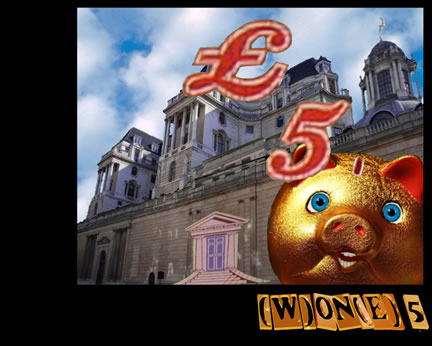 It was an invention that deserved to have
"(W)ON(E)" many accolades. I highlighted
the winning potential of "(W)ON(E)" by
showing it in not "(W)ON(E)" but
T"(W)ON(E)" aspects, dual (rather than
duelling) dimensions pursuing the £500 Prize.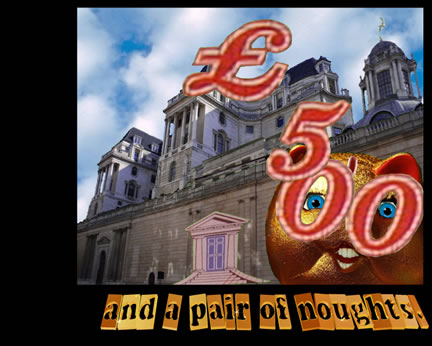 To further emphasEYES the pry-EYES, like
glassless glasses, "a pair of noughts" were
paired with the pair of "(W)ON(E)"s, a pair
of pairs - ~ for spares or repairs ~.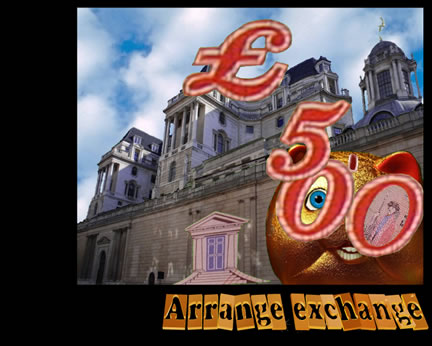 The "£" sign, the numbers and the illustrations
were cut from a £50 note. The angular,
architectural .drawing. has been pasted over its
.photographic. equivalent and the .portrait......
Sir John's (~ Surge) on the £ (~)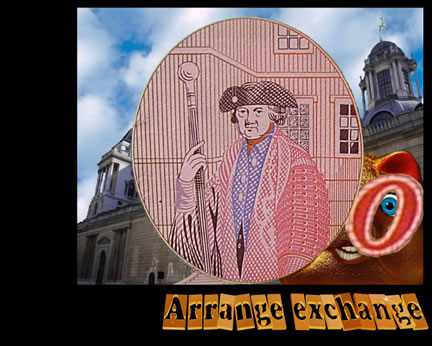 .....may be enlarged, like a magnified .cameo.
to make more familiar the (to-(modernised)
modern-eyes unfamiliar) "Familiar face" of
Sir John Houblon - who as Sheriff of the
City of London, Alderman, Master of the
Grocer's Company, Lord Mayor of London,
Lord Commissioner of the Admiralty and
Inaugural Governor of The Bank of England
was more than mere <Staff with a staff>.
He was someone who wore more hats than
Freddy, Boris, The Ore Boar and I could
collectively scavenge to whimsically skim
at his skillful skull.
He was ~ someone to take your hat off to ~.
~ Sir John's Purge from the £ ~

Nevertheless, someone has decided that
rather than ~ take their hat off to ~ Sir John,
they are going to take Sir John off the £50.
Watt Goes Around Comes Around

They are going to replace him with someone
else, well - sometwo elses - another pair !
This swap was ~ not what I had in mind ~
when I wrote : "Arrange exchange", not
Watt I had in mind at all.
~ (A Head of) A Head of Steam ~

(~) To bring things to (~) a head (~)
of steam(~), (the esteemed) (head of)
the <"Head of Steam">, Engine-designer
James Watt is the first "Familiar face" to
displace the departer, with his ("tax-collector"
-tainted "Sainted" Apostle Christian-name-
shar(.e.)ing) business partner Matthew
bolt(ed) on.
~ Bolt on Boulton ~

Born in Birmingham, not Bolton,
Matthew Boulton ~ greased the wheels ~
(not the poles or the pig*s (or any .pig.s'
"poles")) of the steam-engine-producing
company he, by providing the funding
to promote and further the Scot's patent,
established with James Watt as the
clearly self-identifying : "Boulton & Watt".
~ Brum Chums ~

*"Pig" the .pig. in "Pipkins" (as well as
bearing a name that is "Pig" (and not
"Bear") sparing us the "Bull" of
indirectness Directors Boulton & Watt also
~ had no time for ~, was a Brummie too,
as, loosely, was William Shakespeare.
~ Shoot Down the Chute ~
For more coincidences and the root
of .COIN.cidence shoot down the
chute to [PART 10] of 15.
~ Get Chopped Up with the Ore Boar ~
[00] [01] [02] [03] [04] [05] [06] [07]
[08] [09] [10] [11] [12] [13] [14] [15]
~ and the last shall be first ~
Press PLAY to stream RECENT EWECHEWB YouTube Videos
~ EWECHEWB @ YOUTUBE ~
To SUBSCRIBE to my



~ EWECHEWB YouTube Channel ~
please click :[HERE]
'OME (PAGE) IS WHERE THE (')ART IS
'OME PAGE IS WHERE THE (')ART IS [HOME]
'OME PAGE IS WHERE THE (')ART IS [HOME]
~ # ~ # ~ # ~ # ~ # ~ # ~ # ~
INDEX
SUBSCRIBE

FOLLOW

CONTACT
CONTENTS
SITE INDEX
SITE SEARCH
SITE NAVIGATION
MIXED DATES :
CONSOLIDATED CLIPS
PADDINGLESS PLAYLISTS
BLOGGIFICATIONS
COMMENTARY
OBSERVATIONS
BOOK & MUSIC CHARTS
TOP TOME TOPICS
TWITTER WITTERINGS
WORDS WORDS WORDS
DOPPELGÄNGERS
FAMOUS FACES
F(R)AME-LESS FACES
LOOKALIKES
MORPHS
PEOPLE
PORTRAITS
POSERS & POSEURS
EXPERIMENTS
LEARNING
SCREENCASTS
SILLY OLD THINGS
SOFTWARE DEMOS
WORKS IN PROGRESS
ORIGINAL READINGS
UNORIGINAL POEMS
UNORIGINAL STORIES
24 SEP 2009 :
PROTEST POST
IMAGE EDITING
SCREENCASTS
14 AUG 2009 :
CHILDREN'S POEM
ANIMAL ANIMATION
CRAZY TALK LIP SYNC
FACIAL ANIMATION
ORIGINAL POEM
SUBTITLED
TITLING (PREMIERE PRO)
VOICE ACTING
05 JUN 2009 :
POETIC POST CARD
ANIMAL ANIMATION
CRAZY TALK LIP SYNC
CUTOUT ANIMATION
FACIAL ANIMATION
SUBTITLED
TITLING (PREMIERE PRO)
VOICE ACTING
VOICE PROCESSING
1 OF MY FAVOURITES
30 NOV 2008 :
POETIC POST CARD
CRAZY TALK LIP SYNC
FACIAL ANIMATION
SUBTITLED
TITLING (PREMIERE PRO)
VOICE ACTING
10 AUG 2008 :
POETIC POST CARD
CRAZY TALK LIP SYNC
FACIAL ANIMATION
SUBTITLED
TITLING (PREMIERE PRO)
VOICE ACTING
04 MAY 2008:
COMPETITION ENTRY
AUDIO-EDITING
BRIEF FOR A BRIEF
ICLONE ANIMATION
ORIGINAL LYRICS
SONG & DANCE
SUBTITLED
TITLING (PREMIERE PRO)
VOICE ACTING
07 FEB 2008 :
PANTING PAINTING
CRAZY TALK LIP SYNC
FACIAL ANIMATION
MULTIPLE CHARACTERS
VOICE PROCESSING
SUBTITLED
TITLING (PREMIERE PRO)
18 JAN 2008 :
MORPHING MORPHINE
FACIAL ANIMATION
FANTAMORPH 1st GO
HISTORICAL HEADS
08 JAN 2008 :
SURPRISING SINGING
AUDIO EDITING
CRAZY TALK LIP SYNC
FACIAL ANIMATION
SUBTITLED
TITLING (PREMIERE PRO)
01 DEC 2007 :
COMPETITION ENTRY
BRIEF FOR A BRIEF
CRAZY TALK LIP SYNC
CUTOUT ANIMATION
FACIAL ANIMATION
ICLONE SPECIAL EFFECTS
ORIGINAL TOPICAL POEM
SUBTITLED
TITLING (BLUFFTITLER)
VOICE ACTING
VOICE PROCESSING
17 SEP 2007 :
STEREO MONOLOGUE
CRAZY TALK LIP SYNC
FACIAL ANIMATION
SUBTITLED
TITLING (PREMIERE PRO)
VOICE ACTING
12 JUN 2007 :
CLOTHES DESIGN
CUSTOM CONTENT
SOFTWARE DEMO
17 MAR 2007 :
iCLONE MUSIC VIDEO
CRAZY TALK LIP SYNC
FACIAL ANIMATION
3D FULL BODY ANIMATION
SONG & DANCE
SUBTITLED
TITLING (PREMIERE PRO)
02 MAR 2007 :
SOFTWARE DEMO
3D FULL BODY ANIMATION
18 OCT 2006 :
COMPETITION ENTRY
CRAZY TALK LIP SYNC
CUTOUT ANIMATION
FACIAL ANIMATION
2D FULL BODY ANIMATION
ICLONE SPECIAL EFFECTS
ORIGINAL LYRICS
SONG & DANCE
SUBTITLED
TITLING (PHOTODRAW)
VOICE ACTING
VOICE PROCESSING
12 AUG 2006 :
JUST FOR FUN
ONLY MY FAVOURITE
CRAZY TALK LIP SYNC
FACIAL ANIMATION
3D FULL BODY ANIMATION
ICLONE MUSIC VIDEO
SONG & DANCE
SUBTITLED
VOICE ACTING
VOICE PROCESSING
07 JUN 2006 :
VICTORIAN VERMINATOR
ANIMAL ANIMATION
CRAZY TALK LIP SYNC
FACIAL ANIMATION
3D FULL BODY ANIMATION
iCLONE MUSIC VIDEO
SONG AND DANCE
VOICE ACTING
23 APR 2006 :
GARDEN GUARDIAN
CRAZY TALK LIP SYNC
FACIAL ANIMATION
ORIGINAL LYRICS
SUBTITLED
VOICE ACTING
VOICE PROCESSING
18 FEB 2006 :
CRAZY TALK LIP SYNC
FACIAL ANIMATION
ORIGINAL POEM
SUBTITLED
VOICE ACTING
21 JAN 2006 :



CRAZY TALK LIP SYNC
FACIAL ANIMATION
3D FULL BODY ANIMATION
ORIGINAL LYRICS
SONG & DANCE
SUBTITLED
VOICE ACTING
VOICE PROCESSING
05 NOV 2005 :
ANIMAL ANIMATION
CRAZY TALK LIP SYNC
FACIAL ANIMATION
ORIGINAL LYRICS
SUBTITLED
VOICE ACTING
VOICE PROCESSING
13 JUN 2005 :
CUTOUT ANIMATION
FLASH MX ANIMATION
ORIGINAL LYRICS
SUBTITLED
TITLING (SWiSHMAX)
VOICE ACTING
VOICE PROCESSING
24 AUG 2004 :
CRAZY TALK LIP SYNC
FACIAL ANIMATION
ORIGINAL LYRICS
SUBTITLED
TITLING (PREMIERE PRO)
VOICE ACTING
12 JUL 2004 :
CUTOUT ANIMATION
FLASH MX ANIMATION
ORIGINAL POEM
VOICE ACTING
12 JAN 2004 :
CRAZY TALK LIP SYNC
FACIAL ANIMATION
ORIGINAL LYRICS
SUBTITLED
TITLING (PREMIERE PRO)
VOICE ACTING
05 JAN 2004 :
CRAZY TALK LIP SYNC
FACIAL ANIMATION
ORIGINAL POEM
SUBTITLED
TITLING (PREMIERE PRO)
VOICE ACTING
VOICE PROCESSING
10 DEC 2003 :
CUTOUT ANIMATION
FLASH MX ANIMATION
MISHEARD LYRICS
SUBTITLED
TITLING (SWiSHMAX)
06 NOV 2003 :
CUTOUT ANIMATION
FLASH MX ANIMATION
ORIGINAL LYRICS
SUBTITLED
TITLING (SWiSHMAX)
VOICE PROCESSING
04 MAY 1999:
GRAPHICS EDITING
ICLONE ANIMATION
ORIGINAL PARODY
VOICE ACTING
VOICE PROCESSING