The ($ubtitled) $ub-Rh¥m€ ("Mark" It !)
The ($ubtitled) $ub-Rh¥m€ ("Mark" It !)
(Spoken Commentary Page

.12

of 15)
~ QUICK ! [CLICK] for COMMENTARY 12 ~
~ Get Chopped Up with the Ore Boar ~ 12
[00] [01] [02] [03] [04] [05] [06] [07]
[08] [09] [10] [11] [12] [13] [14] [15]
"Links" to 15 Pages of Streaming Audio
~ Download Adobe Flash Player [HERE] ~
~ Learn to Read ENGLISH with AudioFlash ~

Please
SCROLL DOWN
to READ the written
commentary about this
.ORIGINAL COMIC POEM..
~ Listen to HEXED TEXT Audiographs ~
If
[YOU !]
have Flash installed,
[YOU !]
may also PURPosefuLly
.PRESS.
thE :

PURPLE .PLAY. BUTTON
to
[LISTEN !]
to
[MY !]
.HEXED TEXT, Audiographs.
The ($ubtitled) $ub-Rh¥m€ ("Mark" It !)
The ($ubtitled) $ub-Rh¥m€ ("Mark" It !)
~ 1 December 2007 (Subtitles 4 April 2010) ~
To SUBSCRIBE to my



~ EWECHEWB YouTube Channel ~
please click :[HERE]
~ Ore Boar's (Piggy) (Bank) Notes - 12 ~
"What Would Your Money Say to You ?"
asked the British .financial. website who
were .running the competition. that inspired me
to .write. and .create. the .animated. .poem.
"The $ub-Rh¥m€ ("Mark" It !)".
~ From Solo to Soho ~

Teamed up and "Steam"ed up, the
paired-up (but not "hard-up") duo of
Boulton & Watt ~ made a mint ~ from
<making a mint> ; and so did Rowntree
& Nestlé - with their mints, their POLO mints.
~ From Soho to Polo ~

Polo MINTs are marketed as :
"the mint with the hole"
that's:
"the mint with the hole"
NOT
"the mint with the mousehole"
NOT
"the mint in the mousetrap"
~ "The Mousetrap" ~

Although NOT a "long-"RUN"ing series",
Agatha Christie's "The Mousetrap" is the
"long(est)-"RUN"ning" West End .play. -
in terms of the number of .performances.
that have been .staged..
In terms of duration of dialogue,
William Shakespeare's "Hamlet" was
his "longest "RUN"ning" .play..
In that .drama., the eponymous anti-hero
"Prince Hamlet" bereft son of "King Hamlet",
(sullen) lies to his sudden-step-father,
"Claudius", (the Uncle whose <insist on
incest> he thinks uncool - for marring his
Ma's marriage ; without inquest) by telling
the monarch (he'd malign with malfeasance)
that the title of the (poisonous) poisoning .play.
he has, as a stealthy sleuth-after-truth,
cunningly commissioned is
NOT
"The Murder of Gonzago"
but :
"The Mousetrap".
This is claptrap.
~ Mousetrap Claptrap ~

"Claptrap" is something that Hamlet,
less in repose, raised from his Director's
Chair and clapping his (unapplauding)
hand over the teasing "trap" of a
prattling Polonius might less indirectly
accuse the verbose vociferator of
(~) preaching - to, amongst others, the
convent-bound and the conventional ;
if NOT the converted (~).
The "converted" would not need to
"Arrange exchange"
nor be guided in their observancies.
~ Erroneous POLOnius ~

You will have observed the "Polo" in "Polonius"
and the Polo in [THIS PICTURE] reproduced (like
the mice's mousehole morsel) HERE from its
original (Po)location [HERE]. .SWEET !.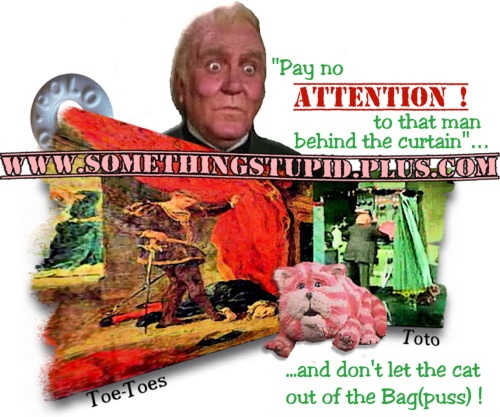 ~ The Mint with the Hole ~

As hollow as a halo, the hole (if not the whole
of the hole of) "the mint with the hole"
holds the hangings that hid Hamlet's
heinous heard and harpooned hearer in
a (viperous, sniperous) vermillion
~ veil of tears ~ following tears torn in
stabbing scorn springing for (and wrung on
(~ a wrong 'n' ~)) ; the sprung-on - "sprung".
~ The MINisTer with the Hole ~

Polo - "the mint with the hole"
wholly exposes Polonius and shows 'is
erroneous end ; blending "MINT" into
"MINisTer" with subtlety sinister
mini-stirrings could never forfend.
~ Professor Yaffle ~

As prone as Peer Polonius (if not as prone
as pierced Polonius) to waffle (and, gruff,
~ ruffle feathers ~ ), Professor Yaffle exposed
murine mini-stirrings yet - was still, in part,
deceived if he believed what he perceived
to be a
"Chocolate Biscuit"
to be a
"Chocolate Biscuit",
a
Viscount
"Chocolate Biscuit"
(no tragedian's wrappery rapier or foiled foil'd despoil)
forever .fondant.ly filled with the glint of a hint of .mint..
~ Arrange ORANGE Exchange ~

Mice, whether millers, milliners or millionaires
do not ~ mince (their words ~ or) their .mint.s.
RATher they (ruSh up to) crush up
"Breadcrumbs and butterbeans"
(or "Butterbeans and breadcrumbs")
to make FAKE cakes NOT
"Chocolate Biscuit"s
with the juice, we deduce,
they reduce in a sluice
(and ~ a jiffy ~ of Jaffa)
to "Arrange exchange",
"ORANGE exchange" !
~ Profess a Jaffa ~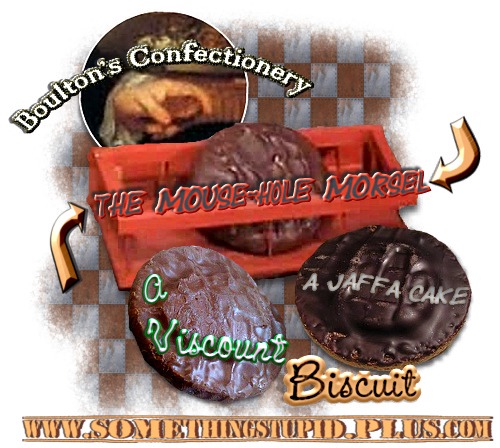 Professor Yaffle should profess a "Jaffa" of
"The Mousehole Morsel" "Chocolate Biscuit".
This would not be to identify the .sugary.
snack as merely an ORANGE rather than a
.MINT.-flavoured Viscount "...Biscuit" but
~ make no mistake ~ to unveil a Jaffa Cake.
~ (Stephen) Fry's Chocolate ~

In this .clip. from the popular Panel Game
"QI", Stephen Fry (probably no relation of
the "Frys" of "Fry's Chocolate" (who also
probably don't fry their ORANGE and
.MINT. .fondant.-filled .chocolate. bars))
outlines WHY it is important to make a
clear distinction between cakes and biscuits.
Jaffa Cakes are Cakes Discussion on "QI"
~ Attracting Tax Attacks ~

The reason is that Value Added Tax can
be applied to .chocolate.-covered BISCUITS
but not, as yet, to .chocolate.-covered CAKES.
~ Attacking Tax Attacks ~
Despite NEVER having called their
"Jaffa Cakes", "Jaffa Biscuits",
manufacturers McVitie's had to go to
<---------- ~ EXTREME LENGTHS ~ ---------->
to prove their wares exempt.
~ Cooking "Books" ~
So as not to ~ cook the books ~
they booked a cook to bake a cake,
at 30 centimetres, far larger than
~ run of the mill ~.
~ Not ~ Run of the Mill ~ ~

Someone else who went to
<---------- ~ EXTREME LENGTHS ~ ---------->,
this time in magnificent (indeed "model")
model miniaturisation, was the maker of
this replica of a Boulton & Watt Steam Engine
that is as beautiful as it is fully (fun 'n') functional.
By no means a "~ run of the mill ~" .creation.,
the care and attention to detail evidenced
is every bit as "marvellous" and "mechanical"
as "The Marvellous Mechanical Mouse Mill".
jcjdenat81's EXCELLENT Working Model
of a Boulton & Watt Steam Engine
~ Force or Forsee ~

The similarities that I, in retrospect,
realised existed between the rolling .COINS.,
that enter the Bank of England as .pennies.
and emerge as .pounds., (and that way
"Arrange exchange") in my renderings
for "The $ub-Rhym€ ("Mark" It !)" and the
rolling edible in my favourite episode of
"Bagpuss".are less pronounced, even,
than the likenesses between the COGs
and "Control"ed .CONTROL.s of the
"Mouse Mill" and "Steam Engine" models.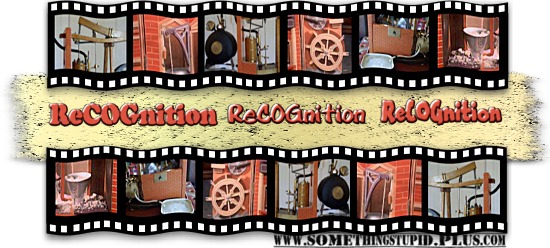 Further ".COIN.cidence" and a Foreign
"...exchange" I did not, could not
(force or) forsee.
With less thought of .currencies., I DID both
force and forsee other occurrences.
~ Fierce Forces Pierce Purses ~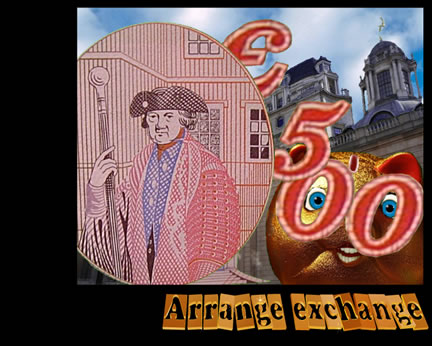 If a fierce force, Sir John Houblon might
take "Control" of us, as well as The Bank
of England, to "Arrange exchange" of
[PART 12] for [PART 13] of 15.....
~ Get Chopped Up with the Ore Boar ~
[00] [01] [02] [03] [04] [05] [06] [07]
[08] [09] [10] [11] [12] [13] [14] [15]
~ and the last shall be first ~
Press PLAY to stream RECENT EWECHEWB YouTube Videos
~ EWECHEWB @ YOUTUBE ~
To SUBSCRIBE to my



~ EWECHEWB YouTube Channel ~
please click :[HERE]
'OME (PAGE) IS WHERE THE (')ART IS
'OME PAGE IS WHERE THE (')ART IS [HOME]
'OME PAGE IS WHERE THE (')ART IS [HOME]
~ # ~ # ~ # ~ # ~ # ~ # ~ # ~
INDEX
SUBSCRIBE

FOLLOW

CONTACT
CONTENTS
SITE INDEX
SITE SEARCH
SITE NAVIGATION
MIXED DATES :
CONSOLIDATED CLIPS
PADDINGLESS PLAYLISTS
BLOGGIFICATIONS
COMMENTARY
OBSERVATIONS
BOOK & MUSIC CHARTS
TOP TOME TOPICS
TWITTER WITTERINGS
WORDS WORDS WORDS
DOPPELGÄNGERS
FAMOUS FACES
F(R)AME-LESS FACES
LOOKALIKES
MORPHS
PEOPLE
PORTRAITS
POSERS & POSEURS
EXPERIMENTS
LEARNING
SCREENCASTS
SILLY OLD THINGS
SOFTWARE DEMOS
WORKS IN PROGRESS
ORIGINAL READINGS
UNORIGINAL POEMS
UNORIGINAL STORIES
24 SEP 2009 :
PROTEST POST
IMAGE EDITING
SCREENCASTS
14 AUG 2009 :
CHILDREN'S POEM
ANIMAL ANIMATION
CRAZY TALK LIP SYNC
FACIAL ANIMATION
ORIGINAL POEM
SUBTITLED
TITLING (PREMIERE PRO)
VOICE ACTING
05 JUN 2009 :
POETIC POST CARD
ANIMAL ANIMATION
CRAZY TALK LIP SYNC
CUTOUT ANIMATION
FACIAL ANIMATION
SUBTITLED
TITLING (PREMIERE PRO)
VOICE ACTING
VOICE PROCESSING
1 OF MY FAVOURITES
30 NOV 2008 :
POETIC POST CARD
CRAZY TALK LIP SYNC
FACIAL ANIMATION
SUBTITLED
TITLING (PREMIERE PRO)
VOICE ACTING
10 AUG 2008 :
POETIC POST CARD
CRAZY TALK LIP SYNC
FACIAL ANIMATION
SUBTITLED
TITLING (PREMIERE PRO)
VOICE ACTING
04 MAY 2008:
COMPETITION ENTRY
AUDIO-EDITING
BRIEF FOR A BRIEF
ICLONE ANIMATION
ORIGINAL LYRICS
SONG & DANCE
SUBTITLED
TITLING (PREMIERE PRO)
VOICE ACTING
07 FEB 2008 :
PANTING PAINTING
CRAZY TALK LIP SYNC
FACIAL ANIMATION
MULTIPLE CHARACTERS
VOICE PROCESSING
SUBTITLED
TITLING (PREMIERE PRO)
18 JAN 2008 :
MORPHING MORPHINE
FACIAL ANIMATION
FANTAMORPH 1st GO
HISTORICAL HEADS
08 JAN 2008 :
SURPRISING SINGING
AUDIO EDITING
CRAZY TALK LIP SYNC
FACIAL ANIMATION
SUBTITLED
TITLING (PREMIERE PRO)
01 DEC 2007 :
COMPETITION ENTRY
BRIEF FOR A BRIEF
CRAZY TALK LIP SYNC
CUTOUT ANIMATION
FACIAL ANIMATION
ICLONE SPECIAL EFFECTS
ORIGINAL TOPICAL POEM
SUBTITLED
TITLING (BLUFFTITLER)
VOICE ACTING
VOICE PROCESSING
17 SEP 2007 :
STEREO MONOLOGUE
CRAZY TALK LIP SYNC
FACIAL ANIMATION
SUBTITLED
TITLING (PREMIERE PRO)
VOICE ACTING
12 JUN 2007 :
CLOTHES DESIGN
CUSTOM CONTENT
SOFTWARE DEMO
17 MAR 2007 :
iCLONE MUSIC VIDEO
CRAZY TALK LIP SYNC
FACIAL ANIMATION
3D FULL BODY ANIMATION
SONG & DANCE
SUBTITLED
TITLING (PREMIERE PRO)
02 MAR 2007 :
SOFTWARE DEMO
3D FULL BODY ANIMATION
18 OCT 2006 :
COMPETITION ENTRY
CRAZY TALK LIP SYNC
CUTOUT ANIMATION
FACIAL ANIMATION
2D FULL BODY ANIMATION
ICLONE SPECIAL EFFECTS
ORIGINAL LYRICS
SONG & DANCE
SUBTITLED
TITLING (PHOTODRAW)
VOICE ACTING
VOICE PROCESSING
12 AUG 2006 :
JUST FOR FUN
ONLY MY FAVOURITE
CRAZY TALK LIP SYNC
FACIAL ANIMATION
3D FULL BODY ANIMATION
ICLONE MUSIC VIDEO
SONG & DANCE
SUBTITLED
VOICE ACTING
VOICE PROCESSING
07 JUN 2006 :
VICTORIAN VERMINATOR
ANIMAL ANIMATION
CRAZY TALK LIP SYNC
FACIAL ANIMATION
3D FULL BODY ANIMATION
iCLONE MUSIC VIDEO
SONG AND DANCE
VOICE ACTING
23 APR 2006 :
GARDEN GUARDIAN
CRAZY TALK LIP SYNC
FACIAL ANIMATION
ORIGINAL LYRICS
SUBTITLED
VOICE ACTING
VOICE PROCESSING
18 FEB 2006 :
CRAZY TALK LIP SYNC
FACIAL ANIMATION
ORIGINAL POEM
SUBTITLED
VOICE ACTING
21 JAN 2006 :



CRAZY TALK LIP SYNC
FACIAL ANIMATION
3D FULL BODY ANIMATION
ORIGINAL LYRICS
SONG & DANCE
SUBTITLED
VOICE ACTING
VOICE PROCESSING
05 NOV 2005 :
ANIMAL ANIMATION
CRAZY TALK LIP SYNC
FACIAL ANIMATION
ORIGINAL LYRICS
SUBTITLED
VOICE ACTING
VOICE PROCESSING
13 JUN 2005 :
CUTOUT ANIMATION
FLASH MX ANIMATION
ORIGINAL LYRICS
SUBTITLED
TITLING (SWiSHMAX)
VOICE ACTING
VOICE PROCESSING
24 AUG 2004 :
CRAZY TALK LIP SYNC
FACIAL ANIMATION
ORIGINAL LYRICS
SUBTITLED
TITLING (PREMIERE PRO)
VOICE ACTING
12 JUL 2004 :
CUTOUT ANIMATION
FLASH MX ANIMATION
ORIGINAL POEM
VOICE ACTING
12 JAN 2004 :
CRAZY TALK LIP SYNC
FACIAL ANIMATION
ORIGINAL LYRICS
SUBTITLED
TITLING (PREMIERE PRO)
VOICE ACTING
05 JAN 2004 :
CRAZY TALK LIP SYNC
FACIAL ANIMATION
ORIGINAL POEM
SUBTITLED
TITLING (PREMIERE PRO)
VOICE ACTING
VOICE PROCESSING
10 DEC 2003 :
CUTOUT ANIMATION
FLASH MX ANIMATION
MISHEARD LYRICS
SUBTITLED
TITLING (SWiSHMAX)
06 NOV 2003 :
CUTOUT ANIMATION
FLASH MX ANIMATION
ORIGINAL LYRICS
SUBTITLED
TITLING (SWiSHMAX)
VOICE PROCESSING
04 MAY 1999:
GRAPHICS EDITING
ICLONE ANIMATION
ORIGINAL PARODY
VOICE ACTING
VOICE PROCESSING