The ($ubtitled) $ub-Rh¥m€ ("Mark" It !)
The ($ubtitled) $ub-Rh¥m€ ("Mark" It !)
(Spoken Commentary Page

.04

of 15)
~ QUICK ! [CLICK] for COMMENTARY 04 ~
~ Get Chopped Up with the Ore Boar ~
[00] [01] [02] [03] [04] [05] [06] [07]
[08] [09] [10] [11] [12] [13] [14] [15]
"Links" to 15 Pages of Streaming Audio
~ Download Adobe Flash Player [HERE] ~
~ Learn to Read ENGLISH with AudioFlash ~

Please
SCROLL DOWN
to READ the written
commentary about this
.ORIGINAL COMIC POEM..
~ Listen to HEXED TEXT Audiographs ~
If
[YOU !]
have Flash installed,
[YOU !]
may also PURPosefuLly
.PRESS.
thE :

PURPLE .PLAY. BUTTON
to
[LISTEN !]
to
[MY !]
.HEXED TEXT, Audiographs.
The ($ubtitled) $ub-Rh¥m€ ("Mark" It !)
The ($ubtitled) $ub-Rh¥m€ ("Mark" It !)
~ 1 December 2007 (Subtitles 4 April 2010) ~
To SUBSCRIBE to my



~ EWECHEWB YouTube Channel ~
please click :[HERE]
~ Ore Boar's (Piggy) (Bank) Notes - 04 ~

"What Would Your Money Say to You ?"
asked the British .financial. website who
were .running the competition. that inspired me
to .write. and .create. the .animated. .poem.
"The $ub-Rh¥m€ ("Mark" It !)".
~ Vapours and Capers ~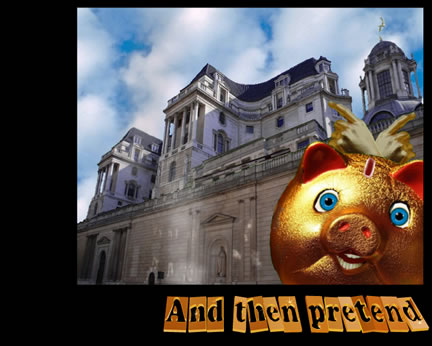 All that remains of .Steam.-Engine-devisor
James Watt's bovine-bound beverage, in
this .image., is the signature .water.-vapour
over the "And".
"And" all that remains of James are 'is
shiny severed 'ands - caught capering
in a <jester's gesture> mimicking the
antlers of a deer or the horns of a ram.
~ Absolutely Ewes-less ~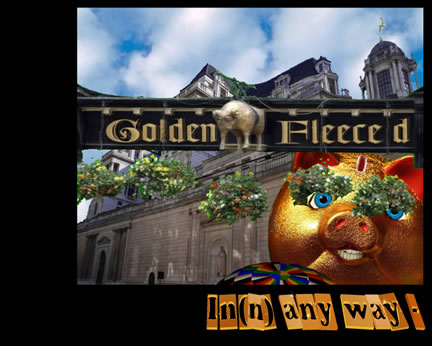 It is the horns of the ram suspended
"In(n)" this subsequent scene that
highlight (that (that) hung) HE
cannot really be the
"~ Ewe-Ooo-Ooo ~"
addressed.
~ Horn Scorn ~

Neither is that
"~ Ewe-Ooo-Ooo ~"
imitative of the pulsing police sirens
announcing the arrival of arresting
officers called to quosh a crime
accidentally advertised
by the over-eager, under-meagre,
hooting horns of a looting <ram-raider>,
an invader of (not a trader in)
The (tanking ?) Bank of England.
~ Absolutely Useless ~

A "red-handed" robber clobbered
so readily and without enough
"readies" rustled to purchase
(bail (or ale) or even)
"Shreddies"
might fairly be deemed
(unredeemed and) :
[ABSOLUTELY USELESS !]
much like the current
(September 2010)
(Great (?!!!))
British Base Rate.
~ Absolutely EWEchewb ~

In another post
("Psocker SychoAnalysis - The Jung
Juans' Fraudian "Slip" on the Skip")
I decided that
"Mountain Mouton - The Singing Sheep"
was not a RAM lamb, but a Swiss MISS.
~ RAM it Home ! ~

Very often she is dismissed at
~ Ewechewb ~
the YouTube Channel that was
named after her and that has
become the home to many
(but not all) of Something Stupid's
(animal) (and other) .animations..
~ Golden Fleece(d) ~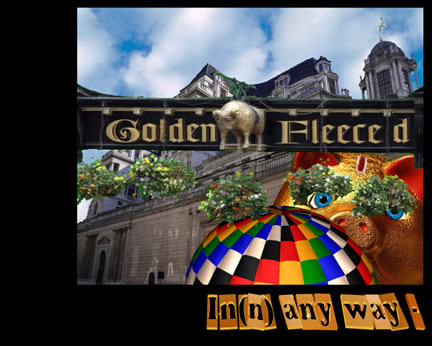 Strung (if not "strung-up" (for being
"highly-strung" but highly inept, indeed
"Absolutely Useless" (and "Absolutely
Ewes-less") at not evading parading
ram-raiding)) to a swinging sign
("In(n)" (")In((n))(")dicates
that it is a pub-sign),
the haltered glam-Ram
is [HALT !]ed
merely momentarily
- that we might see
his will to "Golden Flee'" from the
wool-pullin'
hirsute pursuit
of a
(thread-losin')
(cred'-bruisin')
(sea-cruisin')
chasin' Jason
threatening more horrible hair-loss worries
than could be callously caused by a comatose
comb-over or a dangerously debasin' base-rate-cut
basin-cut
textually altered to the revelation
that he has been
not <mugged for a mug-shot> like
"The Baldy Man"
or "mugged" as a vacating
(lactating ?)
vacca vassal vessel
but
"Golden Fleeced"
all the same.
~ Pluck Off ! ~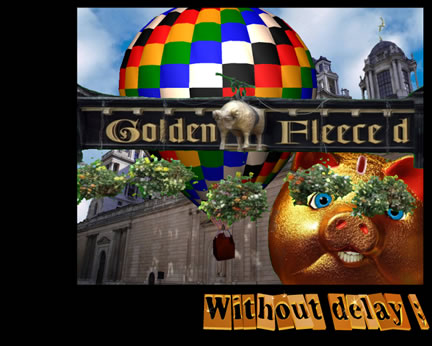 Oddly, in a society where being found
guilty of ram-raiding
(N.B. "ram-raiding" is not a euphemism
(or a EWE-fame-ism) for "sheep-shagging")
doesn't get you "strung up", contrastingly - being
~ found in possession ~ of <bushy eyebrows>
may more than raise those of others who
would frown upon such uncurtailed growth.
~ Hanging (Basket (Case)) Offence ~

"This little piggy's" fake face-fur is as floral as
any budding, blooming (not ~ burning) bush ~
and may be raised beyond rebuke
- what he does not (pluckily)
[PLUCK OFF !] may [LIFT OFF !])
inflated to the level of a
hanging (basket (case)) offence.
~ Denis Healey Um Balloon ~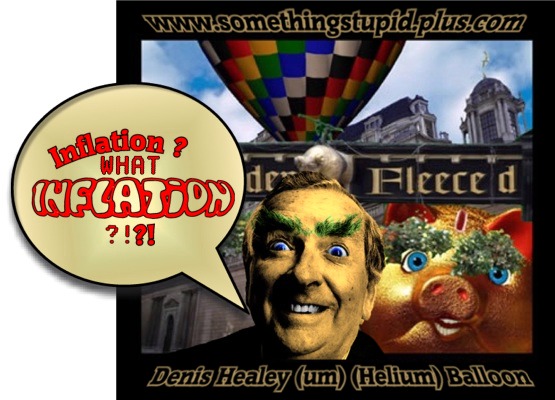 (" ~ Up, up and) away (! ~ ") from offence,
erstwhile Secretary of State for Defence
(if not De .Electric. Fence),
(~--<<<[.CURRENT !.]>>>--~ Lord)
Denis Healey, Ex-Chancellor of the
Exchequer, may have raised (not razored)
expectations, taxes or, like the Ore Boar
his pushy, BUSHY brows, at ( ~ .Sweet.
and Sour ~) Sows.
~ The Making of Denis Healey ~

Three Screencasts of "Part of the Process"
of Creating the "Denis Healey (um)
Helium Balloon(atic)" Cartoon Image

Three Screencasts of creating a Denis Healey-Ore Boar lookalike
cartoon image in Microsoft PhotoDraw 2000 V2. To view these films
in FULLSCREEN 720p HD, double-click the image to go to YouTube.
For more lookalikes, please see my dedicated Lookie-Likies section.
The Breaking of Denis Healey

Breaking Apart Two Digital Jigsaw Puzzles
Showing Images of Denis Healey

Two Screencasts of Digital Jigsaws Being Broken Apart. To view these
films in 1080p (FULL HD), double-click the image to go to YouTube.
~ Touchy Feely Denis Healey ~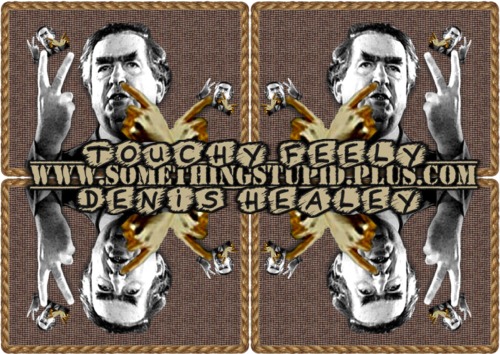 (James) W(h)at(t) Denis Healey
(realey) thinks of Something Stupid.
~ 2 Fingers or Not 2 Fingers ~

Perhaps he is playing ;
Perhaps he is playing :
"Scissors, Paper, Stone".
If you are game (and not lame) enough
to join his game (if not his (Party) party),
"let YOUR fingers do the walking"
over pages that won't yellow
and yell : "Oh ! Hello, Fellow !"
then depart from [PART 4] for [PART 5].
~ Thank Ewe ~
~ Get Chopped Up with the Ore Boar ~
[00] [01] [02] [03] [04] [05] [06] [07]
[08] [09] [10] [11] [12] [13] [14] [15]
~ and the last shall be first ~
Press PLAY to stream RECENT EWECHEWB YouTube Videos
~ EWECHEWB @ YOUTUBE ~
To SUBSCRIBE to my



~ EWECHEWB YouTube Channel ~
please click :[HERE]
'OME (PAGE) IS WHERE THE (')ART IS
'OME PAGE IS WHERE THE (')ART IS [HOME]
'OME PAGE IS WHERE THE (')ART IS [HOME]
~ # ~ # ~ # ~ # ~ # ~ # ~ # ~
[RETURN TO THE TOP OF THIS PAGE]
INDEX
SUBSCRIBE

FOLLOW

CONTACT
CONTENTS
SITE INDEX
SITE SEARCH
SITE NAVIGATION
MIXED DATES :
CONSOLIDATED CLIPS
PADDINGLESS PLAYLISTS
BLOGGIFICATIONS
COMMENTARY
OBSERVATIONS
BOOK & MUSIC CHARTS
TOP TOME TOPICS
TWITTER WITTERINGS
WORDS WORDS WORDS
DOPPELGÄNGERS
FAMOUS FACES
F(R)AME-LESS FACES
LOOKALIKES
MORPHS
PEOPLE
PORTRAITS
POSERS & POSEURS
EXPERIMENTS
LEARNING
SCREENCASTS
SILLY OLD THINGS
SOFTWARE DEMOS
WORKS IN PROGRESS
ORIGINAL READINGS
UNORIGINAL POEMS
UNORIGINAL STORIES
24 SEP 2009 :
PROTEST POST
IMAGE EDITING
SCREENCASTS
14 AUG 2009 :
CHILDREN'S POEM
ANIMAL ANIMATION
CRAZY TALK LIP SYNC
FACIAL ANIMATION
ORIGINAL POEM
SUBTITLED
TITLING (PREMIERE PRO)
VOICE ACTING
05 JUN 2009 :
POETIC POST CARD
ANIMAL ANIMATION
CRAZY TALK LIP SYNC
CUTOUT ANIMATION
FACIAL ANIMATION
SUBTITLED
TITLING (PREMIERE PRO)
VOICE ACTING
VOICE PROCESSING
1 OF MY FAVOURITES
30 NOV 2008 :
POETIC POST CARD
CRAZY TALK LIP SYNC
FACIAL ANIMATION
SUBTITLED
TITLING (PREMIERE PRO)
VOICE ACTING
10 AUG 2008 :
POETIC POST CARD
CRAZY TALK LIP SYNC
FACIAL ANIMATION
SUBTITLED
TITLING (PREMIERE PRO)
VOICE ACTING
04 MAY 2008:
COMPETITION ENTRY
AUDIO-EDITING
BRIEF FOR A BRIEF
ICLONE ANIMATION
ORIGINAL LYRICS
SONG & DANCE
SUBTITLED
TITLING (PREMIERE PRO)
VOICE ACTING
07 FEB 2008 :
PANTING PAINTING
CRAZY TALK LIP SYNC
FACIAL ANIMATION
MULTIPLE CHARACTERS
VOICE PROCESSING
SUBTITLED
TITLING (PREMIERE PRO)
18 JAN 2008 :
MORPHING MORPHINE
FACIAL ANIMATION
FANTAMORPH 1st GO
HISTORICAL HEADS
08 JAN 2008 :
SURPRISING SINGING
AUDIO EDITING
CRAZY TALK LIP SYNC
FACIAL ANIMATION
SUBTITLED
TITLING (PREMIERE PRO)
01 DEC 2007 :
COMPETITION ENTRY
BRIEF FOR A BRIEF
CRAZY TALK LIP SYNC
CUTOUT ANIMATION
FACIAL ANIMATION
ICLONE SPECIAL EFFECTS
ORIGINAL TOPICAL POEM
SUBTITLED
TITLING (BLUFFTITLER)
VOICE ACTING
VOICE PROCESSING
17 SEP 2007 :
STEREO MONOLOGUE
CRAZY TALK LIP SYNC
FACIAL ANIMATION
SUBTITLED
TITLING (PREMIERE PRO)
VOICE ACTING
12 JUN 2007 :
CLOTHES DESIGN
CUSTOM CONTENT
SOFTWARE DEMO
17 MAR 2007 :
iCLONE MUSIC VIDEO
CRAZY TALK LIP SYNC
FACIAL ANIMATION
3D FULL BODY ANIMATION
SONG & DANCE
SUBTITLED
TITLING (PREMIERE PRO)
02 MAR 2007 :
SOFTWARE DEMO
3D FULL BODY ANIMATION
18 OCT 2006 :
COMPETITION ENTRY
CRAZY TALK LIP SYNC
CUTOUT ANIMATION
FACIAL ANIMATION
2D FULL BODY ANIMATION
ICLONE SPECIAL EFFECTS
ORIGINAL LYRICS
SONG & DANCE
SUBTITLED
TITLING (PHOTODRAW)
VOICE ACTING
VOICE PROCESSING
12 AUG 2006 :
JUST FOR FUN
ONLY MY FAVOURITE
CRAZY TALK LIP SYNC
FACIAL ANIMATION
3D FULL BODY ANIMATION
ICLONE MUSIC VIDEO
SONG & DANCE
SUBTITLED
VOICE ACTING
VOICE PROCESSING
07 JUN 2006 :
VICTORIAN VERMINATOR
ANIMAL ANIMATION
CRAZY TALK LIP SYNC
FACIAL ANIMATION
3D FULL BODY ANIMATION
iCLONE MUSIC VIDEO
SONG AND DANCE
VOICE ACTING
23 APR 2006 :
GARDEN GUARDIAN
CRAZY TALK LIP SYNC
FACIAL ANIMATION
ORIGINAL LYRICS
SUBTITLED
VOICE ACTING
VOICE PROCESSING
18 FEB 2006 :
CRAZY TALK LIP SYNC
FACIAL ANIMATION
ORIGINAL POEM
SUBTITLED
VOICE ACTING
21 JAN 2006 :



CRAZY TALK LIP SYNC
FACIAL ANIMATION
3D FULL BODY ANIMATION
ORIGINAL LYRICS
SONG & DANCE
SUBTITLED
VOICE ACTING
VOICE PROCESSING
05 NOV 2005 :
ANIMAL ANIMATION
CRAZY TALK LIP SYNC
FACIAL ANIMATION
ORIGINAL LYRICS
SUBTITLED
VOICE ACTING
VOICE PROCESSING
13 JUN 2005 :
CUTOUT ANIMATION
FLASH MX ANIMATION
ORIGINAL LYRICS
SUBTITLED
TITLING (SWiSHMAX)
VOICE ACTING
VOICE PROCESSING
24 AUG 2004 :
CRAZY TALK LIP SYNC
FACIAL ANIMATION
ORIGINAL LYRICS
SUBTITLED
TITLING (PREMIERE PRO)
VOICE ACTING
12 JUL 2004 :
CUTOUT ANIMATION
FLASH MX ANIMATION
ORIGINAL POEM
VOICE ACTING
12 JAN 2004 :
CRAZY TALK LIP SYNC
FACIAL ANIMATION
ORIGINAL LYRICS
SUBTITLED
TITLING (PREMIERE PRO)
VOICE ACTING
05 JAN 2004 :
CRAZY TALK LIP SYNC
FACIAL ANIMATION
ORIGINAL POEM
SUBTITLED
TITLING (PREMIERE PRO)
VOICE ACTING
VOICE PROCESSING
10 DEC 2003 :
CUTOUT ANIMATION
FLASH MX ANIMATION
MISHEARD LYRICS
SUBTITLED
TITLING (SWiSHMAX)
06 NOV 2003 :
CUTOUT ANIMATION
FLASH MX ANIMATION
ORIGINAL LYRICS
SUBTITLED
TITLING (SWiSHMAX)
VOICE PROCESSING
04 MAY 1999:
GRAPHICS EDITING
ICLONE ANIMATION
ORIGINAL PARODY
VOICE ACTING
VOICE PROCESSING