The ($ubtitled) $ub-Rh¥m€ ("Mark" It !)
The ($ubtitled) $ub-Rh¥m€ ("Mark" It !)
(Spoken Commentary Page

.03

of 15)
~ QUICK ! [CLICK] for COMMENTARY 03 ~
~ Get Chopped Up with the Ore Boar ~ 03
[00] [01] [02] [03] [04] [05] [06] [07]
[08] [09] [10] [11] [12] [13] [14] [15]
"Links" to 15 Pages of Streaming Audio
~ Download Adobe Flash Player [HERE] ~
~ Learn to Read ENGLISH with AudioFlash ~

Please
SCROLL DOWN
to READ the written
commentary about this
.ORIGINAL COMIC POEM..
~ Listen to HEXED TEXT Audiographs ~
If
[YOU !]
have Flash installed,
[YOU !]
may also PURPosefuLly
.PRESS.
thE :

PURPLE .PLAY. BUTTON
to
[LISTEN !]
to
[MY !]
.HEXED TEXT, Audiographs.
The ($ubtitled) $ub-Rh¥m€ ("Mark" It !)
The ($ubtitled) $ub-Rh¥m€ ("Mark" It !)
~ 1 December 2007 (Subtitles 4 April 2010) ~
To SUBSCRIBE to my



~ EWECHEWB YouTube Channel ~
please click :[HERE]
~ Ore Boar's (Piggy) (Bank) Notes - 03 ~

"What Would Your Money Say to You ?"
asked the British .financial. website who
were .running the competition. that inspired me
to .write. and .create. the .animated. .poem.
"The $ub-Rh¥m€ ("Mark" It !)".
~ Come-uppance of Tuppence ~

"2p or not 2p"
~ "2p or not 2p" ~
".2p. or not .2p."
is NOT :
~ "To pee or not to pee?" ~
".2p. or not .2p."
is NOT :
"To pee or not to pee?"
- the
"limping" limpid(dle)
pizzle-frizzlin' philosophy
of a
usually
lamp-post-littering loiterer
[CAUGHT SHORT !] (and tense)
(without two .pence.)
beside an
(univited) (uninvented)
(experimental)
.electric. fence.
The (Great) Dane's Great Dane

The "wet" one is a pet one to Prince Hamlet,
bufFURing, season upon season, sufFURing
as a nipper before Nipper,
< His Master's ~ Voice > of "Reason" ~
and his Master's unmastered <crack "Black Dog"> -
the great bane of a Great Dane (and his Thegn).
~ "...flesh is heir to...~

A Great Dane too Wee (or twee) to wee
by surging .electricity. ; safely..... enough
to not put an "...end..." (by means of a
"...thousand..."
( instigated when urinated on)
~--<<<[.THOUSAND-VOLT-BOLT !.]>>>--~
"(")...natural...(")"
........................................(and not so natural)
"...shocks...") to the heartbeats
as well as the "...heartaches
that flesh..." whether it be
(Hamlet's) ham,
(bully) beef or


bacon
"...is heir to."
~ Flesh is Hair Too ~

Hair too can be a cause for canine concern.
~ DOGged by CATastrophe ~

Time [HALT !]s the .~ VOLTS ~.
but starts the moults of
<Annual Animal Alapesia>
- a shedding
not "down" to dreading
unless you are ~ treading
(unstable) (on eggshells ~ (?)) in sable
-cabled capes and cardigans through a
frightful
undelightful
CATastrophic
(metaphoric <never-ending-nightfall>)
white-fall
of .frosty. fluff and .snowy. strands
no hands may brush away from
disarray (not Desirée)
without display of dark dismay
and a seizure that sees ya
sneeze : disease
on yer knees with allergies
and
ITCHES in yer britches' (; stitches)
apologies
(ragged, dog-eared,
DOGged)
cannot tease, please or appease.....
.....like puppies passing fleas
to dignat'ries.
~ Great Disdain ~

Critters who give the jitters, Hamlet, the
querulous, garrulous Gothically-garbed
gloom-monger of Elsinore, does not ignore.
Deplorable, they are floor-able, and in
Shakespeare's (flawed) cover-up of
Bacon's (Better) Bits of [hexed text], he
~ sweeps them all under the carpet ~
he is hanging as an "arass" to harass
(and holler at) as he ~ takes a stab ~
at hollowing it and "rat"ty, batty (but
none of the other members of Captain
Beaky's Band) Polonius for a
~ hanging around ~ (non-.electric.) (of)fence.
~ Toupae or not Toupae ~

"~ Hanging around ~" in a (potentially
offensive) (.electric.) Photo Booth, Gregor
Fisher's iconic "The Baldy Man" character
knows that, if worry makes your hair fall
out, he would be an ~ out and out fool ~
to fall out with what has not already fallen
out of his (level) (bedevilled) head.
~ Com(e)(b-) () Over HERE....Hair ! ~
Instead, he brings us from hair-scares
and the "Come-uppance of Tuppence"
to the up-beat (not beat-up)
(low-seat) (~ rinse and repeat ~)
(low-seat) (~ rinse and repeat ~)
(low-seat) (~ rinse and repeat ~)
(low-seat) (~ rinse and repeat ~)
(low-seat) (~ rinse and repeat ~)
"Comb-Uppance of the Comb-Over".
Photo Booth Advertisement for Hamlet Cigars

"Happiness is a Cigar called "Hamlet" - The Mild Cigar". Gregor Fisher
appears as "The Baldy Man"" in this classic TV ad' by the cdp agency.
~ To Pay or not To Pay ~

.¢a$h. (gobbled 'n') gawwwwn ~ in a flash ~
(or four),
Fisher's funny fellow finds
~ all too soon ~
it is
~ all too late ~
("Toupae or not Toupae?" )
to contemplate
the Tricky Trichology
of a thinning pate,
or
whether
"To .Pay. or not To .Pay.?"
for a poor .portrait. that can't
~ pass muster ~ (mustard), (~ the port) ~ or 'port.
~ Mugged by Mug-Shots ~

FATE has mugged him with mug-shots.....
~ Non-Smug Smog ~
.....but (no "mug" (and not smug) the
brilliance of his resiliance
makes him (and ~ "makes him" ~)
with his
~ glass half-full ~
~ attitude of gratitude ~
half again the hero the namesake of his
chosen smokes could ever hope
(or (hopeless)) not hope) to be.
~ Endearing, Enduring ~
He doesn't murder majesty
to triumph over tragedy.
~ 2p to Topple ~

From snapshots and mug-shots of
<schhhmokin' BAAAAD "hot-shots">
to screenshots of shot plots I am
SUPPOSED to be clarifying.....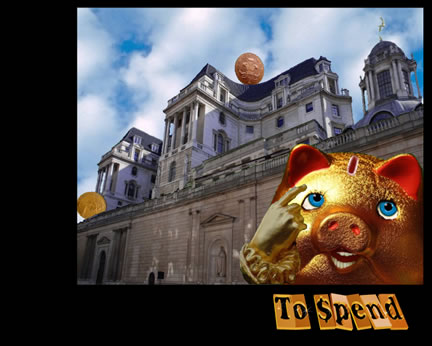 Here, (HIGH, (Say : "Hi!" ("Hiii-iiii!"))) is .2p.
(or NOT .2p.
- it's " .2p. AND .2p."
if what's <--left is not left)
about to topple.....
.....from the (ruthless ?) roof of
"The Bank of England".
~ 2p to Topple Topol ~
"If I Were a Rich Man" from "Fiddler on the Roof"
~ 2p to Topple Topol 2 ~

It may not topple Topol to top all Topol's
travails as it travels - nor will it expose
any other "Fiddlers" as "Rich Men" or
"Rich Men" as "Fiddlers" but it will find
a fulsome flow of followers - the brassy
queueing, the .coppers. on cue at "To"
(and "To" and "To-" and "to").....
.....to sound like they are "playing slots"
when really they are .paying. "watts".....
~ What's (Watt's) (watts) ~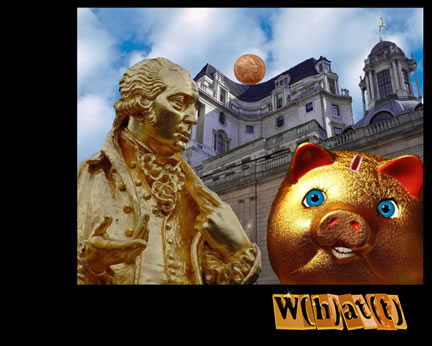 .....or .paying. Watt, the singular Scot
who ~ "knows what's what" ~ and wots
what's Watt's and what's .watts. and
what's Watt's .watts..
~ Golder than "Golde" ~

Golder than "Golde"
(Tevye's treasure(d) house-spouse),
this gilded gentleman, preferring a
wig to a comb-over, would be a spark
bright enough to know to
vault the

~--<<<[.VOLTS !.]>>>--~

and jump or climb over
not ~ do anything else over ~
an .electric. fence.
~ (Grazing) "Daisy" Glazing ~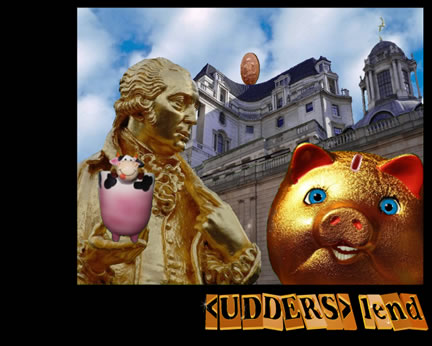 .Electric. fences are often used to deter
farm animals from wayward wanderings.
Some of those farm animals may be
Dairy cows such as the glazed-"Daisy" who
has been [MUGGED !] (not for mug-shots
(but (t) er)) for more than milk, styled
mild into a static ceramic surround.
She is perched on the palm (d'or)
(not the Palme d'Or) of the decorated
inventor James Watt.
~ Self-Esteem Engine ~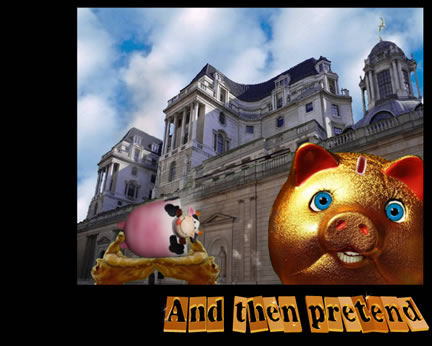 If he is parched, a cup of .tea. may be the
quenching key to he and she being happy.
With no .electric. fence and no .electric. kettle,
he can ~ "bring her to the boil" ~
through the spoils of his toils
her cream..............
...............his steam
the theme :
ESTEEM
the Engine of Avengin' Woe.
Let's get aboard (unbored) and [GO !]
to (full of self-esteem(y)) steam ahead)
[PART 4] of 15.
~ Get Chopped Up with the Ore Boar ~
[00] [01] [02] [03] [04] [05] [06] [07]
[08] [09] [10] [11] [12] [13] [14] [15]
~ and the last shall be first ~
Press PLAY to stream RECENT EWECHEWB YouTube Videos
~ EWECHEWB @ YOUTUBE ~
To SUBSCRIBE to my



~ EWECHEWB YouTube Channel ~
please click :[HERE]
'OME (PAGE) IS WHERE THE (')ART IS
'OME PAGE IS WHERE THE (')ART IS [HOME]
'OME PAGE IS WHERE THE (')ART IS [HOME]
~ # ~ # ~ # ~ # ~ # ~ # ~ # ~
[RETURN TO THE TOP OF THIS PAGE]
INDEX
SUBSCRIBE

FOLLOW

CONTACT
CONTENTS
SITE INDEX
SITE SEARCH
SITE NAVIGATION
MIXED DATES :
CONSOLIDATED CLIPS
PADDINGLESS PLAYLISTS
BLOGGIFICATIONS
COMMENTARY
OBSERVATIONS
BOOK & MUSIC CHARTS
TOP TOME TOPICS
TWITTER WITTERINGS
WORDS WORDS WORDS
DOPPELGÄNGERS
FAMOUS FACES
F(R)AME-LESS FACES
LOOKALIKES
MORPHS
PEOPLE
PORTRAITS
POSERS & POSEURS
EXPERIMENTS
LEARNING
SCREENCASTS
SILLY OLD THINGS
SOFTWARE DEMOS
WORKS IN PROGRESS
ORIGINAL READINGS
UNORIGINAL POEMS
UNORIGINAL STORIES
24 SEP 2009 :
PROTEST POST
IMAGE EDITING
SCREENCASTS
14 AUG 2009 :
CHILDREN'S POEM
ANIMAL ANIMATION
CRAZY TALK LIP SYNC
FACIAL ANIMATION
ORIGINAL POEM
SUBTITLED
TITLING (PREMIERE PRO)
VOICE ACTING
05 JUN 2009 :
POETIC POST CARD
ANIMAL ANIMATION
CRAZY TALK LIP SYNC
CUTOUT ANIMATION
FACIAL ANIMATION
SUBTITLED
TITLING (PREMIERE PRO)
VOICE ACTING
VOICE PROCESSING
1 OF MY FAVOURITES
30 NOV 2008 :
POETIC POST CARD
CRAZY TALK LIP SYNC
FACIAL ANIMATION
SUBTITLED
TITLING (PREMIERE PRO)
VOICE ACTING
10 AUG 2008 :
POETIC POST CARD
CRAZY TALK LIP SYNC
FACIAL ANIMATION
SUBTITLED
TITLING (PREMIERE PRO)
VOICE ACTING
04 MAY 2008:
COMPETITION ENTRY
AUDIO-EDITING
BRIEF FOR A BRIEF
ICLONE ANIMATION
ORIGINAL LYRICS
SONG & DANCE
SUBTITLED
TITLING (PREMIERE PRO)
VOICE ACTING
07 FEB 2008 :
PANTING PAINTING
CRAZY TALK LIP SYNC
FACIAL ANIMATION
MULTIPLE CHARACTERS
VOICE PROCESSING
SUBTITLED
TITLING (PREMIERE PRO)
18 JAN 2008 :
MORPHING MORPHINE
FACIAL ANIMATION
FANTAMORPH 1st GO
HISTORICAL HEADS
08 JAN 2008 :
SURPRISING SINGING
AUDIO EDITING
CRAZY TALK LIP SYNC
FACIAL ANIMATION
SUBTITLED
TITLING (PREMIERE PRO)
01 DEC 2007 :
COMPETITION ENTRY
BRIEF FOR A BRIEF
CRAZY TALK LIP SYNC
CUTOUT ANIMATION
FACIAL ANIMATION
ICLONE SPECIAL EFFECTS
ORIGINAL TOPICAL POEM
SUBTITLED
TITLING (BLUFFTITLER)
VOICE ACTING
VOICE PROCESSING
17 SEP 2007 :
STEREO MONOLOGUE
CRAZY TALK LIP SYNC
FACIAL ANIMATION
SUBTITLED
TITLING (PREMIERE PRO)
VOICE ACTING
12 JUN 2007 :
CLOTHES DESIGN
CUSTOM CONTENT
SOFTWARE DEMO
17 MAR 2007 :
iCLONE MUSIC VIDEO
CRAZY TALK LIP SYNC
FACIAL ANIMATION
3D FULL BODY ANIMATION
SONG & DANCE
SUBTITLED
TITLING (PREMIERE PRO)
02 MAR 2007 :
SOFTWARE DEMO
3D FULL BODY ANIMATION
18 OCT 2006 :
COMPETITION ENTRY
CRAZY TALK LIP SYNC
CUTOUT ANIMATION
FACIAL ANIMATION
2D FULL BODY ANIMATION
ICLONE SPECIAL EFFECTS
ORIGINAL LYRICS
SONG & DANCE
SUBTITLED
TITLING (PHOTODRAW)
VOICE ACTING
VOICE PROCESSING
12 AUG 2006 :
JUST FOR FUN
ONLY MY FAVOURITE
CRAZY TALK LIP SYNC
FACIAL ANIMATION
3D FULL BODY ANIMATION
ICLONE MUSIC VIDEO
SONG & DANCE
SUBTITLED
VOICE ACTING
VOICE PROCESSING
07 JUN 2006 :
VICTORIAN VERMINATOR
ANIMAL ANIMATION
CRAZY TALK LIP SYNC
FACIAL ANIMATION
3D FULL BODY ANIMATION
iCLONE MUSIC VIDEO
SONG AND DANCE
VOICE ACTING
23 APR 2006 :
GARDEN GUARDIAN
CRAZY TALK LIP SYNC
FACIAL ANIMATION
ORIGINAL LYRICS
SUBTITLED
VOICE ACTING
VOICE PROCESSING
18 FEB 2006 :
CRAZY TALK LIP SYNC
FACIAL ANIMATION
ORIGINAL POEM
SUBTITLED
VOICE ACTING
21 JAN 2006 :



CRAZY TALK LIP SYNC
FACIAL ANIMATION
3D FULL BODY ANIMATION
ORIGINAL LYRICS
SONG & DANCE
SUBTITLED
VOICE ACTING
VOICE PROCESSING
05 NOV 2005 :
ANIMAL ANIMATION
CRAZY TALK LIP SYNC
FACIAL ANIMATION
ORIGINAL LYRICS
SUBTITLED
VOICE ACTING
VOICE PROCESSING
13 JUN 2005 :
CUTOUT ANIMATION
FLASH MX ANIMATION
ORIGINAL LYRICS
SUBTITLED
TITLING (SWiSHMAX)
VOICE ACTING
VOICE PROCESSING
24 AUG 2004 :
CRAZY TALK LIP SYNC
FACIAL ANIMATION
ORIGINAL LYRICS
SUBTITLED
TITLING (PREMIERE PRO)
VOICE ACTING
12 JUL 2004 :
CUTOUT ANIMATION
FLASH MX ANIMATION
ORIGINAL POEM
VOICE ACTING
12 JAN 2004 :
CRAZY TALK LIP SYNC
FACIAL ANIMATION
ORIGINAL LYRICS
SUBTITLED
TITLING (PREMIERE PRO)
VOICE ACTING
05 JAN 2004 :
CRAZY TALK LIP SYNC
FACIAL ANIMATION
ORIGINAL POEM
SUBTITLED
TITLING (PREMIERE PRO)
VOICE ACTING
VOICE PROCESSING
10 DEC 2003 :
CUTOUT ANIMATION
FLASH MX ANIMATION
MISHEARD LYRICS
SUBTITLED
TITLING (SWiSHMAX)
06 NOV 2003 :
CUTOUT ANIMATION
FLASH MX ANIMATION
ORIGINAL LYRICS
SUBTITLED
TITLING (SWiSHMAX)
VOICE PROCESSING
04 MAY 1999:
GRAPHICS EDITING
ICLONE ANIMATION
ORIGINAL PARODY
VOICE ACTING
VOICE PROCESSING