The $ub-Rh¥m€ ("Mark" It !)
The $ub-Rh¥m€ ("Mark" It !)
(

.Introductory Page

(More Follow))
Animated Comic Poem,
Introduction & Overview
"Links" to 15 Pages of Streaming Audio :
[00] [01] [02] [03] [04] [05] [06] [07]
[08] [09] [10] [11] [12] [13] [14] [15]
~ Get Chopped Up with the Ore Boar ~
The $ub-Rh¥m€ ("Mark" It !)
ORIGINAL Competition-Entry Version
~ Saturday 1 December 2007 ~
To SUBSCRIBE to my



~ EWECHEWB YouTube Channel ~
please click :[HERE]
~ Learn to Read ENGLISH with AudioFlash ~
Please scroll down to read the written
commentary about this original comic
poem. If you have Flash installed, you
may also press the purple PLAY button
to listen to my Hexed Text Audiographs.
~ Download Adobe Flash Player [HERE] ~
~ Streaming Spoken Commentary START ~

~ W(h)at(t)'s the Pig(gy Bank) Idea ? ~...............
................................To ~ keep your "interest" ~ ?
What Would Your Money Say to You ?

This is a .film. I put together for a competition
run by a
* * * * * * * * * * * *
* * * .pUB£I¢ITY-$€€KING. * * *
* * * * * * * * * * * *
British financial website requesting responses,
of .no more than a minute., to the query :
---> "What Would Your Money Say to You ?". <---
~ Me Me Me Me Me Me MEEEEEEEEEE ~

The personal emphasis of the
<<<<thoroughly snarky>>>>
and non-sympathetic address is
entirely (tirelessly) directed at the
"You" that is NOT >>> You <<<
(or ~ Ewe-Ooo-Ooo ~)
at all but is
Me

............................................alone.
Me Me Me Me ME Me MEEEEEEEEEE !
~ The (Half-)(")Grand(") Prize ~

£500 (a "Monkey", in slang) is referenced because
that (sometime) sum was the (half-)(")Grand(") Prize.
~ Other Jokes ~

There are logo-ed screens for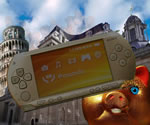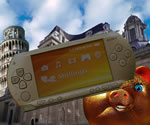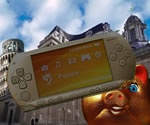 ".Pounds.", ".Shillings." and ".Pence."
on the custom-made gold
P
S
P
and
.special. ghost......um.....
special .GUEST. (dis).appearances.
from <<<late luminaries>>> :
James Watt and Sir John Houblon, plus
(exciting) sightings
of The Leaning Tower of Pisa
and a Sopwith **CAMEL**.
~ The Twelfth of the Twelfth ~

(Thread)(~) **NEEDLE**(ss) to say (~),
with 13 (~ unlucky for some ~) views and fewer
votes (.entrants were supposed to hoodwink
legions of pals into aiding their advancement.)
I was never ~ in the running ~ to further
my .funds. (or ~ feather my nest ~) on the
twELFth of the tWEALTH...
~ Day(s) of Judgement(s) ~

(The contest's <.Day of Judgement.> was
December 12th 2007 (for another ".Day of
Judgement." (also completed at Yuletide),
please see my ~ Mozartian Mondegreen ~ :
Day Of(f) Wra(i)th - Mozart with the Mo(i)st (')art).
~ Verdant Verdicts ~

I have since made the .Judgement. to spend
a .Day. or so (and £52.30) turning
"The $ub-Rh¥m€ ("Mark" It !)"
into
"The *** $ubtitled *** $ub-Rh¥m€ ("Mark" It !)".
~ The $ubtitled $ub-Rh¥m€ ("Mark" It !) ~
~ Sunday 4 April 2010 ~

Another
~ .Judgement. Call ~
may be required to decide
whether the introduction of the
<<.SPRINKLE OF TWINKLE.>>
<<<.SPARKY & SPARKLY.>>>
[ingot-font-based lettering]
and the
.black-backed. ."letterbox format"
V.O.P.->(nobody's letterbox looks like that !)<-V.O.P.
was .worth. the wonky .pay.-off and
potential <distraction and detraction>
from the consequently
....................................<slighty sidelined>
manifold
<mildly miniaturised>
mirthful (mouthful) moments of movement.
~ N.B. V.O.P. ~
V.O.P. =/= "VoIP
V.O.P. = Voice of Protest
~ BEHOLD ~ In the Black ~(GOLD) ~

~ Off-centre ~ if not ~ off-guard ~,
oleaginous genius would not hesitate
to insinuate : .DELIBERATE.
insuring to claim a policy of
[NO .ACCIDENT.]
in the .emergence (see. ?) of
frames framed ~ in the (")black ~
(gold(")) of a ~ well-oiled ~ (if not
oil-welled (or ~ well-heeled ~))
~ slippery (")customer(") ~.
It could also never ponder a wander from the
<WONDER of the WORDERY>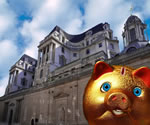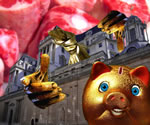 'ere be the WONDER o' the WORDERY --->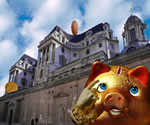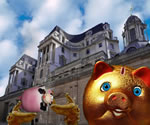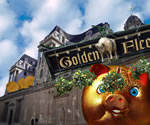 Do (k)not be(e)f(-)r(i(/)e)nd the "trend"
To spend what <udders> lend
And then pretend
~ Ewe-Ooo-Ooo ~
Did (k)not
LET you !
GET chew !
DEBT you...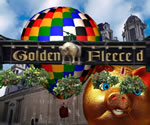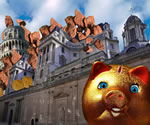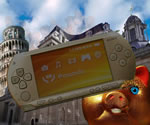 ...can't repay...
In(n) any way -
Without delay ;
Or(e) leans on loans
From firms with terms
That consolidate
But can't console.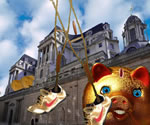 Control from such a crutch
Is not worth much
To those who'd rather ~ RUN
Their own affairs ~
With <Bulls & Bears>
Than borrow from To-morrow : Sorrow
And a duller dollar dolour.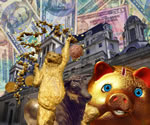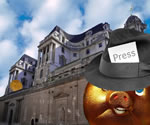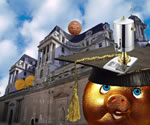 Edit Credit and learn to earn
"A penny for your thoughts,"
(W)ON(E) 5 and a pair of noughts.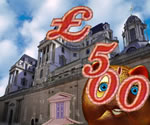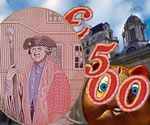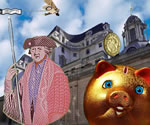 Arrange exchange
~ SAVE Yourself ~
And ~ BANK the (")Monkey(") ~ !
~ Ore Boar's (Piggy) (Bank) Notes ~

Click [HERE] to access (whether you have
a "flexible friend" or not) Part 1 of
Ore Boar's (Piggy) (Bank) Notes.
~ Get Chopped Up with the Ore Boar ~
[00] [01] [02] [03] [04] [05] [06] [07]
[08] [09] [10] [11] [12] [13] [14] [15]
~ and the last shall be first ~
Press PLAY to stream RECENT EWECHEWB YouTube Videos
~ EWECHEWB @ YOUTUBE ~
To SUBSCRIBE to my



~ EWECHEWB YouTube Channel ~
please click :[HERE]
'OME (PAGE) IS WHERE THE (')ART IS
'OME PAGE IS WHERE THE (')ART IS [HOME]
'OME PAGE IS WHERE THE (')ART IS [HOME]
~ # ~ # ~ # ~ # ~ # ~ # ~ # ~
[RETURN TO THE TOP OF THIS PAGE]
INDEX
SUBSCRIBE

FOLLOW

CONTACT
CONTENTS
SITE INDEX
SITE SEARCH
SITE NAVIGATION
MIXED DATES :
CONSOLIDATED CLIPS
PADDINGLESS PLAYLISTS
BLOGGIFICATIONS
COMMENTARY
OBSERVATIONS
BOOK & MUSIC CHARTS
TOP TOME TOPICS
TWITTER WITTERINGS
WORDS WORDS WORDS
DOPPELGÄNGERS
FAMOUS FACES
F(R)AME-LESS FACES
LOOKALIKES
MORPHS
PEOPLE
PORTRAITS
POSERS & POSEURS
EXPERIMENTS
LEARNING
SCREENCASTS
SILLY OLD THINGS
SOFTWARE DEMOS
WORKS IN PROGRESS
ORIGINAL READINGS
UNORIGINAL POEMS
UNORIGINAL STORIES
24 SEP 2009 :
PROTEST POST
IMAGE EDITING
SCREENCASTS
14 AUG 2009 :
CHILDREN'S POEM
ANIMAL ANIMATION
CRAZY TALK LIP SYNC
FACIAL ANIMATION
ORIGINAL POEM
SUBTITLED
TITLING (PREMIERE PRO)
VOICE ACTING
05 JUN 2009 :
POETIC POST CARD
ANIMAL ANIMATION
CRAZY TALK LIP SYNC
CUTOUT ANIMATION
FACIAL ANIMATION
SUBTITLED
TITLING (PREMIERE PRO)
VOICE ACTING
VOICE PROCESSING
1 OF MY FAVOURITES
30 NOV 2008 :
POETIC POST CARD
CRAZY TALK LIP SYNC
FACIAL ANIMATION
SUBTITLED
TITLING (PREMIERE PRO)
VOICE ACTING
10 AUG 2008 :
POETIC POST CARD
CRAZY TALK LIP SYNC
FACIAL ANIMATION
SUBTITLED
TITLING (PREMIERE PRO)
VOICE ACTING
04 MAY 2008:
COMPETITION ENTRY
AUDIO-EDITING
BRIEF FOR A BRIEF
ICLONE ANIMATION
ORIGINAL LYRICS
SONG & DANCE
SUBTITLED
TITLING (PREMIERE PRO)
VOICE ACTING
07 FEB 2008 :
PANTING PAINTING
CRAZY TALK LIP SYNC
FACIAL ANIMATION
MULTIPLE CHARACTERS
VOICE PROCESSING
SUBTITLED
TITLING (PREMIERE PRO)
18 JAN 2008 :
MORPHING MORPHINE
FACIAL ANIMATION
FANTAMORPH 1st GO
HISTORICAL HEADS
08 JAN 2008 :
SURPRISING SINGING
AUDIO EDITING
CRAZY TALK LIP SYNC
FACIAL ANIMATION
SUBTITLED
TITLING (PREMIERE PRO)
01 DEC 2007 :
COMPETITION ENTRY
BRIEF FOR A BRIEF
CRAZY TALK LIP SYNC
CUTOUT ANIMATION
FACIAL ANIMATION
ICLONE SPECIAL EFFECTS
ORIGINAL TOPICAL POEM
SUBTITLED
TITLING (BLUFFTITLER)
VOICE ACTING
VOICE PROCESSING
17 SEP 2007 :
STEREO MONOLOGUE
CRAZY TALK LIP SYNC
FACIAL ANIMATION
SUBTITLED
TITLING (PREMIERE PRO)
VOICE ACTING
12 JUN 2007 :
CLOTHES DESIGN
CUSTOM CONTENT
SOFTWARE DEMO
17 MAR 2007 :
iCLONE MUSIC VIDEO
CRAZY TALK LIP SYNC
FACIAL ANIMATION
3D FULL BODY ANIMATION
SONG & DANCE
SUBTITLED
TITLING (PREMIERE PRO)
02 MAR 2007 :
SOFTWARE DEMO
3D FULL BODY ANIMATION
18 OCT 2006 :
COMPETITION ENTRY
CRAZY TALK LIP SYNC
CUTOUT ANIMATION
FACIAL ANIMATION
2D FULL BODY ANIMATION
ICLONE SPECIAL EFFECTS
ORIGINAL LYRICS
SONG & DANCE
SUBTITLED
TITLING (PHOTODRAW)
VOICE ACTING
VOICE PROCESSING
12 AUG 2006 :
JUST FOR FUN
ONLY MY FAVOURITE
CRAZY TALK LIP SYNC
FACIAL ANIMATION
3D FULL BODY ANIMATION
ICLONE MUSIC VIDEO
SONG & DANCE
SUBTITLED
VOICE ACTING
VOICE PROCESSING
07 JUN 2006 :
VICTORIAN VERMINATOR
ANIMAL ANIMATION
CRAZY TALK LIP SYNC
FACIAL ANIMATION
3D FULL BODY ANIMATION
iCLONE MUSIC VIDEO
SONG AND DANCE
VOICE ACTING
23 APR 2006 :
GARDEN GUARDIAN
CRAZY TALK LIP SYNC
FACIAL ANIMATION
ORIGINAL LYRICS
SUBTITLED
VOICE ACTING
VOICE PROCESSING
18 FEB 2006 :
CRAZY TALK LIP SYNC
FACIAL ANIMATION
ORIGINAL POEM
SUBTITLED
VOICE ACTING
21 JAN 2006 :



CRAZY TALK LIP SYNC
FACIAL ANIMATION
3D FULL BODY ANIMATION
ORIGINAL LYRICS
SONG & DANCE
SUBTITLED
VOICE ACTING
VOICE PROCESSING
05 NOV 2005 :
ANIMAL ANIMATION
CRAZY TALK LIP SYNC
FACIAL ANIMATION
ORIGINAL LYRICS
SUBTITLED
VOICE ACTING
VOICE PROCESSING
13 JUN 2005 :
CUTOUT ANIMATION
FLASH MX ANIMATION
ORIGINAL LYRICS
SUBTITLED
TITLING (SWiSHMAX)
VOICE ACTING
VOICE PROCESSING
24 AUG 2004 :
CRAZY TALK LIP SYNC
FACIAL ANIMATION
ORIGINAL LYRICS
SUBTITLED
TITLING (PREMIERE PRO)
VOICE ACTING
12 JUL 2004 :
CUTOUT ANIMATION
FLASH MX ANIMATION
ORIGINAL POEM
VOICE ACTING
12 JAN 2004 :
CRAZY TALK LIP SYNC
FACIAL ANIMATION
ORIGINAL LYRICS
SUBTITLED
TITLING (PREMIERE PRO)
VOICE ACTING
05 JAN 2004 :
CRAZY TALK LIP SYNC
FACIAL ANIMATION
ORIGINAL POEM
SUBTITLED
TITLING (PREMIERE PRO)
VOICE ACTING
VOICE PROCESSING
10 DEC 2003 :
CUTOUT ANIMATION
FLASH MX ANIMATION
MISHEARD LYRICS
SUBTITLED
TITLING (SWiSHMAX)
06 NOV 2003 :
CUTOUT ANIMATION
FLASH MX ANIMATION
ORIGINAL LYRICS
SUBTITLED
TITLING (SWiSHMAX)
VOICE PROCESSING
04 MAY 1999:
GRAPHICS EDITING
ICLONE ANIMATION
ORIGINAL PARODY
VOICE ACTING
VOICE PROCESSING