~ Animal Rites ~
QUICK ! [CLICK] TO SEE & HEAR THIS WEB PAGE
IN ITS UNPERPLEXED HEXED TEXT FILM VERSION
~ WORDS Animated - 18 February 2006 ~
~ WORDS Spoken - 10 January 2000 ~
~ WORDS Written - 16 May 1994 ~
~ Precious Precis ~

Following the formal, floral, flurry of her first
full (indigestible) fe(a)stival, a young girl
~ whirled in the Ancient World ~ feels less
than bullish about a "barbecue" she can't
"relish" whilst ruing the rules of religious
rite to favour the flavour of Vegemite
at a panicked Pannychis that's proven
.DEATH., like (~) "life's no picnic" (~).
You can .read. about the [BULL SACRIFICE]
at the end of the Eleusian Mysteries, that is the
cause of this kid's .queasy. consternation by
clicking the highlighted hyperlink to visit
Wikipedia's [FREE ENTRY] "entry".
~ Pretend Poem ~
Animal Rites

Pensively Penned : 11:04:28 - Monday 16 May 1994
We were happy
Happy dancing
And the flowers in our hair smelt like the summer should
And the music had a melody before the evening came
And betrothed their scent to incense
Letting*
The tabor take our steps
Cold, cold marble
Sculpted into silence
Sanctified
Paler platter for a smearing and a knowledge
Within hopeful visions
That deter the night
Yet stir the Shades
And we were quiet
Quiet watching
The solemn palms of preparation
Moistly glisten
Dionysus' roses drowning for the
Fire
Barley water, a reflex in sharp reflection
And we had altered
Altared faces
And the ashen garlands squealed and spat their colours out
And the lyre called us louder, wilder as its strings were scorched
Like ceremonial sunsets
Return
Before the evening came
~ Animal Rites : Audio Acceptance ~

I like the .vocal..
(!).
~ Animal Rites : Creation & Criticism ~

In a move forward from the wonky-mouth
(and incorrect dentition) of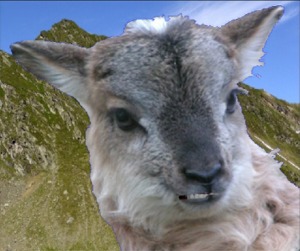 Mountain Mouton the Singing Sheep,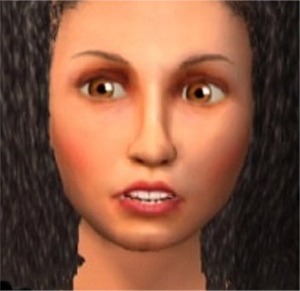 [THIS] computerised character's
teeth are mu(n)ch more acceptably angled.
However, "Uncanny Valley" has dictated full-time,
fully-dilated (non-(")unruly) pupils(") fixed in an
intense, "Rolling, Rolling, Rolling" rôle - as
over-cooked as the carcass their ( .see mingly
possessed) possessor has not over- .look.ed but
rather - .look.ed over ; sadly strickened, .sickened.
as a stoned and silenced Sibyl.
You could shut your
<I+I>,
it rather
<.look.s>
like <"eye"> did !
.Appearing old enough to be a Sibyl, makes this
model MUCH more mature than she should be.
I envisaged a girl aged between eight and
twelve years and NOT the grown-woman we .see.
flexing Tara FitzGerald's features (and the great
big wig she has whisked from Andie MacDowell).
~ "COLOR" ME <CONFUSED> ~

"Color"ed : CONFUSED by a (Pseudo-)"Senior Moment", Andie MacDowell
Loses Her Hand Luggage, Her Eye Baggage and the ((Big-Hair,) Airport)
Plot in Pursuit of "The Grey Pound" (if not a "Greyhound").
Er...of course, <none of that actually happens> in the above advert - but
I'm sure it DID in one of the BRITISH localisations for this <Revitalift>
series ....erm.....um.....if only I could...um...rem(....um...)ember...
A similar <MEMORY MALFUNCTION> seems to be affilcting Andie who
("Andie Who ??")...er...Andie who has <COMPLETELY FORGOTTEN>
that she isn't French. Elsewhere on YouTube Andie MacDowell has
<COMPLETELY FORGOTTEN> that she isn't German or...um...Turkish.


I had considered adapting (not adopting):
Dis ((Dissed) Miss (Missed) (Dismissed))

To ~ Not Look So Sad ~ She Needs to Raise *UR...CHIN*
~ Laying it on with a (Handy Muck) trowel, ~
yet Ashputtel-ragged, she is NOT "Annette"
from "Grange Hill"" ; she is NOT "Scary
Spice" and she is

~ NOT going out .look.ing like THAT!~.
Instead, I forewent "dis" <no-go .photo.>
and .made. the base-.picture. for the
.speaker.'s face by using .StarMaker., a
standalone head-.designing. tool that was
given away by .publishers. LionHead Studios
to promote .The Movies., their .film.-.making.
scenario varaint of the ground-breaking management
.games. .Theme Park. and .Theme Hospital..
The fun FREEBIE utility armed me with a
fully-frontally posed .portrait. ensuring the
easiest and most successful feature-fitting
within Reallusion's .Crazy Talk 4. lip-synching
software. It also provided a non-.photo.-realistic
".cartoony" quality to the character that, I think,
ironically, makes her seem less <eerily unnatural>
than the result from an un-edited .snapshot.
may have been.
.StarMaker. only allows for the .generation. of
Adults. I would really like to get access to a
tool that lets you make ANIMAL heads
enabling the .creation. of casts whose casts
...DON'T get [IN THE WAY] of their ~words~....

Let HAPPINESS harrass horror
~ UNPERPLEXED HEXED TEXT ~
Just THIS Page as a "Film" --->
The WHOLE "Animal Rites" SERIES
~ and the last shall be first ~
Press PLAY to stream RECENT EWECHEWB YouTube Videos
~ EWECHEWB @ YOUTUBE ~
To SUBSCRIBE to my



~ EWECHEWB YouTube Channel ~
please click :[HERE]
'OME (PAGE) IS WHERE THE (')ART IS
'OME PAGE IS WHERE THE (')ART IS [HOME]
'OME PAGE IS WHERE THE (')ART IS [HOME]
~ # ~ # ~ # ~ # ~ # ~ # ~ # ~
[RETURN TO THE TOP OF THIS PAGE]
INDEX
SUBSCRIBE

FOLLOW

CONTACT
CONTENTS
SITE INDEX
SITE SEARCH
SITE NAVIGATION
MIXED DATES :
CONSOLIDATED CLIPS
PADDINGLESS PLAYLISTS
BLOGGIFICATIONS
COMMENTARY
OBSERVATIONS
BOOK & MUSIC CHARTS
TOP TOME TOPICS
TWITTER WITTERINGS
WORDS WORDS WORDS
DOPPELGÄNGERS
FAMOUS FACES
F(R)AME-LESS FACES
LOOKALIKES
MORPHS
PEOPLE
PORTRAITS
POSERS & POSEURS
EXPERIMENTS
LEARNING
SCREENCASTS
SILLY OLD THINGS
SOFTWARE DEMOS
WORKS IN PROGRESS
ORIGINAL READINGS
UNORIGINAL POEMS
UNORIGINAL STORIES
24 SEP 2009 :
PROTEST POST
IMAGE EDITING
SCREENCASTS
14 AUG 2009 :
CHILDREN'S POEM
ANIMAL ANIMATION
CRAZY TALK LIP SYNC
FACIAL ANIMATION
ORIGINAL POEM
SUBTITLED
TITLING (PREMIERE PRO)
VOICE ACTING
05 JUN 2009 :
POETIC POST CARD
ANIMAL ANIMATION
CRAZY TALK LIP SYNC
CUTOUT ANIMATION
FACIAL ANIMATION
SUBTITLED
TITLING (PREMIERE PRO)
VOICE ACTING
VOICE PROCESSING
1 OF MY FAVOURITES
30 NOV 2008 :
POETIC POST CARD
CRAZY TALK LIP SYNC
FACIAL ANIMATION
SUBTITLED
TITLING (PREMIERE PRO)
VOICE ACTING
10 AUG 2008 :
POETIC POST CARD
CRAZY TALK LIP SYNC
FACIAL ANIMATION
SUBTITLED
TITLING (PREMIERE PRO)
VOICE ACTING
04 MAY 2008:
COMPETITION ENTRY
AUDIO-EDITING
BRIEF FOR A BRIEF
ICLONE ANIMATION
ORIGINAL LYRICS
SONG & DANCE
SUBTITLED
TITLING (PREMIERE PRO)
VOICE ACTING
07 FEB 2008 :
PANTING PAINTING
CRAZY TALK LIP SYNC
FACIAL ANIMATION
MULTIPLE CHARACTERS
VOICE PROCESSING
SUBTITLED
TITLING (PREMIERE PRO)
18 JAN 2008 :
MORPHING MORPHINE
FACIAL ANIMATION
FANTAMORPH 1st GO
HISTORICAL HEADS
08 JAN 2008 :
SURPRISING SINGING
AUDIO EDITING
CRAZY TALK LIP SYNC
FACIAL ANIMATION
SUBTITLED
TITLING (PREMIERE PRO)
01 DEC 2007 :
COMPETITION ENTRY
BRIEF FOR A BRIEF
CRAZY TALK LIP SYNC
CUTOUT ANIMATION
FACIAL ANIMATION
ICLONE SPECIAL EFFECTS
ORIGINAL TOPICAL POEM
SUBTITLED
TITLING (BLUFFTITLER)
VOICE ACTING
VOICE PROCESSING
17 SEP 2007 :
STEREO MONOLOGUE
CRAZY TALK LIP SYNC
FACIAL ANIMATION
SUBTITLED
TITLING (PREMIERE PRO)
VOICE ACTING
12 JUN 2007 :
CLOTHES DESIGN
CUSTOM CONTENT
SOFTWARE DEMO
17 MAR 2007 :
iCLONE MUSIC VIDEO
CRAZY TALK LIP SYNC
FACIAL ANIMATION
3D FULL BODY ANIMATION
SONG & DANCE
SUBTITLED
TITLING (PREMIERE PRO)
02 MAR 2007 :
SOFTWARE DEMO
3D FULL BODY ANIMATION
18 OCT 2006 :
COMPETITION ENTRY
CRAZY TALK LIP SYNC
CUTOUT ANIMATION
FACIAL ANIMATION
2D FULL BODY ANIMATION
ICLONE SPECIAL EFFECTS
ORIGINAL LYRICS
SONG & DANCE
SUBTITLED
TITLING (PHOTODRAW)
VOICE ACTING
VOICE PROCESSING
12 AUG 2006 :
JUST FOR FUN
ONLY MY FAVOURITE
CRAZY TALK LIP SYNC
FACIAL ANIMATION
3D FULL BODY ANIMATION
ICLONE MUSIC VIDEO
SONG & DANCE
SUBTITLED
VOICE ACTING
VOICE PROCESSING
07 JUN 2006 :
VICTORIAN VERMINATOR
ANIMAL ANIMATION
CRAZY TALK LIP SYNC
FACIAL ANIMATION
3D FULL BODY ANIMATION
iCLONE MUSIC VIDEO
SONG AND DANCE
VOICE ACTING
23 APR 2006 :
GARDEN GUARDIAN
CRAZY TALK LIP SYNC
FACIAL ANIMATION
ORIGINAL LYRICS
SUBTITLED
VOICE ACTING
VOICE PROCESSING
18 FEB 2006 :
CRAZY TALK LIP SYNC
FACIAL ANIMATION
ORIGINAL POEM
SUBTITLED
VOICE ACTING
21 JAN 2006 :



CRAZY TALK LIP SYNC
FACIAL ANIMATION
3D FULL BODY ANIMATION
ORIGINAL LYRICS
SONG & DANCE
SUBTITLED
VOICE ACTING
VOICE PROCESSING
05 NOV 2005 :
ANIMAL ANIMATION
CRAZY TALK LIP SYNC
FACIAL ANIMATION
ORIGINAL LYRICS
SUBTITLED
VOICE ACTING
VOICE PROCESSING
13 JUN 2005 :
CUTOUT ANIMATION
FLASH MX ANIMATION
ORIGINAL LYRICS
SUBTITLED
TITLING (SWiSHMAX)
VOICE ACTING
VOICE PROCESSING
24 AUG 2004 :
CRAZY TALK LIP SYNC
FACIAL ANIMATION
ORIGINAL LYRICS
SUBTITLED
TITLING (PREMIERE PRO)
VOICE ACTING
12 JUL 2004 :
CUTOUT ANIMATION
FLASH MX ANIMATION
ORIGINAL POEM
VOICE ACTING
12 JAN 2004 :
CRAZY TALK LIP SYNC
FACIAL ANIMATION
ORIGINAL LYRICS
SUBTITLED
TITLING (PREMIERE PRO)
VOICE ACTING
05 JAN 2004 :
CRAZY TALK LIP SYNC
FACIAL ANIMATION
ORIGINAL POEM
SUBTITLED
TITLING (PREMIERE PRO)
VOICE ACTING
VOICE PROCESSING
10 DEC 2003 :
CUTOUT ANIMATION
FLASH MX ANIMATION
MISHEARD LYRICS
SUBTITLED
TITLING (SWiSHMAX)
06 NOV 2003 :
CUTOUT ANIMATION
FLASH MX ANIMATION
ORIGINAL LYRICS
SUBTITLED
TITLING (SWiSHMAX)
VOICE PROCESSING
04 MAY 1999:
GRAPHICS EDITING
ICLONE ANIMATION
ORIGINAL PARODY
VOICE ACTING
VOICE PROCESSING