The ($ubtitled) $ub-Rh¥m€ ("Mark" It !)
The ($ubtitled) $ub-Rh¥m€ ("Mark" It !)
(Spoken Commentary Page

.06

of 15)
~ QUICK ! [CLICK] for COMMENTARY 06 ~
~ Get Chopped Up with the Ore Boar ~ 06
[00] [01] [02] [03] [04] [05] [06] [07]
[08] [09] [10] [11] [12] [13] [14] [15]
"Links" to 15 Pages of Streaming Audio
~ Download Adobe Flash Player [HERE] ~
~ Learn to Read ENGLISH with AudioFlash ~

Please
SCROLL DOWN
to READ the written
commentary about this
.ORIGINAL COMIC POEM..
~ Listen to HEXED TEXT Audiographs ~
If
[YOU !]
have Flash installed,
[YOU !]
may also PURPosefuLly
.PRESS.
thE :

PURPLE .PLAY. BUTTON
to
[LISTEN !]
to
[MY !]
.HEXED TEXT, Audiographs.
The ($ubtitled) $ub-Rh¥m€ ("Mark" It !)
The ($ubtitled) $ub-Rh¥m€ ("Mark" It !)
~ 1 December 2007 (Subtitles 4 April 2010) ~
To SUBSCRIBE to my



~ EWECHEWB YouTube Channel ~
please click :[HERE]
~ Ore Boar's (Piggy) (Bank) Notes - 06 ~

"What Would Your Money Say to You ?"
asked the British .financial. website who
were .running the competition. that inspired me
to .write. and .create. the .animated. .poem.
"The $ub-Rh¥m€ ("Mark" It !)".
~ Punning into Runs ~

Control from such a crutch
Is not worth much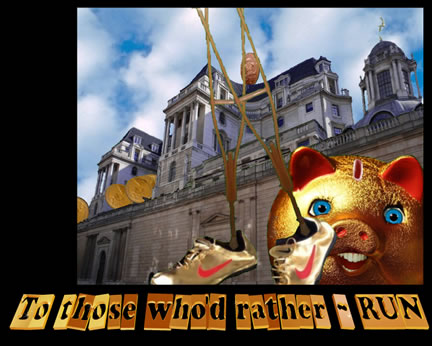 ...and neither is a .visual pun . as wooden
as these wooden crutches would have
been if seen as (sneersomely) inferior to
(and "undone" by) some
(un"undone") superiorly shiny shoes.
~ Choose (Running) Running Shoes ~

"wooden" ?
Slick, the sticks would ~ take no stick ~
they ~ wouldn' 'ave it ~ and
not underarm and not under'and
they oversaw the loose-laced chasers -
peg-legging, proud, in perfect pacers.
~ Running into Puns ~

~ "If it's got legs then run with it" ~
"run"s the cliché.
"If it's got "feet" then it might be a poem,"
puns the me (Yay !) who is
~ .PUSHing. ((~ just ~) my luck ~ and)
~ the boat out ~ (or ~ .PULLing. your leg ~) to
appear to .CONTROL. the chaos of convention
by pointing (at and) out the <enjoyment of
enjamb(')ment>in the (unvexed) hexed text :
To those who'd rather ~ RUN
Their own affairs ~
where "RUN" runs the claws of its
clause through the [RED LIGHT]s
and fake breaks .verse. can disperse.
[DON'T !] ~ jam on the brakes ~
- just "put" : "Jam on the gammon !"
~ Jam on the Gammon ~

The "jam(/be)" jammed in "enjamb(e)ment"
is .French. for "leg" and their word for "ham"
is "jambon"
~ (Toute) Sweet Meat ~

However, if you put
jam(b) on
"ham"
the consequent ".Sweet. Meat"
might become gammon
that has more in common
with ".Sweetmeat."
(and confectioners' condiments)
than is the sort of
[ASSAULTED !]
unseated, un-salted
(")preserve(") of a
piglet's pilfered procreative parts
~ Piglets' Giblets ~
[ONCE !]
[WINCE !]
"he" has been "strung up"
[WINCE !][WINCH !][WINCE !]
by
[WINCE !]
[ONCE !]
more
(and then less) than the ~ short and
curlies ~ on sale with his tail......
~ Hamlet's Gambits ~
.....which, may ~ show (tell-tale)
((Golden Fleece(d) (pub-)) signs ~
of being less ~ SORRY ~, less gorey ;
Recompensed as more condensed
than Hamlet's shaggy (black) dog
STORY .....
~ Stability and Agility ~
.....and so we see how
-----> EVERYTHING IS CONNECTED <-----
even when [CUT OFF !] ----->

The ability to find stability, through
keen-eyed, quick-brained
sure-footed, neat feats of agilty, is
something (stupid ?) EVERYBODY WANTS.
~ Everybody Wants... ~

"EVERYBODY WANTS" "to .CONTROL.
the chaos of convention". This is not odd,
~ let's face it ~, : it's not only
a faceless God who wants to "...Rule..."
and "...Run the World", an observation
Roland Orzabal and Curt Smith hit home with
with an 80s hit .song. .sung. in two variations.....
"Everybody Wants to Run the World (Running Mix)"
Tears for Fears SPORT AID Charity Single (1985)
~ Everybody Knows ~

....of course, "Everybody Knows"
(and "Everybody wants...")
"Everybody Knows" by Leonard Cohen

(and)
that it's actually "facebook" that
rules and runs the world.
Small wonder.....
~ Everybody Hurts ~
...... "Everybody Hurts"
"Everybody Hurts" by R.E.M.
~ Every Body Hurts ~

Every body hurts if .PUSHed. too far,
too fast, too soon and too long to last
past <grasps at gasps> - stretched 'til
stretchered (wretched) off, fit only for
( (~) fits and) starts (~) that forfeit
(and cushion) with caution
over-exertion's exhaustion extortion.
~ Every Second Counts ~

As "the .tortoise. taught us" ((thank you Lewis,
(if not Lewis) who wasn't "Lewis" anyway),
sometimes some times a sprinter targets
(should they ~ .hare. around ~ ) with
~ more haste, less $peed ~ and
remember to exorcise exercise
with NO RELAXATION of relaxation)
~ Sizeable Schooner's Named Anchor ~
might be realised sooner than a
Spoonerism can make a very fast
ferry vast.
~ Pushing the (Big) Boat Out ~

(")IN(...") ................................("...)OUT(...")
.PUSHing. -------------> SIZEABLE SCHOONER
"...shake it all about !
Do the Hokey Cokey..."
if you REALLY want to ;
but don't pour hokey coke
in your power-lunch punch
('t'll make your paw's punch poor).
~ Seconds Out ! ~
"Seconds out ! ROUND TWO !"
~ 2nd Every Second Counts ~
"Round Two" is got around to in around
439 seconds that "...count'..." in the
introductory segment of this 1992 edition
of Talbot Television & Group W Productions'
Paul Daniels-fronted Quiz Show
"Every Second Counts".
At the time of my search
(October the 2nd 2010)
this was the ONLY .illustrative. .episode.
of the .programme. available at YouTube.
Every Second Counts (1992)
~ CONjuring Tricks ~

I had no "Control" over the content
but was more than content to discover
Paul's peculiar pronunciation of
"contestant" - with his emphasis
on the "con" not the "test" the
rest of us would hammer home
(Home Counties-stylie), wiley not
to bash a thumb or hurt a hand
then bandaged like (a boxer's or)
the "Force"d fist of trainee
(dis)Mounted Police Constable
"Cliff BACON".....
~ Cliff (BACON) Hanger ~
......quizzed "randomly" (?) on,
of all things,..... "Keep Fit".....
.........................................which DOES fit.
PERFECTLY
~ Now THAT's *Magic* ! ~
"Now THAT's *Magic* !".
~ Now THAT's > Tragic < ! ~

"Every Second Counts" "contestant"s,
Cliff and Lisa BACON were not the
(")Hawaii
(~ High (")Five(") ~ (( ~ Yo ho (h)(")O(") ~ liday(ing))
Top Prize winners.
"Now THAT's >Tragic< !"
.....but only barely, only briefly,
only in this contest's context ;
sure enough, soon enough
peripateia will conspire
to take them (")higher (and higher("))
"...'cause Every Loser Wins"......
~ Running Out of Space ~

((")"We(e Wee Wee !"(")) see-see-seem to be
~ "run"ning out of space ~ on this page ;
the Google-Goggles will definitely deem
it a "resource hog" so the crawl through
my scrawl will be too cruel to rule it
a ranker.
~ Enjamb(e)ment Employment ~
Therefore, let us share the enjoyment
of "Enjam(b)ement Employment"
and "RUN" on and "RUN" over to find
out how "Every Loser Wins" in
[PART 7] of 15.
~ Get Chopped Up with the Ore Boar ~
[00] [01] [02] [03] [04] [05] [06] [07]
[08] [09] [10] [11] [12] [13] [14] [15]
~ and the last shall be first ~
Press PLAY to stream RECENT EWECHEWB YouTube Videos
~ EWECHEWB @ YOUTUBE ~
To SUBSCRIBE to my



~ EWECHEWB YouTube Channel ~
please click :[HERE]
'OME (PAGE) IS WHERE THE (')ART IS
'OME PAGE IS WHERE THE (')ART IS [HOME]
'OME PAGE IS WHERE THE (')ART IS [HOME]
~ # ~ # ~ # ~ # ~ # ~ # ~ # ~
[RETURN TO THE TOP OF THIS PAGE]
INDEX
SUBSCRIBE

FOLLOW

CONTACT
CONTENTS
SITE INDEX
SITE SEARCH
SITE NAVIGATION
MIXED DATES :
CONSOLIDATED CLIPS
PADDINGLESS PLAYLISTS
BLOGGIFICATIONS
COMMENTARY
OBSERVATIONS
BOOK & MUSIC CHARTS
TOP TOME TOPICS
TWITTER WITTERINGS
WORDS WORDS WORDS
DOPPELGÄNGERS
FAMOUS FACES
F(R)AME-LESS FACES
LOOKALIKES
MORPHS
PEOPLE
PORTRAITS
POSERS & POSEURS
EXPERIMENTS
LEARNING
SCREENCASTS
SILLY OLD THINGS
SOFTWARE DEMOS
WORKS IN PROGRESS
ORIGINAL READINGS
UNORIGINAL POEMS
UNORIGINAL STORIES
24 SEP 2009 :
PROTEST POST
IMAGE EDITING
SCREENCASTS
14 AUG 2009 :
CHILDREN'S POEM
ANIMAL ANIMATION
CRAZY TALK LIP SYNC
FACIAL ANIMATION
ORIGINAL POEM
SUBTITLED
TITLING (PREMIERE PRO)
VOICE ACTING
05 JUN 2009 :
POETIC POST CARD
ANIMAL ANIMATION
CRAZY TALK LIP SYNC
CUTOUT ANIMATION
FACIAL ANIMATION
SUBTITLED
TITLING (PREMIERE PRO)
VOICE ACTING
VOICE PROCESSING
1 OF MY FAVOURITES
30 NOV 2008 :
POETIC POST CARD
CRAZY TALK LIP SYNC
FACIAL ANIMATION
SUBTITLED
TITLING (PREMIERE PRO)
VOICE ACTING
10 AUG 2008 :
POETIC POST CARD
CRAZY TALK LIP SYNC
FACIAL ANIMATION
SUBTITLED
TITLING (PREMIERE PRO)
VOICE ACTING
04 MAY 2008:
COMPETITION ENTRY
AUDIO-EDITING
BRIEF FOR A BRIEF
ICLONE ANIMATION
ORIGINAL LYRICS
SONG & DANCE
SUBTITLED
TITLING (PREMIERE PRO)
VOICE ACTING
07 FEB 2008 :
PANTING PAINTING
CRAZY TALK LIP SYNC
FACIAL ANIMATION
MULTIPLE CHARACTERS
VOICE PROCESSING
SUBTITLED
TITLING (PREMIERE PRO)
18 JAN 2008 :
MORPHING MORPHINE
FACIAL ANIMATION
FANTAMORPH 1st GO
HISTORICAL HEADS
08 JAN 2008 :
SURPRISING SINGING
AUDIO EDITING
CRAZY TALK LIP SYNC
FACIAL ANIMATION
SUBTITLED
TITLING (PREMIERE PRO)
01 DEC 2007 :
COMPETITION ENTRY
BRIEF FOR A BRIEF
CRAZY TALK LIP SYNC
CUTOUT ANIMATION
FACIAL ANIMATION
ICLONE SPECIAL EFFECTS
ORIGINAL TOPICAL POEM
SUBTITLED
TITLING (BLUFFTITLER)
VOICE ACTING
VOICE PROCESSING
17 SEP 2007 :
STEREO MONOLOGUE
CRAZY TALK LIP SYNC
FACIAL ANIMATION
SUBTITLED
TITLING (PREMIERE PRO)
VOICE ACTING
12 JUN 2007 :
CLOTHES DESIGN
CUSTOM CONTENT
SOFTWARE DEMO
17 MAR 2007 :
iCLONE MUSIC VIDEO
CRAZY TALK LIP SYNC
FACIAL ANIMATION
3D FULL BODY ANIMATION
SONG & DANCE
SUBTITLED
TITLING (PREMIERE PRO)
02 MAR 2007 :
SOFTWARE DEMO
3D FULL BODY ANIMATION
18 OCT 2006 :
COMPETITION ENTRY
CRAZY TALK LIP SYNC
CUTOUT ANIMATION
FACIAL ANIMATION
2D FULL BODY ANIMATION
ICLONE SPECIAL EFFECTS
ORIGINAL LYRICS
SONG & DANCE
SUBTITLED
TITLING (PHOTODRAW)
VOICE ACTING
VOICE PROCESSING
12 AUG 2006 :
JUST FOR FUN
ONLY MY FAVOURITE
CRAZY TALK LIP SYNC
FACIAL ANIMATION
3D FULL BODY ANIMATION
ICLONE MUSIC VIDEO
SONG & DANCE
SUBTITLED
VOICE ACTING
VOICE PROCESSING
07 JUN 2006 :
VICTORIAN VERMINATOR
ANIMAL ANIMATION
CRAZY TALK LIP SYNC
FACIAL ANIMATION
3D FULL BODY ANIMATION
iCLONE MUSIC VIDEO
SONG AND DANCE
VOICE ACTING
23 APR 2006 :
GARDEN GUARDIAN
CRAZY TALK LIP SYNC
FACIAL ANIMATION
ORIGINAL LYRICS
SUBTITLED
VOICE ACTING
VOICE PROCESSING
18 FEB 2006 :
CRAZY TALK LIP SYNC
FACIAL ANIMATION
ORIGINAL POEM
SUBTITLED
VOICE ACTING
21 JAN 2006 :



CRAZY TALK LIP SYNC
FACIAL ANIMATION
3D FULL BODY ANIMATION
ORIGINAL LYRICS
SONG & DANCE
SUBTITLED
VOICE ACTING
VOICE PROCESSING
05 NOV 2005 :
ANIMAL ANIMATION
CRAZY TALK LIP SYNC
FACIAL ANIMATION
ORIGINAL LYRICS
SUBTITLED
VOICE ACTING
VOICE PROCESSING
13 JUN 2005 :
CUTOUT ANIMATION
FLASH MX ANIMATION
ORIGINAL LYRICS
SUBTITLED
TITLING (SWiSHMAX)
VOICE ACTING
VOICE PROCESSING
24 AUG 2004 :
CRAZY TALK LIP SYNC
FACIAL ANIMATION
ORIGINAL LYRICS
SUBTITLED
TITLING (PREMIERE PRO)
VOICE ACTING
12 JUL 2004 :
CUTOUT ANIMATION
FLASH MX ANIMATION
ORIGINAL POEM
VOICE ACTING
12 JAN 2004 :
CRAZY TALK LIP SYNC
FACIAL ANIMATION
ORIGINAL LYRICS
SUBTITLED
TITLING (PREMIERE PRO)
VOICE ACTING
05 JAN 2004 :
CRAZY TALK LIP SYNC
FACIAL ANIMATION
ORIGINAL POEM
SUBTITLED
TITLING (PREMIERE PRO)
VOICE ACTING
VOICE PROCESSING
10 DEC 2003 :
CUTOUT ANIMATION
FLASH MX ANIMATION
MISHEARD LYRICS
SUBTITLED
TITLING (SWiSHMAX)
06 NOV 2003 :
CUTOUT ANIMATION
FLASH MX ANIMATION
ORIGINAL LYRICS
SUBTITLED
TITLING (SWiSHMAX)
VOICE PROCESSING
04 MAY 1999:
GRAPHICS EDITING
ICLONE ANIMATION
ORIGINAL PARODY
VOICE ACTING
VOICE PROCESSING