~ Psocker SychoAnalysis (6) ~
QUICK ! [CLICK] TO SEE & HEAR THIS WEB PAGE
IN ITS UNPERPLEXED HEXED TEXT FILM VERSION
Psocker SychoAnalysis -
The Jung Juans' Fraudian Slip on the Skip
(Page

.6

of 20)
Get Sectioned with Freud & Jung 06
[01] [02] [03] [04] [05] [06] [07] [08] [09] [10]
[11] [12] [13] [14] [15] [16] [17] [18] [19] [20]
~ (Press to) PLAY this PAGE ~
SCROLL for CONTINUED Commentary...
Film First Published ~ Saturday 12 August 2006 ~
Please scroll down to read the written
commentary about this original comic
song. If you have Flash installed, you
may also press the purple PLAY button
to listen to my Hexed Text Audiographs.
~ Download Adobe Flash Player [HERE] ~
Get Sectioned with Freud & Jung 06
[01] [02] [03] [04] [05] [06] [07] [08] [09] [10]
[11] [12] [13] [14] [15] [16] [17] [18] [19] [20]
~ BREAKDOWN-PSYCHO'S ANALYSIS ~

...And so from a .weather.-beaten Young man to...

Carl Gustav (Wind ?) Jung
...a Basel-.weather.ed Jung Man,
via a
<<.turbulent. turbine>>
or a free
".gust of wind."
for his
"Gustav (Wind ?)".
"Carl", it may be noted, means : "man".
~ AUDIO TRANSCRIPTION ~

"...a lot of people felt that 'e was talking
errrr through the other end of his body,"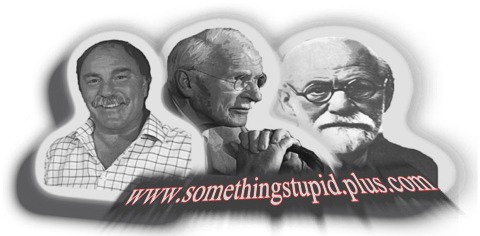 - JIMMY GREAVES as CARL JUNG on SIGMUND FREUD.
~ "Tell Me About Your Father," ~

Tell me about your Father (") Christmas"
"Tell me about your Father (") Christmas"
"Tell me about your father(/mother/childhood,)"
might well be the first [DEMAND !] of a
psychoanalyst probing their (patient (?)) patient.
Indeed, "Let's go back to your childhood,..."
is the echoing opening of "The Bonzo Dog Band"'s :
"Sport (The Odd Boy)" :

Shared here for its

establish

ed unsparing (un

.sparring.

) (anti-

establish

ment)
themes of therapy, dreams, dogs,

.soccer.

,

.perfect pitch.

-in

vasion

and
aspirant-prefect's

.(perfect) pitch

-e

vasion

, "Sport (The Odd Boy)" was
written by Vivian Stanshall.

.Audio.

extracted from the LP "Keynsham",
performed by "The Bonzo Dog Doo-Dah Band" with this excellent
.photographic. .video. montage presented (and probably created)
by YouTuber : actonstation.
Sadly the above .video. is no longer available,
this replacement, however, provides the .audio. :
~ Father Christmas ~
"Father Christmas" is a reference to appearance.
[THIS] sort of appearance :


Father Christmas - As a Shimmering Shimmying Santa
[THIS] is not his .sole. appearance.
[THIS] "Father Christmas" also appears
in my festive greeting:
"Day Of(f) Wra(i)th - Mozart with the Mo(i)st (')art
and is .discus.sed at
[THIS] point in
that mondegreenian .movie.'s "breakdown".
~ The Freud Society ~

Sigmund Freud was a "BROWN Eyed Handsome man"
I checked this with the Freud Society.
I didn't have to check that he wasn't a Czech
and I didn't have to write them a cheque.
Check out of Page 6 of 20 to
~ Check out ~ Page 7 of 20...
~ UNPERPLEXED HEXED TEXT ~
Just THIS Page as a "Film" --->
The WHOLE "Psocker Sycho'" SERIES
~ and the last shall be first ~
Press PLAY to stream RECENT EWECHEWB YouTube Videos
~ EWECHEWB @ YOUTUBE ~
To SUBSCRIBE to my



~ EWECHEWB YouTube Channel ~
please click :[HERE]
~ Get Sectioned with Freud & Jung ~
[01] [02] [03] [04] [05] [06] [07] [08] [09] [10]
[11] [12] [13] [14] [15] [16] [17] [18] [19] [20]
'OME (PAGE) IS WHERE THE (')ART IS
'OME PAGE IS WHERE THE (')ART IS [HOME]
'OME PAGE IS WHERE THE (')ART IS [HOME]
~ # ~ # ~ # ~ # ~ # ~ # ~ # ~
INDEX
SUBSCRIBE

FOLLOW

CONTACT
CONTENTS
SITE INDEX
SITE SEARCH
SITE NAVIGATION
MIXED DATES :
CONSOLIDATED CLIPS
PADDINGLESS PLAYLISTS
BLOGGIFICATIONS
COMMENTARY
OBSERVATIONS
BOOK & MUSIC CHARTS
TOP TOME TOPICS
TWITTER WITTERINGS
WORDS WORDS WORDS
DOPPELGÄNGERS
FAMOUS FACES
F(R)AME-LESS FACES
LOOKALIKES
MORPHS
PEOPLE
PORTRAITS
POSERS & POSEURS
EXPERIMENTS
LEARNING
SCREENCASTS
SILLY OLD THINGS
SOFTWARE DEMOS
WORKS IN PROGRESS
ORIGINAL READINGS
UNORIGINAL POEMS
UNORIGINAL STORIES
24 SEP 2009 :
PROTEST POST
IMAGE EDITING
SCREENCASTS
14 AUG 2009 :
CHILDREN'S POEM
ANIMAL ANIMATION
CRAZY TALK LIP SYNC
FACIAL ANIMATION
ORIGINAL POEM
SUBTITLED
TITLING (PREMIERE PRO)
VOICE ACTING
05 JUN 2009 :
POETIC POST CARD
ANIMAL ANIMATION
CRAZY TALK LIP SYNC
CUTOUT ANIMATION
FACIAL ANIMATION
SUBTITLED
TITLING (PREMIERE PRO)
VOICE ACTING
VOICE PROCESSING
1 OF MY FAVOURITES
30 NOV 2008 :
POETIC POST CARD
CRAZY TALK LIP SYNC
FACIAL ANIMATION
SUBTITLED
TITLING (PREMIERE PRO)
VOICE ACTING
10 AUG 2008 :
POETIC POST CARD
CRAZY TALK LIP SYNC
FACIAL ANIMATION
SUBTITLED
TITLING (PREMIERE PRO)
VOICE ACTING
04 MAY 2008:
COMPETITION ENTRY
AUDIO-EDITING
BRIEF FOR A BRIEF
ICLONE ANIMATION
ORIGINAL LYRICS
SONG & DANCE
SUBTITLED
TITLING (PREMIERE PRO)
VOICE ACTING
07 FEB 2008 :
PANTING PAINTING
CRAZY TALK LIP SYNC
FACIAL ANIMATION
MULTIPLE CHARACTERS
VOICE PROCESSING
SUBTITLED
TITLING (PREMIERE PRO)
18 JAN 2008 :
MORPHING MORPHINE
FACIAL ANIMATION
FANTAMORPH 1st GO
HISTORICAL HEADS
08 JAN 2008 :
SURPRISING SINGING
AUDIO EDITING
CRAZY TALK LIP SYNC
FACIAL ANIMATION
SUBTITLED
TITLING (PREMIERE PRO)
01 DEC 2007 :
COMPETITION ENTRY
BRIEF FOR A BRIEF
CRAZY TALK LIP SYNC
CUTOUT ANIMATION
FACIAL ANIMATION
ICLONE SPECIAL EFFECTS
ORIGINAL TOPICAL POEM
SUBTITLED
TITLING (BLUFFTITLER)
VOICE ACTING
VOICE PROCESSING
17 SEP 2007 :
STEREO MONOLOGUE
CRAZY TALK LIP SYNC
FACIAL ANIMATION
SUBTITLED
TITLING (PREMIERE PRO)
VOICE ACTING
12 JUN 2007 :
CLOTHES DESIGN
CUSTOM CONTENT
SOFTWARE DEMO
17 MAR 2007 :
iCLONE MUSIC VIDEO
CRAZY TALK LIP SYNC
FACIAL ANIMATION
3D FULL BODY ANIMATION
SONG & DANCE
SUBTITLED
TITLING (PREMIERE PRO)
02 MAR 2007 :
SOFTWARE DEMO
3D FULL BODY ANIMATION
18 OCT 2006 :
COMPETITION ENTRY
CRAZY TALK LIP SYNC
CUTOUT ANIMATION
FACIAL ANIMATION
2D FULL BODY ANIMATION
ICLONE SPECIAL EFFECTS
ORIGINAL LYRICS
SONG & DANCE
SUBTITLED
TITLING (PHOTODRAW)
VOICE ACTING
VOICE PROCESSING
12 AUG 2006 :
JUST FOR FUN
ONLY MY FAVOURITE
CRAZY TALK LIP SYNC
FACIAL ANIMATION
3D FULL BODY ANIMATION
ICLONE MUSIC VIDEO
SONG & DANCE
SUBTITLED
VOICE ACTING
VOICE PROCESSING
07 JUN 2006 :
VICTORIAN VERMINATOR
ANIMAL ANIMATION
CRAZY TALK LIP SYNC
FACIAL ANIMATION
3D FULL BODY ANIMATION
iCLONE MUSIC VIDEO
SONG AND DANCE
VOICE ACTING
23 APR 2006 :
GARDEN GUARDIAN
CRAZY TALK LIP SYNC
FACIAL ANIMATION
ORIGINAL LYRICS
SUBTITLED
VOICE ACTING
VOICE PROCESSING
18 FEB 2006 :
CRAZY TALK LIP SYNC
FACIAL ANIMATION
ORIGINAL POEM
SUBTITLED
VOICE ACTING
21 JAN 2006 :



CRAZY TALK LIP SYNC
FACIAL ANIMATION
3D FULL BODY ANIMATION
ORIGINAL LYRICS
SONG & DANCE
SUBTITLED
VOICE ACTING
VOICE PROCESSING
05 NOV 2005 :
ANIMAL ANIMATION
CRAZY TALK LIP SYNC
FACIAL ANIMATION
ORIGINAL LYRICS
SUBTITLED
VOICE ACTING
VOICE PROCESSING
13 JUN 2005 :
CUTOUT ANIMATION
FLASH MX ANIMATION
ORIGINAL LYRICS
SUBTITLED
TITLING (SWiSHMAX)
VOICE ACTING
VOICE PROCESSING
24 AUG 2004 :
CRAZY TALK LIP SYNC
FACIAL ANIMATION
ORIGINAL LYRICS
SUBTITLED
TITLING (PREMIERE PRO)
VOICE ACTING
12 JUL 2004 :
CUTOUT ANIMATION
FLASH MX ANIMATION
ORIGINAL POEM
VOICE ACTING
12 JAN 2004 :
CRAZY TALK LIP SYNC
FACIAL ANIMATION
ORIGINAL LYRICS
SUBTITLED
TITLING (PREMIERE PRO)
VOICE ACTING
05 JAN 2004 :
CRAZY TALK LIP SYNC
FACIAL ANIMATION
ORIGINAL POEM
SUBTITLED
TITLING (PREMIERE PRO)
VOICE ACTING
VOICE PROCESSING
10 DEC 2003 :
CUTOUT ANIMATION
FLASH MX ANIMATION
MISHEARD LYRICS
SUBTITLED
TITLING (SWiSHMAX)
06 NOV 2003 :
CUTOUT ANIMATION
FLASH MX ANIMATION
ORIGINAL LYRICS
SUBTITLED
TITLING (SWiSHMAX)
VOICE PROCESSING
04 MAY 1999:
GRAPHICS EDITING
ICLONE ANIMATION
ORIGINAL PARODY
VOICE ACTING
VOICE PROCESSING