~ Reallusion Software Tests ~

Here you can look (~ down your nose ~) and
~ over my shoulder ~ at me (Me Meeee !)
<<messin' about>>
with some of the
------> .SUPER SOFTWARE PACKAGES. <------
that allow us to
<<express ourselves>>
on this 'ere
wondr'ous, wondr'ous Intyweb.
~ Reallusion Creativity ~
REALLUSION SOFTWARE : [FULL INDEX]
[00] [01] [02] [03] [04] [05]
[06] [07] [08] [09] [10] [11]
REALLUSION SOFTWARE : [FULL INDEX]
~ Hair Repair & Costume Care ~
Hair Repair and Costume Care
[BLOGGED] August 12, 2009
.iClone 4. is set for a September release
and, amongst the
[ANTICIPATORY EXCITEMENT !]
inspired by the promise that it will be
.easier to handle, output prettier visuals
and yet place significantly LESS strain
on system resources. (!), runs a rumour
about a [Hair Style Creation Tool].
"Rumour", I think, is the wrong word
as I am sure this applet exists, I just
don't know whether it will be bundled
as part of the main package or
sold separately as an add-on,
much as .CloneCloth. is.
~ Wiggins <Wiggin Out> ~
I am certainly .MUCH in need. of something
that can REPAIR this sort of "NO GO" D.A.
and will be "like toad alley wiggin' out"
(whether "Wiggins" is ("out" (Out)) or not)
if I can put an end to these rear-view breakages :

Moor/more than Wiggle-Room for Wiggins' (Parson) Pa's
" ~ There'll be Hell ~ Toupee"
~ Hell Toupee ~
I don't doubt that I am going to have to
completely re-rig this character's head
(and [DUMP !] the 60 .Crazy Talk 5.
speech files I made for him) in order to
take advantage of the [NEW !]
in-program facial .animation. in
.iClone 4. I hope this will be fully manually
[KEYFRAMABLE] and wonder if it will
actually be well in advance of what's
currently available for 2D .images.
in .Crazy Talk 6..
~ Hell Blows Elbows ~
Having sorted out the ~ Hell to Pay ~
of his Hellish toupee, I will still need to
address (undress, redress and re-dress)
this .woeful Raggedy Annie-ery. :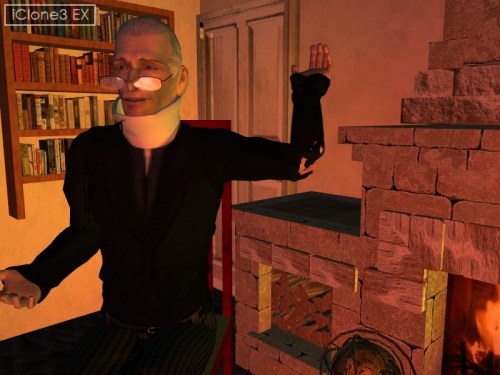 Impoverished, perhaps..... threadbare,
I think NOT ; and this was a clothing
modification made with the latest Template.
!
~ Vile Style ~
A Closer View of Vile Style :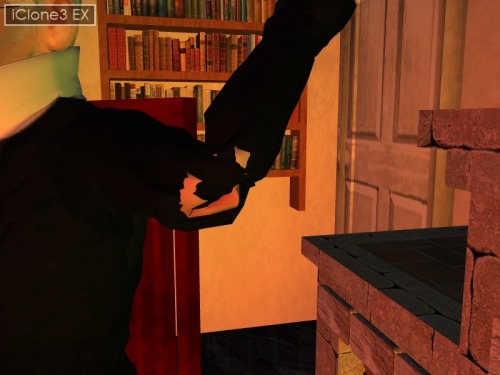 ~ "the above paragraph" ~
If not moths then .mice. (not "...Men")
.have been playing. (Steinbeck
on a Steinway, "there on the stair,"
they don't "stir'") .tricks. (through the
'eve (and the eaves)) .with the weave.
(not the (knotted) weevils or evils)
.of his sleeve..
This is what happens "when the cat's away,"
~ Fished Phrases ~
Phrases .fish.ed to form
the above paragraph
from :
"Of Mice and Men"
"A Windmill in Old Amsterdam"
"Twas The Night Before Christmas"
and General (Catty) Chit Chat.
~ Bringing the Cat Back ~
First Attempt with Reallusion's
Crazy Talk 6 - Work in Progress
[BLOGGED] August 12, 2009
This is my first rough lip-synching .animation.
created with Reallusion's latest iteration of
.Crazy Talk Pro.. This program version
(number .6. (not "Number Six")) includes
an additional hair mesh that lets you
include odd appendages (such as skull-top
ears and horns) within your original
Project which is a great help when trying
to create an impression of three dimensions.
~ Kit Cat Kid (Early Rough Version) ~
~ Cat's Eyes, Size & Sighs ~
This cat still has some .dead.-eye-ness,
the left one is breaking so I need to
try to improve the [Model] as well as fix
the two-tone green screen – the background
was SUPPOSED to be a single shade. I
probably WON'T attach this head to a body
– but will try some close-up angles instead.
I need to compose them so that I don't
waste the DEPTH.
~ Afterward Afterword ~
To see the final version of this animated
poem, please visit its page : [HERE].
~ iClone 4 - Experiments 1 ~
Reallusion's iClone 4 First
Screen Tests and Experiments

~ Saturday 10 October 2009 ~
This short series of experimental
observations speaks for itself,
on-screen, through quiet captioning.
~ Rastafarian Wrigglers ~
Preceding a conclusion punctuated by
<minor assaults> on <assaulted minor> :
"Jimmy Toon" and his mechanical mate
by the (fickle ?) .graphical. glitches of some
peculiar flickering lighting bugs
(not "lightning bugs")), the montage
includes .film.-texturing, (the first time
moving .images. could be applied to
objects), my struggles getting the
snake-haired, snake-hipped <hip>
but (rendered-hindered) hopping
"Dylan" (Dude) to <get away from>
the (hick) Nick Ferrari (on
(flat-(fleet))foot
(not on
"(flat-(fleet))foot"
at "Flatford Mill")
and not
in a nicked <Ferrari>)-lookalike.
~ Comfortable Constables ~
.iClone 4. has probably now reached a
([STAGE]-including) stage where a
~ halting display ~ with John Constable
cast as a traffic-calming Police Constable -
acting the proper <Copper [Stop !]per>,
halting Nick Ferrari in a nicked Ferrari's
dangerously deviant display of lightning-bug
~ drive-by ( "Flatford Mill") .film.-shooting ~
would be possible.
The program is flexible
(as flexible as the Rastafarian Wriggler).
~ iClone 4 - Experiments 2 ~
Test of Interfered-With 2D Painting
in Reallusion's iClone 4's 3D Space

~ Sunday 13 December 2009 ~
I'm interested in the possibilities that
.iClone 4. offers for chopping up elements
of 2D .paintings. and re-presenting them
in immersive 3D environments.
In this experiment I gave the photographed
face of my grandfather to the semi-faceless
figure in René Magritte's "The Son of Man".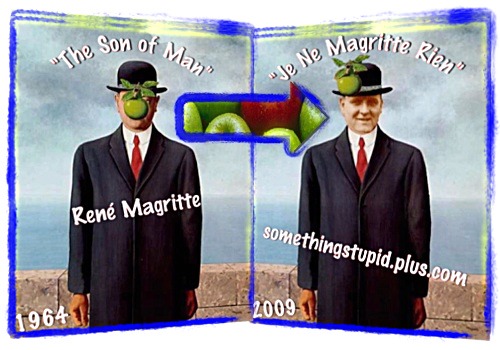 ~ Three Free Three Dees ~
Reallusion have
~ leapt on the (3D) Bandwagon ~
and .very generously. released
.FREE. software updates for both
.Crazy Talk 6. and .iClone 4..
The .exciting extra functionality. provides
.THREE................................................
.......METHODS of [EXPORT]ing
.THREE................................................
.....DIMENSIONAL Material for
.THREE.................................................
TYPES of TECHNOLOGY.....
~ (Nearly) <FREE> 3D ~
The oldest of these technologies, and the one
that has the lowest .financial. outlay to access is,
the anaglyphic method. To enjoy anaglyphic
3D all you need are two functional eyes and
a pair of red/cyan (blue) glasses.
A .surprisingly GOOD quality pair. can
be acquired from ebaY for as little as .£1..
I mean <<PROPER glasses>> and not the
sort of .sweet.-wrappery makeshift/make-do
RUBBISH that is sometimes given away in
cereal packets and that tends to be
flimsy and/or armless with "lenses"
that (aren't lenses but) are too small
and too close together to be much use.
~ Anaglyphic 3D - Experiment 1 ~
First 3D Anaglyph/Stereoscopic
Test Rendered from Crazy Talk 6.2
When viewed through anaglyphic red/cyan
glasses this eleven second extract from my
.animated poem . "Kit Cat Kid's Cause "fur"
(Non-Compliant) Complaint" gives a brief
glimpse of an effective elongation that
makes the kitten look lupine.
~ Anaglyphic 3D - Experiment 2 ~
First 3D Anaglyph/Stereoscopic
Test Rendered from iClone 4.2
My second experiment with anaglyphic 3D
was undertaken in .iClone 4. and includes
text, transparent .graphics. and a skeleton
avatar. The effect works well if you
position your red/cyan glasses correctly
and let your eyes adjust - this eliminates
any sense of double-vision.
~ Note to Self - 00001 ~
How to Rotate Graphics in iClone 4 Pro
Note : "Note..." Noted : 30 May 2010
[Drag and Drop] any .graphic.
(full j-peg or transparent png)
onto a [3D Surface Plane A].
Don't use the [Billboard]s.
~ Reallusion Creativity ~
REALLUSION SOFTWARE : [FULL INDEX]
[00] [01] [02] [03] [04] [05]
[06] [07] [08] [09] [10] [11]
REALLUSION SOFTWARE : [FULL INDEX]
~ More Software Tests ~
CREATIVITY SOFTWARE : [FULL INDEX]
CREATIVITY SOFTWARE : [FULL INDEX]
~ and the last shall be first ~
Press PLAY to stream RECENT EWECHEWB YouTube Videos
~ EWECHEWB @ YOUTUBE ~
To SUBSCRIBE to my



~ EWECHEWB YouTube Channel ~
please click :[HERE]
'OME (PAGE) IS WHERE THE (')ART IS
'OME PAGE IS WHERE THE (')ART IS [HOME]
'OME PAGE IS WHERE THE (')ART IS [HOME]
~ # ~ # ~ # ~ # ~ # ~ # ~ # ~
SUB-INDEX
SUBSCRIBE
CONTACT
CONTENTS
INDEX :
HUB
INDEX
NAVIGATION
CREATIVITY SOFTWARE
ABROSOFT :
ANIMATION
IMAGE EDITING
MOTION GRAPHICS
MORPHING
SPECIAL EFFECTS
SOURCE IMAGES
OUTPUT EXAMPLE
DEMO SOFTWARE
FULL PROGRAM
WINDOWS XP
ADOBE :
VIDEO EDITOR
NON-LINEAR EDITOR
VIDEO EDITING
VIDEO COMPOSITING
GUI SCREENSHOT
GUI SCREENCAST
FULL PROGRAM
OLD VERSION
WINDOWS XP
MACROMEDIA :
WEB DESIGN
CSS STYLESHEETS
TEXT DECORATION
SCREENCASTS
FULL PROGRAM
OLD VERSION
WINDOWS XP
MAGIX :
VIDEO EDITOR
NON-LINEAR EDITOR
VIDEO EDITING
SCREENCASTS
DEMO SOFTWARE
WINDOWS XP
MEDIA CHANCE:
ARTISTIC FILTERS
GRAPHIC FILTERS
NATURAL MEDIA EMULATION
DEMO SOFTWARE
WINDOWS XP
MICROSOFT :
MEDIA ENCODING
VIDEO ENCODING
SCREEN CAPTURE
SCREENCAST
FREE PROGRAM
WINDOWS XP
ART PROGRAM
GRAPHIC DESIGN
GRAPHICS EDITOR
PHOTO EDITOR
FAVOURITE PROGRAM
UNDER-RATED
COMPOSITING
EDITING SCREENCASTS
GUI SCREENCASTS
FULL PROGRAM
WACOM COMPATIBLE
WINDOWS XP
MUSIC GENERATOR
EXPERIMENTAL OUTPUT
DEMO VERSION
WINDOWS XP
SCREEN CAPTURE
SCREENCASTS
OPTIMAL SETTINGS
FULL (BETA) PROGRAM
WINDOWS XP
ART PROGRAM
GRAPHIC DESIGN
GRAPHICS EDITOR
GUI SCREENCAST
HANDWRITING TEST
PHOTO EDITOR
FULL PROGRAM
WINDOWS XP
OUTERSPACE :
ANIMATION
DOODLING
DRAWING
HANDWRITING
SKETCH RECORDER
MOTION GRAPHICS
BLUFFTILER ADD-ON
WACOM COMPATIBLE
WINDOWS XP
ANIMATION
MOTION GRAPHICS
TEXT ANIMATION
TEXT DECORATION
TITLING
WINDOWS XP
REALLUSION :
ANIMATION
2D ANIMATION
3D ANIMATION
CHARACTER CREATION
DIGITAL PUPPETRY
FACIAL ANIMATION
LIP-SYNCHING
MACHINIMA
PHOTO ANIMATION
WEB GREETINGS
FULL PROGRAM
SEVERAL VERSIONS
WINDOWS XP
ANIMATION
3D ANIMATION
CHARACTER CREATION
CLOTHES DESIGN
DIGITAL PUPPETRY
FACIAL ANIMATION
FULL-BODY ANIMATION
FULL PROGRAM
SEVERAL VERSIONS
WINDOWS XP
SONY :
VIDEO EDITOR
NON-LINEAR EDITOR
VIDEO EDITING
EXPERIMENTAL OUTPUT
DEMO SOFTWARE
WINDOWS XP
SYNTRILLIUM :
AUDIO EDITOR
AUDIO EDITING
AUDIO RECORDER
AUDIO RECORDING
BUG OUTPUT
FULL PROGRAM
WINDOWS XP
INDEX
SUBSCRIBE

FOLLOW

CONTACT
CONTENTS
SITE INDEX
SITE SEARCH
SITE NAVIGATION
MIXED DATES :
CONSOLIDATED CLIPS
PADDINGLESS PLAYLISTS
BLOGGIFICATIONS
COMMENTARY
OBSERVATIONS
BOOK & MUSIC CHARTS
TOP TOME TOPICS
TWITTER WITTERINGS
WORDS WORDS WORDS
DOPPELGÄNGERS
FAMOUS FACES
F(R)AME-LESS FACES
LOOKALIKES
MORPHS
PEOPLE
PORTRAITS
POSERS & POSEURS
EXPERIMENTS
LEARNING
SCREENCASTS
SILLY OLD THINGS
SOFTWARE DEMOS
WORKS IN PROGRESS
ORIGINAL READINGS
UNORIGINAL POEMS
UNORIGINAL STORIES
24 SEP 2009 :
PROTEST POST
IMAGE EDITING
SCREENCASTS
14 AUG 2009 :
CHILDREN'S POEM
ANIMAL ANIMATION
CRAZY TALK LIP SYNC
FACIAL ANIMATION
ORIGINAL POEM
SUBTITLED
TITLING (PREMIERE PRO)
VOICE ACTING
05 JUN 2009 :
POETIC POST CARD
ANIMAL ANIMATION
CRAZY TALK LIP SYNC
CUTOUT ANIMATION
FACIAL ANIMATION
SUBTITLED
TITLING (PREMIERE PRO)
VOICE ACTING
VOICE PROCESSING
1 OF MY FAVOURITES
30 NOV 2008 :
POETIC POST CARD
CRAZY TALK LIP SYNC
FACIAL ANIMATION
SUBTITLED
TITLING (PREMIERE PRO)
VOICE ACTING
10 AUG 2008 :
POETIC POST CARD
CRAZY TALK LIP SYNC
FACIAL ANIMATION
SUBTITLED
TITLING (PREMIERE PRO)
VOICE ACTING
04 MAY 2008:
COMPETITION ENTRY
AUDIO-EDITING
BRIEF FOR A BRIEF
ICLONE ANIMATION
ORIGINAL LYRICS
SONG & DANCE
SUBTITLED
TITLING (PREMIERE PRO)
VOICE ACTING
07 FEB 2008 :
PANTING PAINTING
CRAZY TALK LIP SYNC
FACIAL ANIMATION
MULTIPLE CHARACTERS
VOICE PROCESSING
SUBTITLED
TITLING (PREMIERE PRO)
18 JAN 2008 :
MORPHING MORPHINE
FACIAL ANIMATION
FANTAMORPH 1st GO
HISTORICAL HEADS
08 JAN 2008 :
SURPRISING SINGING
AUDIO EDITING
CRAZY TALK LIP SYNC
FACIAL ANIMATION
SUBTITLED
TITLING (PREMIERE PRO)
01 DEC 2007 :
COMPETITION ENTRY
BRIEF FOR A BRIEF
CRAZY TALK LIP SYNC
CUTOUT ANIMATION
FACIAL ANIMATION
ICLONE SPECIAL EFFECTS
ORIGINAL TOPICAL POEM
SUBTITLED
TITLING (BLUFFTITLER)
VOICE ACTING
VOICE PROCESSING
17 SEP 2007 :
STEREO MONOLOGUE
CRAZY TALK LIP SYNC
FACIAL ANIMATION
SUBTITLED
TITLING (PREMIERE PRO)
VOICE ACTING
12 JUN 2007 :
CLOTHES DESIGN
CUSTOM CONTENT
SOFTWARE DEMO
17 MAR 2007 :
iCLONE MUSIC VIDEO
CRAZY TALK LIP SYNC
FACIAL ANIMATION
3D FULL BODY ANIMATION
SONG & DANCE
SUBTITLED
TITLING (PREMIERE PRO)
02 MAR 2007 :
SOFTWARE DEMO
3D FULL BODY ANIMATION
18 OCT 2006 :
COMPETITION ENTRY
CRAZY TALK LIP SYNC
CUTOUT ANIMATION
FACIAL ANIMATION
2D FULL BODY ANIMATION
ICLONE SPECIAL EFFECTS
ORIGINAL LYRICS
SONG & DANCE
SUBTITLED
TITLING (PHOTODRAW)
VOICE ACTING
VOICE PROCESSING
12 AUG 2006 :
JUST FOR FUN
ONLY MY FAVOURITE
CRAZY TALK LIP SYNC
FACIAL ANIMATION
3D FULL BODY ANIMATION
ICLONE MUSIC VIDEO
SONG & DANCE
SUBTITLED
VOICE ACTING
VOICE PROCESSING
07 JUN 2006 :
VICTORIAN VERMINATOR
ANIMAL ANIMATION
CRAZY TALK LIP SYNC
FACIAL ANIMATION
3D FULL BODY ANIMATION
iCLONE MUSIC VIDEO
SONG AND DANCE
VOICE ACTING
23 APR 2006 :
GARDEN GUARDIAN
CRAZY TALK LIP SYNC
FACIAL ANIMATION
ORIGINAL LYRICS
SUBTITLED
VOICE ACTING
VOICE PROCESSING
18 FEB 2006 :
CRAZY TALK LIP SYNC
FACIAL ANIMATION
ORIGINAL POEM
SUBTITLED
VOICE ACTING
21 JAN 2006 :



CRAZY TALK LIP SYNC
FACIAL ANIMATION
3D FULL BODY ANIMATION
ORIGINAL LYRICS
SONG & DANCE
SUBTITLED
VOICE ACTING
VOICE PROCESSING
05 NOV 2005 :
ANIMAL ANIMATION
CRAZY TALK LIP SYNC
FACIAL ANIMATION
ORIGINAL LYRICS
SUBTITLED
VOICE ACTING
VOICE PROCESSING
13 JUN 2005 :
CUTOUT ANIMATION
FLASH MX ANIMATION
ORIGINAL LYRICS
SUBTITLED
TITLING (SWiSHMAX)
VOICE ACTING
VOICE PROCESSING
24 AUG 2004 :
CRAZY TALK LIP SYNC
FACIAL ANIMATION
ORIGINAL LYRICS
SUBTITLED
TITLING (PREMIERE PRO)
VOICE ACTING
12 JUL 2004 :
CUTOUT ANIMATION
FLASH MX ANIMATION
ORIGINAL POEM
VOICE ACTING
12 JAN 2004 :
CRAZY TALK LIP SYNC
FACIAL ANIMATION
ORIGINAL LYRICS
SUBTITLED
TITLING (PREMIERE PRO)
VOICE ACTING
05 JAN 2004 :
CRAZY TALK LIP SYNC
FACIAL ANIMATION
ORIGINAL POEM
SUBTITLED
TITLING (PREMIERE PRO)
VOICE ACTING
VOICE PROCESSING
10 DEC 2003 :
CUTOUT ANIMATION
FLASH MX ANIMATION
MISHEARD LYRICS
SUBTITLED
TITLING (SWiSHMAX)
06 NOV 2003 :
CUTOUT ANIMATION
FLASH MX ANIMATION
ORIGINAL LYRICS
SUBTITLED
TITLING (SWiSHMAX)
VOICE PROCESSING
04 MAY 1999:
GRAPHICS EDITING
ICLONE ANIMATION
ORIGINAL PARODY
VOICE ACTING
VOICE PROCESSING