~ The Marrog ~
Click [THIS] for a much better mic' and
LEWIS CARROLL's PHANTASMAGORIA.
You COULD be really BRAVE and
try the MAIN INDEX PAGE to
navigate to some of the
ORIGINAL MATERIAL I have
created over the past decade.
This is a .reading. of the .poem.
"The Marrog" by R.C. Scriven
<<< EXACTLY as it appears >>>
in the Kaye Webb-edited compendium :
"I Like This Poem".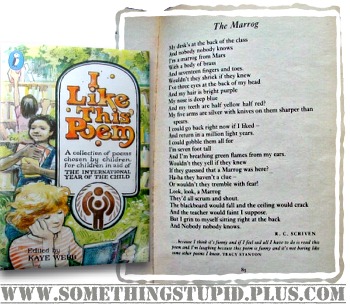 Since recording it, I have found a
.variant version., on the intyweb,
that includes some
>>> excised rhymes <<<
.
~ and the last shall be first ~
Press PLAY to stream RECENT EWECHEWB YouTube Videos
~ EWECHEWB @ YOUTUBE ~
To SUBSCRIBE to my



~ EWECHEWB YouTube Channel ~
please click : [HERE] or
~ Original Multimedia ~
: [HERE] to >>>PREVIEW<<<
(PLAYFUL (PLAY FOOL)) PLAYLISTS
OF MY
<<<ORIGINAL MULTIMEDIA MATERIAL>>>.
~ Stripping Off ! ~
I hope they were not [STRIP !]ped
from the Puffin Anthology .just to make
the text fit. with no (unsightly ?)
(costly ?) page-breaks.
(c).Rhyme.-removal really is [WRONG !]
~ Hacking Off ! ~
It's like Cinderella's sordid sisters
[HACKING OFF !]
their toes ; a bloody mess.
Hiss ! Boo ! And "off with her head !".
<.KILLS. the .TEMPO.>. Not impressed.
It's gouging out the (Moaning Leaser)
"Moaner : Lisa"'s ayes !!
~ (Wot) What Cheek ! ~
[CLAP !] and clamp your eyes on HER
irate eyes and ponder whether "R.C." would
get "arsey" or rather ~ turn a (LITERARY and
LITERALLY) blind eye ~ (and "the other cheek").
~ Hacking Cough ~
Senseless censorship leaves me .cold. but
it has not left me WITH a cold therefore
- here you may hear what was spared and
not pared utterly uninterrupted by the
.sickly. intrusion of a "hacking cough".
Grrr.
~ The Marrog - R. C. Scriven ~
The Marrog - R.C. Scriven
"The Marrog" Poem Transcription :
Note Well : the POOR PUNCTUATION -
with its uncontestedly consistent
inconsistency ( ~ to Capitalise or not
to capitalise ~ (?/?), comatose commas
and absent quotation marks) - that
PERVADES (and POLLUTES) the PRINT
~ SQUINT AT PRINT ~
My desk's at the back of the class
And nobody nobody knows
I'm a marrog from Mars
With a body of brass
And seventeen fingers and toes.
Wouldn't they shriek if they knew
I've three eyes at the back of my head
And my hair is bright purple
My nose is deep blue
And my teeth are half yellow half red?
My five arms are silver with knives on them sharper than spears.
I could go back right now if I liked -
And return in a million light years.
I could gobble them all for
I'm seven foot tall
And I'm breathing green flames from my ears.
Wouldn't they yell if they knew
If they guessed that a Marrog was here?
Ha-ha they haven't a clue -
Or wouldn't they tremble with fear!
Look, look, a Marrog
They'd all scrum and shout.
The blackboard would fall and the ceiling would crack
And the teacher would faint I suppose.
But I grin to myself sitting right at the back
And Nobody nobody knows.

*
~ # ~ # ~ # ~ # ~ # ~ # ~ # ~
"ORIGINAL UNORIGINALS" [FULL INDEX]
"ORIGINAL UNORIGINALS" [FULL INDEX]
~ # ~ # ~ # ~ # ~ # ~ # ~ # ~
.CREATIVITY DEPOSITORY :.
~ FAST "FILMS" (First) ~
Click [HERE] to access "Fast (") .Films (")"
- a single page of "paddingless" .Playlists..of
lit & littered with literally LITERACY-LOVING
~ Creativity Software Tests ~
CREATIVITY SOFTWARE : [FULL INDEX]
CREATIVITY SOFTWARE : [FULL INDEX]
'OME (PAGE) IS WHERE THE (')ART IS
'OME PAGE IS WHERE THE (')ART IS [HOME]
'OME PAGE IS WHERE THE (')ART IS [HOME]
~ # ~ # ~ # ~ # ~ # ~ # ~ # ~
SUB-INDEX
SUBSCRIBE
CONTACT
CONTENTS
INDEX :
HUB
INDEX
NAVIGATION
ANONYMOUS:
ANONYMOUS
W.H. AUDEN:
WYSTAN HUGH AUDEN
G. BARKER :
GEORGE BARKER
H. BELLOC :
HILAIRE BELLOC
H. BELLOC :
HILAIRE BELLOC
W. BLAKE :
WILLIAM BLAKE
L. CARROLL :
LEWIS CARROLL
CHESTERTON:
GEORGE KEITH CHESTERTON
T.S.ELIOT :
THOMAS STEARNS ELIOT
R. FROST
ROBERT FROST
R. KIPLING :
RUDYARD KIPLING
RUDYARD KIPLING
MS SONGSMITH RE-MIX
E. LAZARUS :
EMMA LAZARUS
E. LEAR :
EDWARD LEAR
LONGFELLOW:
HENRY WADSWORTH LONGFELLOW
MILLIGAN :
SPIKE MILLIGAN
A. A. MILNE :
ALAN ALEXANDER MILNE
A. A. MILNE :
ALAN ALEXANDER MILNE
A. A. MILNE :
ALAN ALEXANDER MILNE
MS SONGSMITH RE-MIX
SIR WINSTON CHURCHILL GUEST-SPOT
B. POTTER :
HELEN BEATRIX POTTER
C. ROSSETTI :
CHRISTINA GEORGINA ROSSETTI
R.C. SCRIVEN :
RONALD CHARLES SCRIVEN
INDEX
SUBSCRIBE

FOLLOW

CONTACT
CONTENTS
SITE INDEX
SITE SEARCH
SITE NAVIGATION
MIXED DATES :
CONSOLIDATED CLIPS
PADDINGLESS PLAYLISTS
BLOGGIFICATIONS
COMMENTARY
OBSERVATIONS
BOOK & MUSIC CHARTS
TOP TOME TOPICS
TWITTER WITTERINGS
WORDS WORDS WORDS
DOPPELGÄNGERS
FAMOUS FACES
F(R)AME-LESS FACES
LOOKALIKES
MORPHS
PEOPLE
PORTRAITS
POSERS & POSEURS
EXPERIMENTS
LEARNING
SCREENCASTS
SILLY OLD THINGS
SOFTWARE DEMOS
WORKS IN PROGRESS
ORIGINAL READINGS
UNORIGINAL POEMS
UNORIGINAL STORIES
24 SEP 2009 :
PROTEST POST
IMAGE EDITING
SCREENCASTS
14 AUG 2009 :
CHILDREN'S POEM
ANIMAL ANIMATION
CRAZY TALK LIP SYNC
FACIAL ANIMATION
ORIGINAL POEM
SUBTITLED
TITLING (PREMIERE PRO)
VOICE ACTING
05 JUN 2009 :
POETIC POST CARD
ANIMAL ANIMATION
CRAZY TALK LIP SYNC
CUTOUT ANIMATION
FACIAL ANIMATION
SUBTITLED
TITLING (PREMIERE PRO)
VOICE ACTING
VOICE PROCESSING
1 OF MY FAVOURITES
30 NOV 2008 :
POETIC POST CARD
CRAZY TALK LIP SYNC
FACIAL ANIMATION
SUBTITLED
TITLING (PREMIERE PRO)
VOICE ACTING
10 AUG 2008 :
POETIC POST CARD
CRAZY TALK LIP SYNC
FACIAL ANIMATION
SUBTITLED
TITLING (PREMIERE PRO)
VOICE ACTING
04 MAY 2008:
COMPETITION ENTRY
AUDIO-EDITING
BRIEF FOR A BRIEF
ICLONE ANIMATION
ORIGINAL LYRICS
SONG & DANCE
SUBTITLED
TITLING (PREMIERE PRO)
VOICE ACTING
07 FEB 2008 :
PANTING PAINTING
CRAZY TALK LIP SYNC
FACIAL ANIMATION
MULTIPLE CHARACTERS
VOICE PROCESSING
SUBTITLED
TITLING (PREMIERE PRO)
18 JAN 2008 :
MORPHING MORPHINE
FACIAL ANIMATION
FANTAMORPH 1st GO
HISTORICAL HEADS
08 JAN 2008 :
SURPRISING SINGING
AUDIO EDITING
CRAZY TALK LIP SYNC
FACIAL ANIMATION
SUBTITLED
TITLING (PREMIERE PRO)
01 DEC 2007 :
COMPETITION ENTRY
BRIEF FOR A BRIEF
CRAZY TALK LIP SYNC
CUTOUT ANIMATION
FACIAL ANIMATION
ICLONE SPECIAL EFFECTS
ORIGINAL TOPICAL POEM
SUBTITLED
TITLING (BLUFFTITLER)
VOICE ACTING
VOICE PROCESSING
17 SEP 2007 :
STEREO MONOLOGUE
CRAZY TALK LIP SYNC
FACIAL ANIMATION
SUBTITLED
TITLING (PREMIERE PRO)
VOICE ACTING
12 JUN 2007 :
CLOTHES DESIGN
CUSTOM CONTENT
SOFTWARE DEMO
17 MAR 2007 :
iCLONE MUSIC VIDEO
CRAZY TALK LIP SYNC
FACIAL ANIMATION
3D FULL BODY ANIMATION
SONG & DANCE
SUBTITLED
TITLING (PREMIERE PRO)
02 MAR 2007 :
SOFTWARE DEMO
3D FULL BODY ANIMATION
18 OCT 2006 :
COMPETITION ENTRY
CRAZY TALK LIP SYNC
CUTOUT ANIMATION
FACIAL ANIMATION
2D FULL BODY ANIMATION
ICLONE SPECIAL EFFECTS
ORIGINAL LYRICS
SONG & DANCE
SUBTITLED
TITLING (PHOTODRAW)
VOICE ACTING
VOICE PROCESSING
12 AUG 2006 :
JUST FOR FUN
ONLY MY FAVOURITE
CRAZY TALK LIP SYNC
FACIAL ANIMATION
3D FULL BODY ANIMATION
ICLONE MUSIC VIDEO
SONG & DANCE
SUBTITLED
VOICE ACTING
VOICE PROCESSING
07 JUN 2006 :
VICTORIAN VERMINATOR
ANIMAL ANIMATION
CRAZY TALK LIP SYNC
FACIAL ANIMATION
3D FULL BODY ANIMATION
iCLONE MUSIC VIDEO
SONG AND DANCE
VOICE ACTING
23 APR 2006 :
GARDEN GUARDIAN
CRAZY TALK LIP SYNC
FACIAL ANIMATION
ORIGINAL LYRICS
SUBTITLED
VOICE ACTING
VOICE PROCESSING
18 FEB 2006 :
CRAZY TALK LIP SYNC
FACIAL ANIMATION
ORIGINAL POEM
SUBTITLED
VOICE ACTING
21 JAN 2006 :



CRAZY TALK LIP SYNC
FACIAL ANIMATION
3D FULL BODY ANIMATION
ORIGINAL LYRICS
SONG & DANCE
SUBTITLED
VOICE ACTING
VOICE PROCESSING
05 NOV 2005 :
ANIMAL ANIMATION
CRAZY TALK LIP SYNC
FACIAL ANIMATION
ORIGINAL LYRICS
SUBTITLED
VOICE ACTING
VOICE PROCESSING
13 JUN 2005 :
CUTOUT ANIMATION
FLASH MX ANIMATION
ORIGINAL LYRICS
SUBTITLED
TITLING (SWiSHMAX)
VOICE ACTING
VOICE PROCESSING
24 AUG 2004 :
CRAZY TALK LIP SYNC
FACIAL ANIMATION
ORIGINAL LYRICS
SUBTITLED
TITLING (PREMIERE PRO)
VOICE ACTING
12 JUL 2004 :
CUTOUT ANIMATION
FLASH MX ANIMATION
ORIGINAL POEM
VOICE ACTING
12 JAN 2004 :
CRAZY TALK LIP SYNC
FACIAL ANIMATION
ORIGINAL LYRICS
SUBTITLED
TITLING (PREMIERE PRO)
VOICE ACTING
05 JAN 2004 :
CRAZY TALK LIP SYNC
FACIAL ANIMATION
ORIGINAL POEM
SUBTITLED
TITLING (PREMIERE PRO)
VOICE ACTING
VOICE PROCESSING
10 DEC 2003 :
CUTOUT ANIMATION
FLASH MX ANIMATION
MISHEARD LYRICS
SUBTITLED
TITLING (SWiSHMAX)
06 NOV 2003 :
CUTOUT ANIMATION
FLASH MX ANIMATION
ORIGINAL LYRICS
SUBTITLED
TITLING (SWiSHMAX)
VOICE PROCESSING
04 MAY 1999:
GRAPHICS EDITING
ICLONE ANIMATION
ORIGINAL PARODY
VOICE ACTING
VOICE PROCESSING