William Blake's Lamb-like Wail 2
Poetic Post Card - Friday June 5 2009
"William Blake's Lamb-Like Wail" - My Modern
Multimedia Take on "The Tyger" [PART 2 ] (of 6)
~ (")(Old) Yeller (") Yellers ~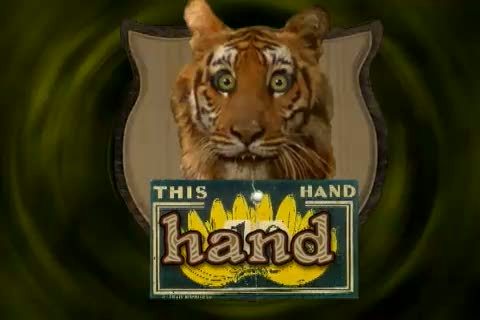 The next shade's yellow and you don't need me
to "hold your hand" (I'm NOT a Be(a/e)tle be that
a VW OR a Liverpudlian) to tell you there's no
fruit-dispute as "THIS HAND" is a hand of bananas.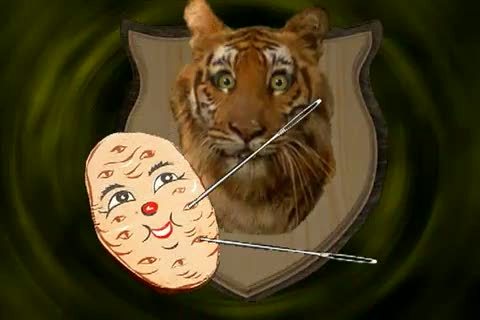 "Yes, We Have No Bananas"
(LISTEN TO THE LOUIS PRIMA VERSION AT LAST.FM)
(no "Eye of the Storm" and no (demure)
Aye Aye Lemur) when we travel from
(~) a (great big) "Hand (~) of Bananas"
to the Eyes of (needlessly ?)
needled Potatoes.
Taste reigns so I shall refrain from mentioning
Camels here, a Bible-imbiber might NOT.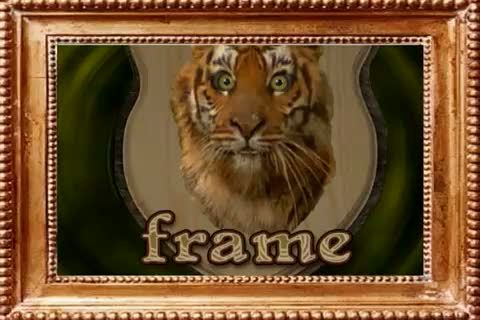 This is probably the same (not-very-edgy-)edging that
I used to bound the border of "Knowledge of Porridge".
The .still. is a "frame", a .frame. WITHIN a "frame".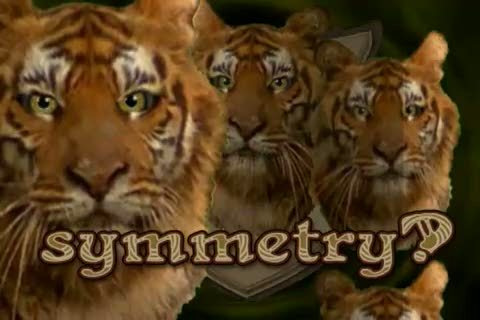 Ooo ! Look ! I know about the green-screen key
in .Adobe Premiere Pro.. Not well enough to
block-out properly and with as much adherence
to "symmetry" as Alanis Morrisette manages to
"irony" in her chronic "Ironic".
I had originally been toying with .ideas. about
Lambs and Tigers and mirrors (if NOT "Lions
and Tigers and Bears - oh my !") but, as I
<build as I go> those possibilities were no
FURther explored than in this single
<PRESS ALL THE BUTTONS> .image..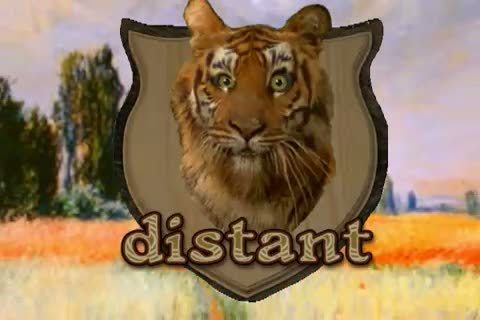 The "distant" distance here is "Distant Poplars"
by Claude Monet. I could pretend that I chose a
.work. by this .Fr..en..ch.man because his name
sounds like "Clawed .Money.".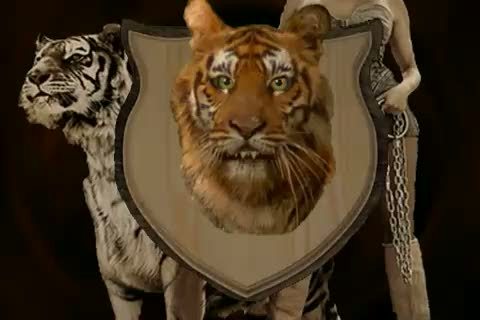 Staying with .painters., colours and the overall
.incendiary. theme, I could also pretend that this
accidentally-alighted-upon .image. was
DELIBERATELY discovered.
It is ("Burnt) Sienna (") Miller, stained sepia,
posing, usefully with BOTH the "Tyger" and
the "chain" from the .poem.. Coo, Ta, Pet...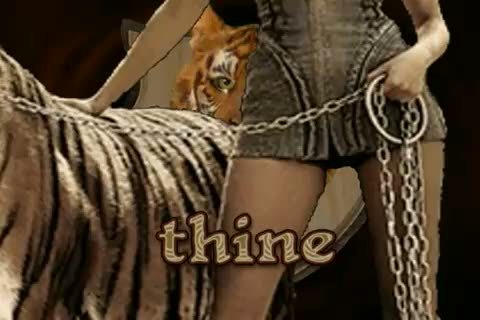 (Burnt) Sienna Miller provides the "thi(gh)" in
"thine" eventually doubling the central "i" that
is neither "me" nor "thee" to...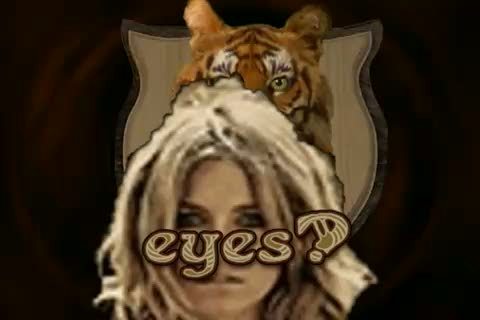 ...two eyes.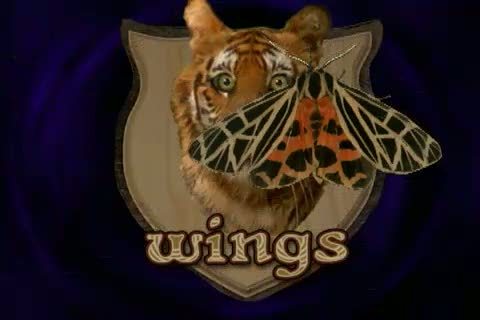 The "wings" belong to a Tiger Moth.
NATURE's version is less plain than the plane.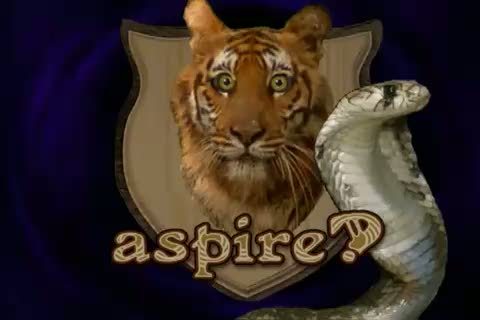 The "terrible asp" I chose for the first half of
this word is, fittingly, the TIGER Snake ; how
"charming"... Oh ! And it can do BOTH
"HissssSssSsSsS !" and "Boo !"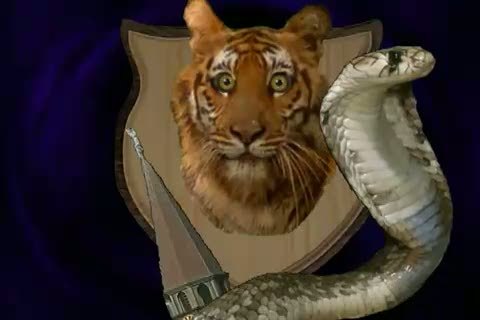 This is what happens when a Tiger Snake gets
"rattled". The "spire" portion of "aspire" is from
the Church (the Christopher Wren-.design.ed
St.James's, Picadilly) where
William Blake was baptised.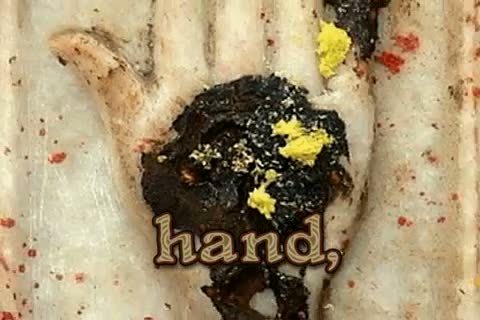 From "aspire" and "a spire" to "a pyre"
and some .memorial markers . to Hindu
wives who've sacrificed themselves in the
Sutee/Sutti/Sati tradition.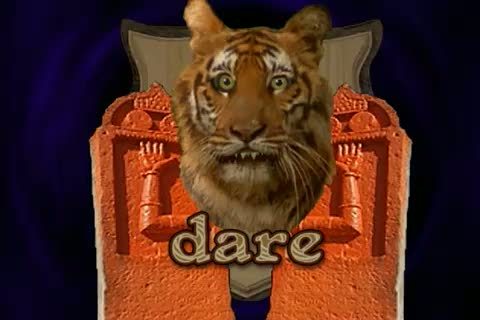 I was able to position these (non-lamb) limbs
to "arm" the Tyger. "dare"
?
Is he in a stance of surrender or of accost ?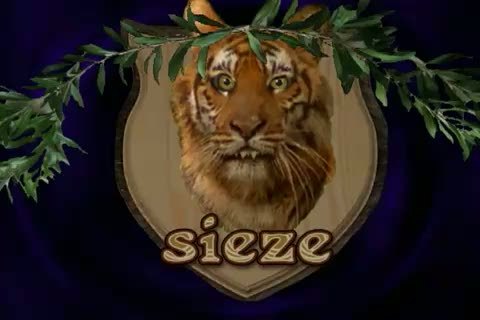 Here I am extending "sieze" to "Caesar" (adding,
without that asp-irant "adder", where I should
CUT (the etymologies are with SECTIONal
SCISSORings)) and adorning my character
with a Romanesque head-dress of laurel.
So it seems or SEAms the "forests of the
night" are Poplar-Yew-ated by more than
(Grand Old English) Oaks.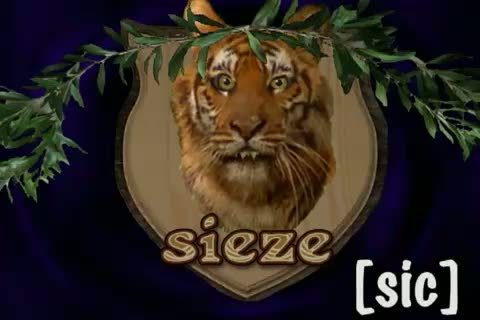 Just as William Blake chose to (magic(k)ally)
spell "Tyger" in a manner that (looks
better-balanced written down in
neato-.calligraphically.-cali(ine)br(i)ated
"What the hand?" .scroll.-.scrawl.)
is not currently consensually considered
"correct" so also is HIS "seize"
more at ease as "sieze".
I super-imposed a chuffed-up "[sic]" to show
I know (and know YOU know) - but my "[sic]"
knows the slick <muse-".SICK.>" of the
SNEEZE that's in SIEZE.
Let 'em <AtchooooooOoooOoOoooo !>.
~ Modern Multimedia Takes On/Takes On "The Tyger" ~
[PART 3] is ~ nothing to be sneezed at ~
so pop off to it (like Miss Popov), to wit.
~ and the last shall be first ~
Press PLAY to stream RECENT EWECHEWB YouTube Videos
~ EWECHEWB @ YOUTUBE ~
To SUBSCRIBE to my



~ EWECHEWB YouTube Channel ~
please click :[HERE]
'OME (PAGE) IS WHERE THE (')ART IS
'OME PAGE IS WHERE THE (')ART IS [HOME]
'OME PAGE IS WHERE THE (')ART IS [HOME]
~ # ~ # ~ # ~ # ~ # ~ # ~ # ~
[RETURN TO THE TOP OF THIS PAGE]
INDEX
SUBSCRIBE

FOLLOW

CONTACT
CONTENTS
SITE INDEX
SITE SEARCH
SITE NAVIGATION
MIXED DATES :
CONSOLIDATED CLIPS
PADDINGLESS PLAYLISTS
BLOGGIFICATIONS
COMMENTARY
OBSERVATIONS
BOOK & MUSIC CHARTS
TOP TOME TOPICS
TWITTER WITTERINGS
WORDS WORDS WORDS
DOPPELGÄNGERS
FAMOUS FACES
F(R)AME-LESS FACES
LOOKALIKES
MORPHS
PEOPLE
PORTRAITS
POSERS & POSEURS
EXPERIMENTS
LEARNING
SCREENCASTS
SILLY OLD THINGS
SOFTWARE DEMOS
WORKS IN PROGRESS
ORIGINAL READINGS
UNORIGINAL POEMS
UNORIGINAL STORIES
24 SEP 2009 :
PROTEST POST
IMAGE EDITING
SCREENCASTS
14 AUG 2009 :
CHILDREN'S POEM
ANIMAL ANIMATION
CRAZY TALK LIP SYNC
FACIAL ANIMATION
ORIGINAL POEM
SUBTITLED
TITLING (PREMIERE PRO)
VOICE ACTING
05 JUN 2009 :
POETIC POST CARD
ANIMAL ANIMATION
CRAZY TALK LIP SYNC
CUTOUT ANIMATION
FACIAL ANIMATION
SUBTITLED
TITLING (PREMIERE PRO)
VOICE ACTING
VOICE PROCESSING
1 OF MY FAVOURITES
30 NOV 2008 :
POETIC POST CARD
CRAZY TALK LIP SYNC
FACIAL ANIMATION
SUBTITLED
TITLING (PREMIERE PRO)
VOICE ACTING
10 AUG 2008 :
POETIC POST CARD
CRAZY TALK LIP SYNC
FACIAL ANIMATION
SUBTITLED
TITLING (PREMIERE PRO)
VOICE ACTING
04 MAY 2008:
COMPETITION ENTRY
AUDIO-EDITING
BRIEF FOR A BRIEF
ICLONE ANIMATION
ORIGINAL LYRICS
SONG & DANCE
SUBTITLED
TITLING (PREMIERE PRO)
VOICE ACTING
07 FEB 2008 :
PANTING PAINTING
CRAZY TALK LIP SYNC
FACIAL ANIMATION
MULTIPLE CHARACTERS
VOICE PROCESSING
SUBTITLED
TITLING (PREMIERE PRO)
18 JAN 2008 :
MORPHING MORPHINE
FACIAL ANIMATION
FANTAMORPH 1st GO
HISTORICAL HEADS
08 JAN 2008 :
SURPRISING SINGING
AUDIO EDITING
CRAZY TALK LIP SYNC
FACIAL ANIMATION
SUBTITLED
TITLING (PREMIERE PRO)
01 DEC 2007 :
COMPETITION ENTRY
BRIEF FOR A BRIEF
CRAZY TALK LIP SYNC
CUTOUT ANIMATION
FACIAL ANIMATION
ICLONE SPECIAL EFFECTS
ORIGINAL TOPICAL POEM
SUBTITLED
TITLING (BLUFFTITLER)
VOICE ACTING
VOICE PROCESSING
17 SEP 2007 :
STEREO MONOLOGUE
CRAZY TALK LIP SYNC
FACIAL ANIMATION
SUBTITLED
TITLING (PREMIERE PRO)
VOICE ACTING
12 JUN 2007 :
CLOTHES DESIGN
CUSTOM CONTENT
SOFTWARE DEMO
17 MAR 2007 :
iCLONE MUSIC VIDEO
CRAZY TALK LIP SYNC
FACIAL ANIMATION
3D FULL BODY ANIMATION
SONG & DANCE
SUBTITLED
TITLING (PREMIERE PRO)
02 MAR 2007 :
SOFTWARE DEMO
3D FULL BODY ANIMATION
18 OCT 2006 :
COMPETITION ENTRY
CRAZY TALK LIP SYNC
CUTOUT ANIMATION
FACIAL ANIMATION
2D FULL BODY ANIMATION
ICLONE SPECIAL EFFECTS
ORIGINAL LYRICS
SONG & DANCE
SUBTITLED
TITLING (PHOTODRAW)
VOICE ACTING
VOICE PROCESSING
12 AUG 2006 :
JUST FOR FUN
ONLY MY FAVOURITE
CRAZY TALK LIP SYNC
FACIAL ANIMATION
3D FULL BODY ANIMATION
ICLONE MUSIC VIDEO
SONG & DANCE
SUBTITLED
VOICE ACTING
VOICE PROCESSING
07 JUN 2006 :
VICTORIAN VERMINATOR
ANIMAL ANIMATION
CRAZY TALK LIP SYNC
FACIAL ANIMATION
3D FULL BODY ANIMATION
iCLONE MUSIC VIDEO
SONG AND DANCE
VOICE ACTING
23 APR 2006 :
GARDEN GUARDIAN
CRAZY TALK LIP SYNC
FACIAL ANIMATION
ORIGINAL LYRICS
SUBTITLED
VOICE ACTING
VOICE PROCESSING
18 FEB 2006 :
CRAZY TALK LIP SYNC
FACIAL ANIMATION
ORIGINAL POEM
SUBTITLED
VOICE ACTING
21 JAN 2006 :



CRAZY TALK LIP SYNC
FACIAL ANIMATION
3D FULL BODY ANIMATION
ORIGINAL LYRICS
SONG & DANCE
SUBTITLED
VOICE ACTING
VOICE PROCESSING
05 NOV 2005 :
ANIMAL ANIMATION
CRAZY TALK LIP SYNC
FACIAL ANIMATION
ORIGINAL LYRICS
SUBTITLED
VOICE ACTING
VOICE PROCESSING
13 JUN 2005 :
CUTOUT ANIMATION
FLASH MX ANIMATION
ORIGINAL LYRICS
SUBTITLED
TITLING (SWiSHMAX)
VOICE ACTING
VOICE PROCESSING
24 AUG 2004 :
CRAZY TALK LIP SYNC
FACIAL ANIMATION
ORIGINAL LYRICS
SUBTITLED
TITLING (PREMIERE PRO)
VOICE ACTING
12 JUL 2004 :
CUTOUT ANIMATION
FLASH MX ANIMATION
ORIGINAL POEM
VOICE ACTING
12 JAN 2004 :
CRAZY TALK LIP SYNC
FACIAL ANIMATION
ORIGINAL LYRICS
SUBTITLED
TITLING (PREMIERE PRO)
VOICE ACTING
05 JAN 2004 :
CRAZY TALK LIP SYNC
FACIAL ANIMATION
ORIGINAL POEM
SUBTITLED
TITLING (PREMIERE PRO)
VOICE ACTING
VOICE PROCESSING
10 DEC 2003 :
CUTOUT ANIMATION
FLASH MX ANIMATION
MISHEARD LYRICS
SUBTITLED
TITLING (SWiSHMAX)
06 NOV 2003 :
CUTOUT ANIMATION
FLASH MX ANIMATION
ORIGINAL LYRICS
SUBTITLED
TITLING (SWiSHMAX)
VOICE PROCESSING
04 MAY 1999:
GRAPHICS EDITING
ICLONE ANIMATION
ORIGINAL PARODY
VOICE ACTING
VOICE PROCESSING