~[FEEDBACK]~[HOME]~[NEATER NAVIGATION WITH NOTES & NEWNESS]~
~ FLASH BACK TO FLASHIER TIMES ~
Before YouTube and universal BROADBAND put
a much-needed, much bandied (unbandy) BAND-AID
on
<Getting BANNED for using too much BANDWIDTH>,
hosting and streaming multimedia was rife with
limitations. Space was at a premium, "Preloaders"
presupposed non-Pre-Schooler peaks of (unpiqued)
patience and "compatability" often meant forcing
potential viewers and listeners to install
bloaty, bug-ridden, intrusive software and
(proprietary) codecs that they would
<REALLY RATHER NOT !>
.
~ 4 FLASH FILES ~
~ CUTOUT ANIMATIONS ~
These are the four "Cut-Up" Style animations that I
made using Macromedia's Flash MX. I have continued to
host them in their original FULL 800x600 pixel dimensions
as the screen-captures I converted to video lack detail.
You can access the BIG presentations by clicking on
the pictures or on the truncated text beneath them.
_____________________________________________________
~ FOR MORE GREETINGS HOSTED AT REVVER!~
(Er...when REVVER's up 'n' online !)
Please ~ CLICK HERE ~ Fank Ooo
~ SWiSH FILES ~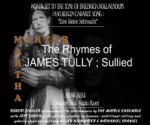 THE CRHYMES OF JAMES TULLY ; SULLIED
(755 KB)
~ FORMER REAL MEDIA PLAYER
(AUDIO ONLY) FILES GONE
BUT TO BE REPLACED AS FILMS ~
BEAT THE CLOCK / MY BROTHER'S KEEPER - INTRO' SONG / THE QUEEN'S PEACH
YOUNG FINTY McGINTY & BEAU BARNEY DEELEY

~[FEEDBACK]~[NEATER NAVIGATION]